What a Rush: Meet the man who canned Limbaugh
by
By PAUL LEONARD JR./Special to The Press
|
February 20, 2021 1:08 AM
When I was a much younger man in Kansas City in 1984, Rush Limbaugh worked for me. I fired him.

As you might suspect, managing Rush was a formidable challenge, and the fact that he was largely unmanageable was probably a part of the secret sauce that fueled his rise to meteoric success. I am saddened by his passing. And like him or hate him, any fair-minded or knowledgeable analysis of Rush's career would have to end by concluding that he was probably one of the most influential media forces in the past 100 years.
In 1984, I was a 24-year-old station manager of some radio stations in Kansas City that included KMBZ-AM. Rush was my afternoon news/sports guy and I paid him about $32K a year.

Rush's job was fairly straightforward: Watch and follow the "clock" and give news summaries and sports commentary at the appointed times.

Rush came into my office on my first day, sat down in a chair across from me, and announced, "It is only a matter of time before you are going to fire me."
I was taken aback, and confused. I told him, "Rush, these stations are a mess and I am not LOOKING to fire anyone, especially anyone who doesn't deserve it. Just do your job and be a team player, and you'll be fine."
The next few months, Rush gave me heartburn on a number of topics — including adding some bold commentary where none was required, and dropping a few words that were less than desirable for a Midwest radio station news/talk station whose audience had an average age of probably 50 years old.

But the capstone event that made me fire Rush was tied to some comments he made about the KC Chiefs, a team I had spent over a year schmoozing and coercing and pursuing with a goal of adding their games to our station. At the same time I was pursuing the Chiefs, I was also courting the KC Royals, with the thought being I would be happy and the stations would thrive if we were able to land a contract with either team.
Well, Rush was a baseball guy. He had worked briefly with the Royals and had developed a friendship with some of their front office and players, including George Brett. One day, as I drove back to the station and was listening to Rush's show, I listened in horror as Rush went off on a postal tirade against the Chiefs, and their recent losing season — and capped off his opinion, delivered with his famous opinionated flair, by saying, "… and the Chiefs' General Manager, Jack Steadman, is probably the biggest horse's ass in professional sports!"

Twenty-four is unusually young to have a heart attack, but as I pulled into the parking lot of our offices, I thought I might be having one. Jack Steadman of the Chiefs was holding on my office phone as I ran to my desk, and the conversation that followed was pretty one-sided, loud, and painful for yours truly.
Fast forward, and fate moved all planets forward as is always the case.

We signed a multi-year deal with the Royals, and they went on to win the World Series the following year. Rush went to work at a radio station in Sacramento, KFBK.
An ABC executive named Ed McGlaughlin was fogged in at the Sacramento airport and happened to tune into Rush on his transistor. He offered Rush a job in New York, in the 12 a.m.-6 a.m. time slot.
In 1987 the winds of regulation were changing and radio personalities started doing more issues-based and politically focused commentary, and Rush was really the first one through the door. He was a ferocious worker, and working with Ed, Rush went on to build a network of stations that would carry his show, initially for free.

Rush was a relentless salesperson, and you might find him attending a small state convention of radio station owners, pressing the flesh and talking them into carrying his show. There was nobody doing what he was doing, and he was very, very good at it.
The rest, as they say, is history.

He went on to pen a best-selling book. He formed his own syndication company and network. He went from making $32K with me to making $32 million a year — probably $80 million a year recently. He became a household name, and as we all saw last year, was awarded the Presidential Medal of Freedom at a State of the Union.

I remember fondly the first time I saw Rush after I fired him. It was in 1990 at a black tie dinner at the Waldorf Astoria in New York City. He was seated at the table next to mine with Sam Donaldson, with his back to me.

After the salads were served my table mates urged me to go say "hi" to him. So I did. He saw me coming around the table, and a large smile started forming on his lips.

I put my hand on his shoulder and said, "Rush, I haven't seen you in a few years, but I fired you a few years ago. Now, I hope you have been able to land on your feet, and find gainful employment."

The people at his table froze and stared at us both, wondering if a moment of awkwardness had arrived. Instead he stuck out his hand and gave me a giant grip. I said to him, "All I know for sure, Rush, is that I am still driving the same car as I was five years ago, but I am willing to bet you $100 you aren't." He laughed uproariously, and the table did the same.
I sent him a letter two months ago, congratulating him on his medal, and the huge impact he has had on modern talk radio. I didn't hear back, which I sadly and correctly assumed was probably due to his measuring the last days of his life.
Today there are people who will mourn his passing and will miss his firebrand presentation of conservative ethos. There will also be some who will momentarily forget their humanity and will be gleeful about his passing.
Regardless of one's politics, there can be no argument that he was a broadcasting force of nature, and ideological trailblazer, a ferocious and tireless worker and champion of his beliefs. And it is simply a fact that he is one of the most important and influential media personalities to arise in the past 100 years.

Rest in peace, Rush.
•••
Paul Leonard is a resident of Hayden.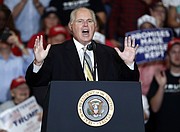 ---