Nationwide cold snap could delay local vaccine shipments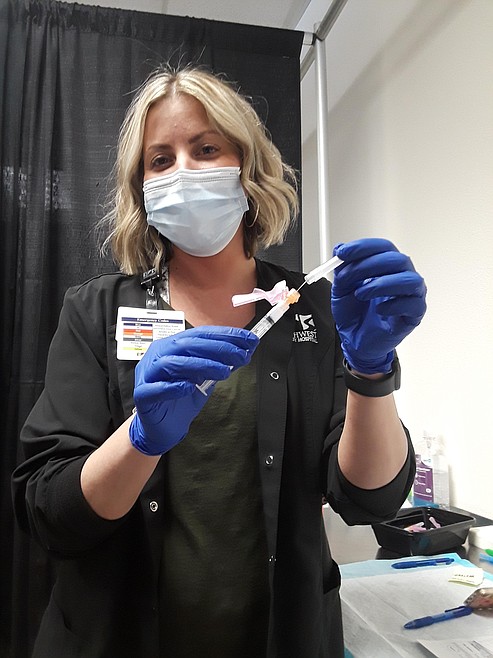 Madison Scott of Northwest Specialty Hospital holds a second dose of Moderna's COVID-19 vaccine, ready to administer at the outlet mall in Post Falls. Cold weather across the country has, among other things, delayed shipments of Pfizer and Moderna doses to North Idaho. (CRAIG NORTHRUP/Press)
by
CRAIG NORTHRUP
Staff Writer
|
February 20, 2021 1:06 AM
Dora Huber sat in her Ford F-250 alongside the Post Falls Factory Store on Friday, waiting along the curb for her friend.
"I'm one year off," the 64-year-old yelled over the growl of her diesel. "By the time I turn 65, I'll already be vaccinated."
Huber's friend joined the nearly 12,000 North Idaho residents Friday who received their second dose of the COVID-19 vaccine. At the outlet store on the west end of Post Falls, the new Northwest Specialty Hospital vaccine station for those looking to get their second doses, Huber said she was excited to see so many walk through the front door in the 10-plus minutes she'd been parked.
"I'm glad people are getting vaccinated," she said. "But I don't know how it's supposed to go on like this. I've heard there's been some delays."
Huber heard right. A winter chill that has gripped the nation, cut power to parts of the country and caused pile-ups across America's interstate highways has also dealt North Idaho an unexpected blow: a delay in COVID-19 vaccine shipments.
As of Thursday evening, neither Moderna nor Pfizer shipments due for the Idaho Panhandle have shipped out, threatening to delay some of the scheduled vaccinations for residents of the five northernmost counties. Icy conditions that clogged freeways and grounded air traffic have delayed the administering of approximately six million doses, a White House COVID-19 Response Team spokesperson said Friday.
Panhandle Health public information officer Katherine Hoyer said Friday the district is working with Idaho Health and Welfare officials to get updated information as promptly as possible.
"The state has been communicating with us regarding the delay in this week's shipment of the vaccine," Hoyer told The Press. "We have a team ready to receive the shipment if it arrives over the weekend. This has only impacted one of our [PHD] vaccine clinics, and it has been rescheduled."
Hoyer stressed that people with appointments who are not proactively contacted and told their appointments have been canceled should assume they are still on schedule to receive their vaccines. Panhandle Health is now receiving 4,350 doses per week, most of which are promptly distributed to authorized providers. The remainder are either administered at Panhandle Health's four clinics in Boundary, Benewah, Shoshone and Kootenai counties, or they are second doses stored for reserved use.
Idaho is currently vaccinating adults 65 and older and many essential workers, including first responders. When the Pfizer and Moderna vaccines opened to Idaho's senior population on Feb. 1, calls and inquiries overwhelmed Panhandle's call center phone banks and front desk personnel. Since then, Hoyer said, the process has smoothed, as an online appointment system has led to a reduction in inbound calls.
"Our biggest barrier is still a low supply and a high demand," she said. "Other than that, our system is working smoothly."
As of now, qualifying residents can still go online to panhandlehealthdistrict.org to sign up for an appointment, should a spot become available. The district will continue to release new appointment schedule times every Wednesday at 9 a.m. While clinics are open in Kootenai, Benewah, Shoshone and Boundary counties, Panhandle Health is looking open an additional clinic in Bonner County in the near future.
"We are working on adding a vaccine clinic in Bonner County, so watch for that," she said. "If you are unable to secure an appointment with one of our vaccine clinics, we encourage community members to check out the enrolled provider list to see other vaccine providers in the area."
---