Gloria Lee Northrop Lund
|
February 18, 2021 1:00 AM
Gloria Lee Northrop Lund passed from this world on the evening of Jan. 21, 2021, in the loving arms of her husband. A mother, grandmother and great-grandmother, her love ran deep through multiple generations of her family. The only child of Kenneth and Katherine Northrop, she was born in Los Angeles and was raised between Southern California and the family ranch in Cashmere, Wash. Life took her many places, but she found her true home on the shores of Hayden Lake, Idaho. Spending time with her family and hosting friends at the lake was her greatest joy.
Gloria was active in many civic and community organizations: Spokane Symphony Women's Association, Girl Scouts of America, Hayden Lake Watershed, and HOPE to name a few. She was also devoted to her faith and served the Episcopal Diocese of Spokane for more than 50 years in many roles, culminating her service as the archivist and registrar for the Dioceses. She enjoyed sewing, gardening, golfing, camping and hiking. She raised her family to enjoy adventure, which found them living and working across the country and across the world. It goes without saying, no matter the distance, no matter the differences, she was always close to her family, with them always in her heart. Always a beacon of strength and beauty, she was a "steadfast fixture in this family, a guiding light. You always showed us the way home, and into your heart."

She is survived by her loving husband, Pat Lund of Hayden Lake; children, Tony Longinotti (Patty) of Post Falls, Idaho, Michael Longinotti (Molly) of Vancouver, British Columbia, Chuck Lund (Kathy) of Spokane and daughter, Peggy Lund (Patricia) of Spokane; grandchildren, Pia, Cara, Katie, Tony (Laura), Caris (Darrin), Sarah, Samantha, Maryanna and Victoria; and seven great-grandchildren. She was preceded in death by her son, Tom Longinotti and grandson, Jordan Longinotti.
There will be a private committal ceremony for the immediate family. A celebration of life will occur at a future date.
Yates Funeral Home has been entrusted with the final arrangements. Please visit Gloria's online memorial and sign her guest book at www.yatesfuneralhomes.com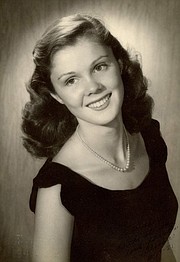 ---