Richard 'Dick' Casselman
|
February 17, 2021 1:00 AM
Richard "Dick" Casselman of Coeur d'Alene, Idaho, passed away peacefully in his sleep (non-COVID) on Feb. 7, 2021, at Schneidmiller Hospice House, with his daughter by his side. Dick was 97.5 years old.
He was born June 14, 1923, in Aberdeen, Wash. Dick joined his brothers, Laurence and William "Bill," and sister, Alice. His brother, Don, came a little later. Dick and his family settled in San Diego, where he attended Point Loma High School, playing on football teams and having a very happy childhood. Before graduating from high school Dick enlisted with the Navy.
He graduated from San Diego Naval Training Center in 1941 and then attended the Naval Training School in Alameda, to become an Aviation Machinist Mate. Called to active duty, Dick served as a PBY-5A crew member in anti-submarine operations and ground forces landing support in the Caribbean area and North Africa, sometimes on 14-hour patrols.
The Navy gave him the opportunity to travel many places while on his tour of duty. Dick also played football while in the Navy, which helped account for his bad knees as he got older. He was honorably discharged in October 1945, and attended school with his brother, Bill, at UCLA, where both were in the Kappa Sigma fraternity.
In 1948, Dick reenlisted with the Navy. While stationed in Pensacola, Fla., he met a beautiful, brown-eyed WAVE, the love of his life, Eleanor "Josie" Benner. They married in 1950. Together, they had a happy life, throwing parties for friends, having barbecues and playing cards. Eight years later, daughter, Karen, was born.
Dick was deployed overseas to the Philippines, Hong Kong and Japan. He was with a fighter squadron, also working on gun sights and radar systems on aircraft carriers. Dick retired from the Navy in December 1964 as Sr. Chief AQCS.
After settling in the Northwest, Dick joined General Telephone Company in 1965. With his radio license, he worked as an equipment technician until his retirement in 1983. Some of his duties included working long distance radar and helping set up Farragut Boy Scout Jamboree communications.
Dick, Josie and Karen settled in Coeur d'Alene in 1966. After retiring from GTE, he and Josie bought a fifth wheel trailer, later a motorhome, and travelled extensively in the U.S., Canada and Mexico with the SMART travel club and a few others, making new friends and sharing many new experiences, until sadly, Josie passed away in 2003.
He belonged to several groups, including the Fleet Reserve Association (65 years), Elks (55 years) and VFW Cooties. Dick enjoyed reading, watching TV, tinkering with things, bunco, playing with the cat and walking.
Dick is preceded in death by his wife, Josie; brothers, Laurence, William and Don; and sister, Alice. He is survived by his daughter, Karen; sister-in-law, Zorka; and 14 wonderful nieces and nephews who have been an ongoing source of comfort, support and encouragement.
In lieu of flowers, Dick would like any donations to go to the Kootenai Humane Society, www.kootenaihumane.org, as he was always fond of animals.
Memorial services will be held at the Elks Club later in the year when the Covid situation lessens.
Yates Funeral Home has been entrusted with the final arrangements. Please visit Dick's online memorial and sign his guest book at www.yatesfuneralhomes.com.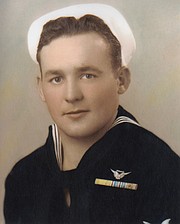 ---