ZAGS TRACKER: Zags taking trends to heart in title run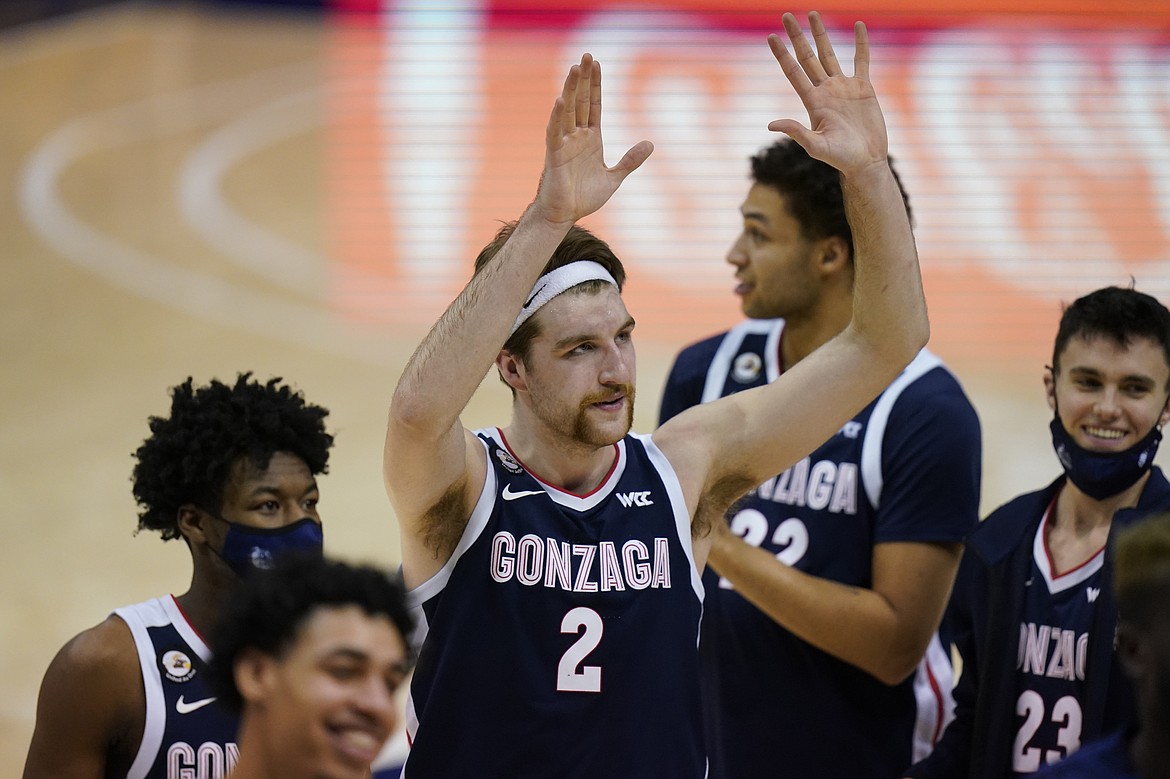 RICK BOWMER/Associated Press Gonzaga forward Drew Timme walks off the court following their game against BYU in Provo, Utah.
|
February 11, 2021 1:22 AM
It was a brilliant observation.
Accidental…
But still brilliant.
My partner Melissa does not watch a lot of basketball.
She tunes in to see Kansas — because her son is a KU grad — and she makes sure to catch Gonzaga games because it's a team I follow for a living.
After watching the GU blitz Pepperdine a couple of weeks ago, Melissa said: "The Zags look like an NBA team."
She was right, although not quite in the way she intended that compliment.
Melissa made the comparison because she saw a terrific team doing so many things right in that 97-75 hoops clinic.
She reached for the highest praise that came to mind.
To a spectator who admits she's no basketball expert, I suppose the full-speed, free-flowing Zags looked like they could be in exactly the same class as the Los Angeles Lakers.
Fair enough.
LET'S PUT Melissa's comment in context right off the bat, okay?
She just vaguely knows that NBA players are gifted professionals, and thus they must offer wonderful basketball.
Watching the Zags at the top of their game, though, she no doubt thought this was the very same thing.
So…
To be clear about a comparison I'm going to make in just a minute here, I want to spell it out.
The entire NBA, even the bottom teams in it, should be considered in a separate universe — far, far above ANY college team.
Got it?
We good?
Okay, then…
I want to offer up what I think is actually a valid comparison between the Zags and the best of pro basketball.
NBA teams have gotten away from the game's traditional style, the longtime notion that you need to plant a massive man near the basket and let the action swirl around him.
In the league these days, everyone is expected to handle the ball, guard every position and take shots from inside the lane to, well…
Out somewhere near the popcorn stand.
IF A pro coach could form the perfect team these days, he'd roll out four guys who are all 6-foot-9 shooting guards – along with a 6-8 point guard to run the show.
And that brings us to Gonzaga.
 Obviously, the Zags don't have that kind of size (or such magical talent) at every position, nor do they have the savvy and toughness of their NBA brethren.
But what the Zags DO possess is a team full of guys who can take care of the ball, pass it precisely, shoot it well, defend furiously – and do it all at the fastest pace in college basketball.
For Monday night's tricky road game against BYU. Gonzaga coach Mark Few opened with guards Jalen Suggs, Joel Ayayi and Andrew Nembhard — each of them 6-5 with strong frames and long arms – along with 6-7 wing Corey Kispert and 6-10 post Drew Timme.
Everyone in that unit except Timme can handle the ball at an elite level and perhaps pass it even more effectively.
Kispert is one of the nation's most deadly shooters, hitting almost 49 percent from deep when he isn't driving powerfully to the hoop.
Quick aside: Timme is a special athlete who is adding to his almost unstoppable inside moves, now bringing the ball upcourt and hitting an occasional 3-pointer when teams feel they can ignore him.
All of these guys can run like deer, and so can two other key rotation players, Aaron Cook and Anton Watson.
Cook is an experienced transfer guard, a fantastic defender and, of course, he's also 6-5.
GONZAGA is now playing the same style as we're seeing in the NBA, basketball with interchangeable positions and athletes who can handle every role at top speed.
Meanwhile, BYU was ready to confront the Zags with an old-school approach — one of the sport's biggest front lines.
Center Matt Haarms is an intimidating 7-3, while forwards Richard Hayward and Kolby Lee log in at 6-11 and 6-9.
Perhaps this was a snippet of where college hoops is headed, because the BYU giants just couldn't keep up.
The massive trio combined for exactly two points and four turnovers.
BYU was minus-23 during Haarms' 15 1/2 minutes on the floor.
Timme, meanwhile, torched the heavy-footed Cougars for 20 points and 13 rebounds.
Displaying basketball as it will be played far beyond 2021, Gonzaga forced 19 turnovers and converted them into 26 points.
The Zags never trailed in this supposed showdown, and the 82-71 final score was almost meaningless.
Gonzaga dashed off to a 22-point lead deep into the second half before, once again, diddling around in garbage time to help create another misleading box score.
CAN A team built almost entirely around guards get to the Final Four?
Maybe win a national championship?
Perhaps the first clue is that these Zags guards aren't just an ordinary crop.
Besides the shooting, passing and exquisite movement without the ball, this is a rugged bunch.
"They're long in the backcourt, and they kind of jump in the passing lanes," said BYU coach Mark Pope.
"They came out playing with tremendous pace. They're deceptively physical. They took it to us again in terms of physicality.
"Their guards are really, really physical and really long."
Thus, another question…
Will this team, created to be the college version of NBA basketball, actually show the way into the future?
Few and his staff obviously think so, since their recruiting has zeroed in on more players with that same all-around skill set.
Even Chet Holmgren, 7-foot-1 and the top-ranked recruit in the nation, has said he wants to take his game to the perimeter in addition to swatting shots inside.
Few would be happy to accommodate him.
Note that the freshmen already in the program – including the NBA-bound Suggs – are do-it-all types.
Julian Strawther, Dominick Harris and Ben Gregg are learning to play everywhere on the floor.
Holmgren and guard Hunter Sallis would fit in perfectly if Gonzaga can land them.
The Zags are set up for this new brand of basketball in seasons to come.
But hey…
They'd really like to get the trend rolling with a national championship.
Email: scameron@cdapress.com
Steve Cameron's "Cheap Seats" columns appear in The Press on Mondays, Wednesdays and Fridays. "Moments, Memories and Madness," his reminiscences from several decades as a sports journalist, runs each Sunday.
Steve also writes Zags Tracker, a commentary on Gonzaga basketball which is published on Tuesdays – and will return to its normal spot next week.
Recent Headlines
---