Growth group rising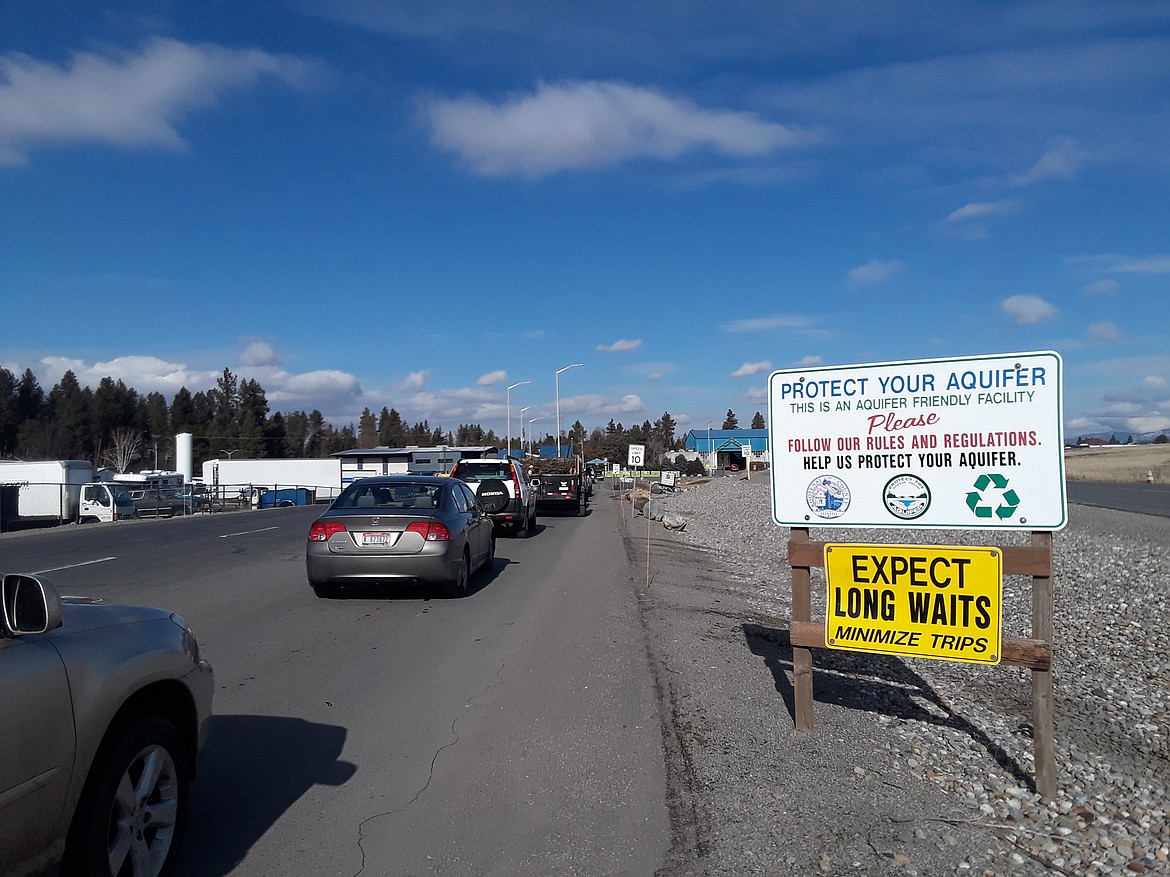 Mid-day lines at the Ramsey Road transfer station in Coeur d'Alene showed no sign of slowing down Wednesday. A local Facebook page was borne out of concern that unchecked growth could lead to strains on schools, sewer capabilities and solid waste disposal, among other drawbacks. (CRAIG NORTHRUP/Press)
by
CRAIG NORTHRUP
Staff Writer
|
February 11, 2021 1:08 AM
Ed DePriest couldn't help but observe with some irony how his new Facebook group is finding its new audience.
"It's growing," the Hayden resident said. "It's definitely growing. We have about 450 members in two weeks, but it's going to take a lot more than that. People are starting to become aware of the situation we're facing, and many have voiced the feeling that they're paralyzed. They're seeing this growth and how it's affecting their day-to-day, but they're feeling helpless."
DePriest hopes his new Facebook group — Responsible North Idaho Growth — will serve as a call to action for people with similar feelings of helplessness as an influx of people move from all over the country to the Idaho Panhandle.
While the local population is exploding, so, too is Responsible North Idaho Growth. What started as a meager 78 members in late January expanded to 300. Now, two weeks in, the Facebook group is at 447 members and counting.
The Facebook group has no lack of fodder to debate, whether it's utilizing empty space from abandoned properties, taking positions on annexation requests, or managing quality of life in an ever-expanding population boom, the group tackles topics across the growing spectrum, all with a goal that promotes political action over anonymous griping.
"I've talked to a lot of people in each city: Coeur d'Alene, Hayden, Post Falls, Rathdrum," DePriest said. "They all seem to be of the opinion that growth is coming, and there's nothing we can do about it. But that's not true. There's all sorts of things we can do about it to manage growth. You can not grant applications for zoning changes, like when someone wants to change zoning from Agricultural to R-3. You can limit housing to two or three homes an acre, as opposed to five or six or 10 homes."
And the group is mobilizing. Administrators like DePriest and other members post dates, times and locations for city planning and zoning meetings, city council meetings and workshops. They organize attendance, take notes and report findings.
"Responsible North Idaho Growth is about finding and organizing people to actually do something beside writing and complaining about the effects of the growth in our area on our lives," the page objective reads, a plan DePriest echoed in his interview with the Coeur d'Alene Press.
"Complaining won't change anything," he said. "Successful change happens when large numbers show up, organize, and in a civil matter make themselves heard."
Michelle Cornelsen, a Post Falls resident and co-administrator of the group, said she got behind the project after what she described as a continuing squeeze on areas like the Rathdrum Prairie that are straining local resources.
"A lot of us who live here are watching these annexation habits," Cornelsen said. "We're asking, 'How can we solve this?'"
Problems, Cornelsen said, include everything borne from unchecked growth, such as traffic burdens, high-density housing, a strain on schools, demands on solid waste disposal, and swelling jail populations. Those readily-apparent problems, she said, essentially serve as free advertising for the group.
"We are growing at a rapid rate, as you've probably seen in the group," she said. "People are concerned about what's happening."
Dan Gookin, the City Council member who represents Coeur d'Alene on the Kootenai Metropolitan Planning Organization, said he's seen Facebook groups leverage actual political weight during his tenure on council. The difference between a successful group and a failed page, he noted, is making a collective, concerted effort to air grievances respectfully and promptly.
"The most important thing they can do is show up," Gookin said. "… So often, people don't show up until it's too late. In my opinion, these projects progress to a certain point, and then we come to the final part and invite the public for input, and they feel like it's already too late."
That's a strategy DePriest said Responsible North Idaho Growth hopes to capitalize on, but that the COVID-19 pandemic has made it challenging to get people back into the mindset of public participation.
"Successful change happens when large numbers show up, organize, and in a civil matter approach the problem rationally," he said. "We're trying to be civil here and change things. But part of the problem is COVID: People aren't willing to go out into public places like they used to, and councils can't handle more than 10 people at a time. People aren't willing to go out and do what it takes."
DePriest hopes, however that with Gov. Brad Little's lifting of group restrictions from 10 people to 50, more will begin to participate in the process. Ultimately, he said, Responsible North Idaho Growth isn't about becoming a large mob of hundreds occupying planning and zoning meetings, but rather a more organized collective of sub-groups focusing their concerns.
"Going it alone, I didn't feel like my voice was being heard," he said. "So mainly our vision is to create these autonomous groups that could let local governments know what we think, and that we're not happy with the growth that we see, how rapid it's growing, the traffic that it's bringing, the impact on the Prairie, the out-of-control growth that's taking away the place we've come to love here."
Recent Headlines
---