THE CHEAP SEATS with STEVE CAMERON: Then again, if you're not a fan of Tom Brady ...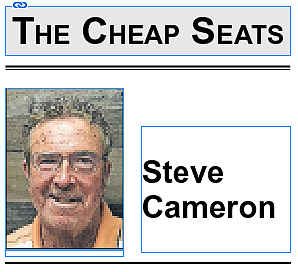 |
February 8, 2021 1:05 AM
Sigh.
That was almost four hours I'll never get back.
If you're a fan of the Bucs, you've probably already moved to Florida, so take your Super Bowl and run.
Nothing special about it, really, since Tom Brady no doubt will bag two or three more.
He'll be dragging the Bears to the Super Bowl when he's 50.
OK, so once we get the Brady coronation out of the way, honestly…
That was a horrible way to spend a Sunday afternoon.
The so-called "Game for the Ages" didn't quite live up to the billing, and it was obvious what was coming — just as soon as you noticed that the Chiefs had backups playing at three offensive line spots, and that Patrick Mahomes was limping around on a toe that will require surgery.
Today, probably.
I don't suppose many people had Tampa Bay winning 31-9, but when you combine all those injuries with the fact that the officials seemed to card-carrying members of the Brady Bunch, well…
This was destined to be a thumping.
YOU CAN always count on the Super Bowl taking up most of your day and night, since there are a gazillion ads and the halftime show lasts an hour.
It just SEEMS longer.
This event, though, must have set untouchable records for bizarre messaging and a halftime extravaganza that was, um…
Ah…
Hey, you tell me what that was.
It's tough to squeeze a full Broadway musical, a puzzling light show and endless fireworks into the middle of a football game.
The only thing that halftime bundle of noise did well was take our minds off a really bad football game — long enough for a nap.
It did give broadcaster Jim Nantz a few more minutes to kiss the backside of NFL commissioner Roger Goodell, which was, truthfully…
Almost embarrassing.
It made you feel like you'd accidentally come upon a couple embracing in a public toilet.
I mean, you knew that CBS would do some smooching of the league — after all, it's a yearly tradition.
Still, that doesn't make it any more comfortable to hear.
Somehow, though, it fit in with the whole disastrous spectacle.
FORGET the supposed thrilling, chilling, spine-tingling game of all-time.
Which made no appearance.
Instead, we witnessed some tourists from Kansas City getting mugged inside a fancy Gulf Coast venue.
No big deal there.
You can see it in Florida any weekend — in person, if you don't mind the bus ride home.
The pounding that you actually needed TV to endure was all that nonsense during timeouts, Bucs touchdowns, water breaks, replacement of Mahomes body parts, and so on.
The commercials.
Most of them, truly, I struggled to understand.
Except…
We certainly weren't puzzled by CBS, which sold a lot of CBS — and offered up plenty of Paramount, its new spin-off network, to boot.
Super Bowl commercials used to be fun.
And funny.
Now, a lot of them are meant to be serious, but…
Aren't quite getting there.
It was more of those couples in public toilets, really — just kind of embarrassing, because you're thinking: Some poor sods wrote that script.
Much like the Chiefs, I don't think they'll be proud of their Sunday show.
Email: scameron@cdapress.com
Steve Cameron's "Cheap Seats" columns appear in The Press on Mondays, Wednesdays and Fridays. "Moments, Memories and Madness," his reminiscences from several decades as a sports journalist, runs each Sunday.
Steve also writes Zags Tracker, a commentary on Gonzaga basketball which is usually published on Tuesdays. It will run Thursday this week since the Zags play tonight.
Recent Headlines
---