Navigating a tight market
by
TYLER WILSON/Special to The Press
|
February 7, 2021 1:00 AM
High demand. Low inventory.
In a tight real estate market, getting what you want (at a reasonable price) can be a stressful endeavor. A good home in a good neighborhood at a fair price is as coveted as water in a "Mad Max" movie.
A typical wintertime reduction in inventory makes the squeeze feel even more, uh, squeezy. And the home rental market? It's even squeeze-ier.
A homeowner in Post Falls recently reached out to Neighborhood of the Week to share how much things have changed in just a couple of years.
"We rented the home out a couple years ago in the winter and it took a couple months to find a good tenant," he wrote.
When he listed again last month, the homeowner set up a Google voice number to field inquiries and ended up turning it off after a day. More than a dozen serious applicants came to an open house a couple days later, and the homeowner had a contract in place by the end of the week.
For renters and buyers on the market right now, there are things you can do to improve your odds.
Work with an agent
A Realtor with immediate access to the area MLS (multiple listing service) can help you get a jump on new properties. With all their industry connections, they may even hear about a new property before it officially becomes a listing.
In a tight market, a well-priced home might have multiple offers before you ever see it on Zillow or Realtor.com. An involved agent (who knows your price, wants and needs) can help you beat out your competitors for that perfect home.
Expand your horizons
Maybe you have a specific neighborhood in mind. Or maybe you can't fathom the idea of living anywhere else besides Coeur d'Alene. However, if you're in a time crunch to find a home or rental, you might need to make some sacrifices.
In some cases, those sacrifices may not be as big of a deal as you think. For instance, did you know that Post Falls is basically right next to Coeur d'Alene?! No, really! It's pretty nice! In the Spokane-Coeur d'Alene metropolitan area, nothing is all that far away. Out-of-state buyers seem to understand this, in part because they're looking to escape the traffic nightmares of California or Western Washington. You can probably tolerate a few extra minutes on your commute.
Needs vs. wants
Certain things are must-haves. You need a certain number of bedrooms because your kids are never, never, never going to be able to share a living space.
But when options are short, you might need to think on what are true essentials vs. luxuries that don't matter as much. Yes, a giant master bathroom seems essential, but maybe you know yourself enough to know that a regular room with a toilet and shower will do just fine. Maybe you don't need a three-car garage. Maybe instead you should finally sell your old junker from high school.
Keep 'the potential' in mind
You might come across a home that doesn't seem to fit your needs on paper. A closer examination, however, might reveal opportunities to get what you want down the line with some simple renovation and do-it-yourself projects. Consider the "good bones" of a property over its current appearance. Some new flooring or cabinets can transform a living space. Maybe you are the type of person who could learn how to finish a basement. Just saying… they've got all sorts of YouTube videos on how to drywall.
Don't let urgency consume you
It's been a stressful year. Don't burden yourself with things beyond your control. A home you want might sell, or you may have to submit several rental applications before the right thing comes along. Just move on to the next one and try to stay positive. Fretting over missed opportunities might poison your judgment on the next great thing that comes along.
• • •
Let us know about standout neighborhoods and developments that we may feature in an upcoming Neighborhood of the Week. Contact Tyler Wilson at twilson@cdapress.com.
Real Estate Agents, take advantage of Neighborhood of the Week by sending in your suggestions for featured areas and new developments, including sites outside the normal confines of Coeur d'Alene, Post Falls and Hayden.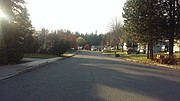 ---