New Senate bill latest in push to end COVID emergency powers
by
CRAIG NORTHRUP
Staff Writer
|
February 4, 2021 1:08 AM
A bill with backing from members of both the Idaho House and Senate would change the definition of what the state considers an emergency.
The bill, introduced Wednesday in the Senate State Affairs Committee, looks to provide and update definitions of terms like "extreme peril," calls all Idaho workers "essential workers," and effectively limits emergency declarations to 60 days, all while enabling the Legislature to call itself back into session.
The bill, introduced by Senate Majority Leader Kelly Anthon, R-Burley, is the latest in a salvo of legislation aimed at not only curtailing Gov. Brad Little's emergency orders issued in March 2020 at the precipice of the COVID-19 pandemic, but also to prevent what Anthon described as a potential threat to democratic processes in the event of future emergencies.
"One of the main factors is, as a matter of the rule of law and to provide checks and balances, is to make sure that as we grant to a governor 'extreme emergency' types of powers, that there are checks and balances that go along with those," Anthon said.
The bill, which as of 5 p.m. had not yet been issued a number, is the latest in a line of bills aimed at either limiting or altogether ending Little's emergency declaration and subsequent protocols he placed over the state over the course of 2020, a year in which COVID-19 ran roughshod over Idaho's health care systems and killed 1,748 Idahoans, according to the state's Department of Health and Welfare.
Those legislative attempts have included concurrent resolutions that would prohibit isolation orders of healthy individuals, calls for emergency declarations only for federal funding, and requirements that no sitting governor can ever inhibit citizens' rights.
Some bills have continued to persist onto House and Senate floors, while others have died before ever coming to their respective floors for debate.
Sen. Mary Souza, R-Coeur d'Alene, said this newest bill is a much-needed clarification on language thrown about during very confusing times.
"In this last COVID situation, our old laws used the old terminology of 'emergency' and 'extreme emergency,'" Souza said. "And a lot of people were confused by that. This modernization would clear up a lot of that confusion."
But Souza noted that the bill does change the Legislature's responsibility in the face of emergencies that will eventually face Idaho.
"It does change the balance of power in that it doesn't take power away from the governor, per se," she said. "But it includes the people — through the Legislature — in the process for determining what needs to happen going forward."
If the past month has been any indication, what happens going forward will not always include the Idaho Legislature and Little seeing eye-to-eye.
As a bill made its way through the Senate Monday that would have effectively ended gathering restrictions, Little declared on Tuesday that he was lifting his Stage Two gathering restriction of 10 people to a Stage Three declaration of 50 people. Souza said she was encouraged by the decision, but she said that while she and others in the House and Senate are trying to remain positive, the move left a sour taste in some legislators' mouths.
"It would have been especially wonderful for the governor to talk to us about this," she said. "The governor jumped in unexpectedly, with maybe less than 24 hours notice, and held this press conference. Wouldn't it have been a better look for our citizenry if we worked together? If the House and Senate leadership worked with the governor?"
The House and Senate continue the 66th Idaho Legislative Session today.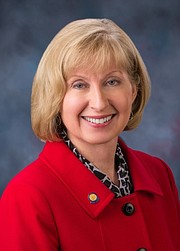 ---