They gave a hoot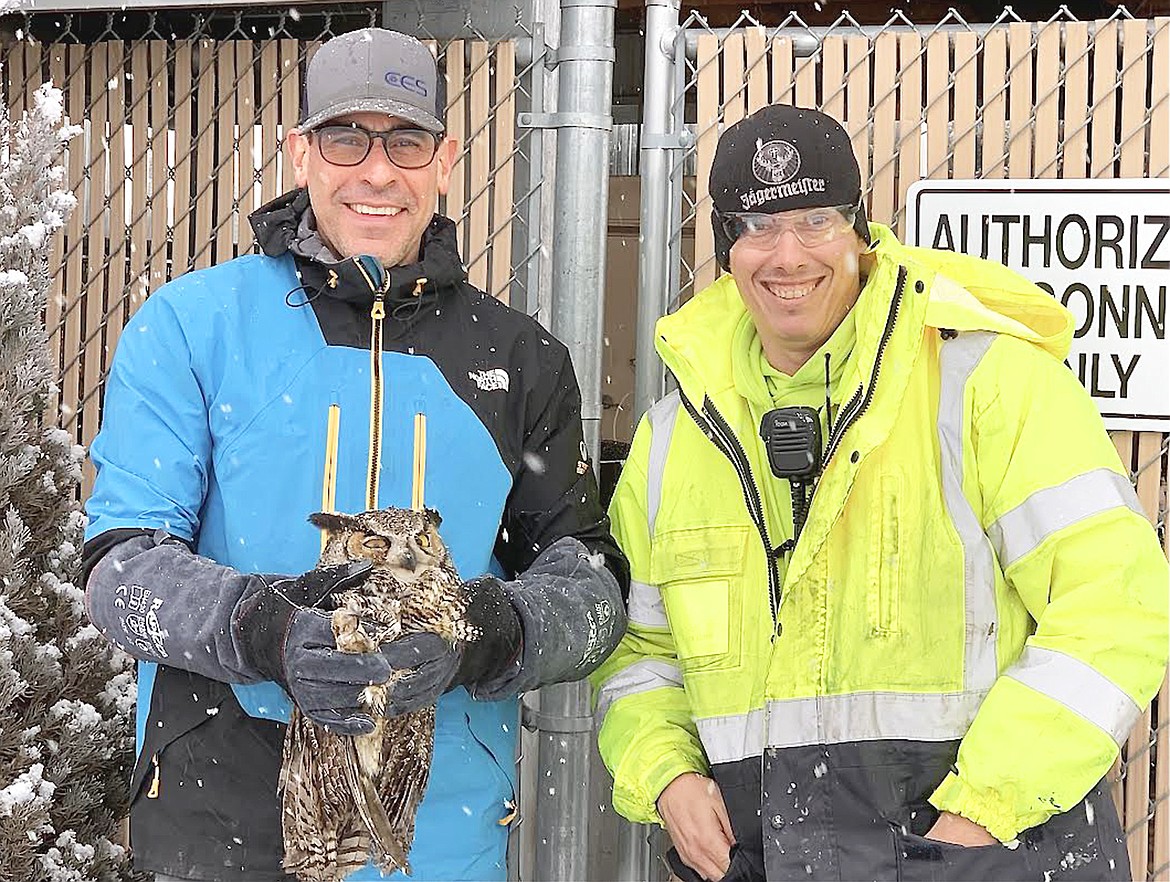 Photo courtesy Drew Day Drew Day, left, and Josh Douglas pose with the great horned owl that was rescued at the Kootenai County solid waste transfer station on Prairie Avenue on Christmas Eve.
by
BILL BULEY
Staff Writer
|
December 31, 2021 1:08 AM
Josh Douglas is used to finding surprises while working at Kootenai County's solid waste transfer station on Prairie Avenue.
He's accustomed to seeing soaring hawks.
But a great horned owl sitting on the ground near the used oil, batteries and household goods section? Right next to the authorized personnel only sign, on Christmas Eve?
Just sitting there?
Now that's something Douglas hadn't seen before or expects to see again.
And he knew the owl wasn't right.
"It looked like it was resting. If we walked near him, he kind of opened one eye. He wasn't worried about us," Douglas said. "He was pretty wiped out."
Douglas and his colleagues gave the owl time and space to see if it would fly away. It didn't.
"The owl didn't move all morning long," he said.
By noon, Douglas knew they had to act fast in the cold conditions if they were to save the bird that was there when they came to work about 8 a.m.
Following a series of phone calls, they reached Birds of Prey Northwest, which dispatched volunteer Drew Day to retrieve the owl.
Day, who earlier this year helped rescue an injured bald eagle and later released it, suspected the owl was injured in a collision caused by strong winds.
When he approached, it didn't try to retreat. Day carefully picked it up.
"It didn't put up much resistance in the state it was in," he said. "It was pretty helpless."
Great horned owls are relatively common in Idaho. They weigh about 4 pounds, are about 2 feet long and have a wingspan of about four feet.
After treating the owl as best he could on scene, it was taken to Birds of Prey's rehab center in St. Maries, where it's receiving food and fluids.
Both Day and Douglas have high hopes for its recovery. Day believes it suffered a head injury and its vision was affected.
"The swelling should go down," he said.
Day said Douglas and others at the transfer station might have saved it. If they hadn't acted, it probably wouldn't have survived on its own.
"They kept a watchful eye over it," he said.
Douglas was glad to do what he could.
"It was one of those one in a million things," he said. "I'm overjoyed that they came down and got it."
What would be even better, he said, is when he hears that the owl was released — and flew away home.
Recent Headlines
---