LAID BARE
WORLEY — For almost 20 years, Sun Meadow Family Nudist Resort has been a haven for those who practice naturism, a lifestyle of nonsexual social nudity.
But the sun is about to set on this special place.
With a sale pending, the resort closed its doors to the public on Dec. 20.
Nudists came from around the world to vacation at the family-friendly resort near Worley, which sits on 40 acres.
It features a full-service lodge, 12 hotel rooms, 62 RV spaces, tent camping and a number of amenities and activities.
Sun Meadow has even hosted the American Association for Nude Recreation National Convention — a rare honor in the nudist world.
Still, most locals have never heard of the place. It's remained something of a hidden gem, unknown to most outside the naturist community.
In the late '90s, a local naturist couple decided to create a place that nudists could visit all year long. (The nearest nudist resort at the time, Kaniksu Ranch in Loon Lake, Wash., closed each winter when snow made it inaccessible.)
Volunteers built the 15,000 foot Sun Meadow facility and planted about 9,000 trees.
"It was all a labor of love done by friends," said co-owner Margie Cantlon. She and her late husband, Chas, were among the volunteers who helped build the resort.
Mike Capshaw was another volunteer. He was there from the beginning.
The original owners showed sketches of their dream facility to Capshaw, who is an architect.
"I pulled in all my favors from all my engineers," Capshaw said. "I did all the plans for it. That was all for free."
The RV park opened first, followed by the lodge in 2004.
People of all ages are welcome at Sun Meadow. The resort's policy is that any activity must be safe for children to see and participate in.
Entirely and intentionally divorced from a sexual context, the nude human body is instead placed in the context of family and community. It's rare even to see married couples holding hands at the resort.
In 2007, the owners asked two couples — the Cantlons, as well as Mike and Terri Capshaw — to purchase the resort. A year later, the sale was finalized.
Mike Capshaw has been involved with the nudist community since the early '80s, but his interest in naturism began much earlier.
"As a child, we'd go camping and I'd always sneak off and run around without any clothes on," he said.
In adulthood, he discovered a community of like-minded people through nudist clubs.
For many, the appeal of nudism is simple.
"They find it's more comfortable not having to wear clothes," Capshaw said.
Some are so committed to naturism that they live it full-time.
A subdivision sprang up on private property near Sun Meadow, where nudists moved so they could frequent the resort.
It's a family community like any other. There's just one stark difference.
"Instead of somebody wearing a swimsuit or shorts, they won't be wearing anything," Capshaw said.
The community is close-knit — a natural byproduct of social nudity.
Without the barrier of clothes, people tend to open up about themselves more readily than they do in other situations.
"You don't really have a lot to hide from anybody," Capshaw said with a laugh. "You don't have secrets."
The subdivision will remain, even after the neighboring resort closes its doors for the last time.
The property's prospective buyer is reportedly a business owner from out of state who plans to turn the place into an RV resort for textiles — that is, non-nudists.
"The demand for campgrounds is just out of this world," said KC Reese, a broker with NAI Black.
The spot outside Worley is ideal, with the infrastructure already in place.
Reese said interest in the property was high. It will reportedly sell for less than the listed price of $2.8 million.
"It's 40 acres in North Idaho," he said. "Who doesn't want 40 acres in North Idaho?"
Showing the property to potential buyers was a memorable experience, he said — and one that did not require disrobing.
"The whole community out there is so welcoming and nice," he said. "They were just a joy to work for."
There's no place quite like Sun Meadow. Idaho boasts just one another nudist getaway: Bare Mountain Retreat in Boise.
The American Association for Nude Recreation lists 14 other nudist retreats in the Northwest, scattered throughout Washington, Oregon and Montana.
Capshaw said selling the resort is bittersweet.
"You're ready to retire, but at the same time, you're leaving something behind that you've poured your heart into and loved," he said.
The resort became more than a business. It became a real community.
"We have met fabulous people over the years," Capshaw said. "It's a safe place. A wholesome place."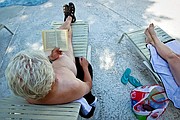 Recent Headlines
---