IDAGROW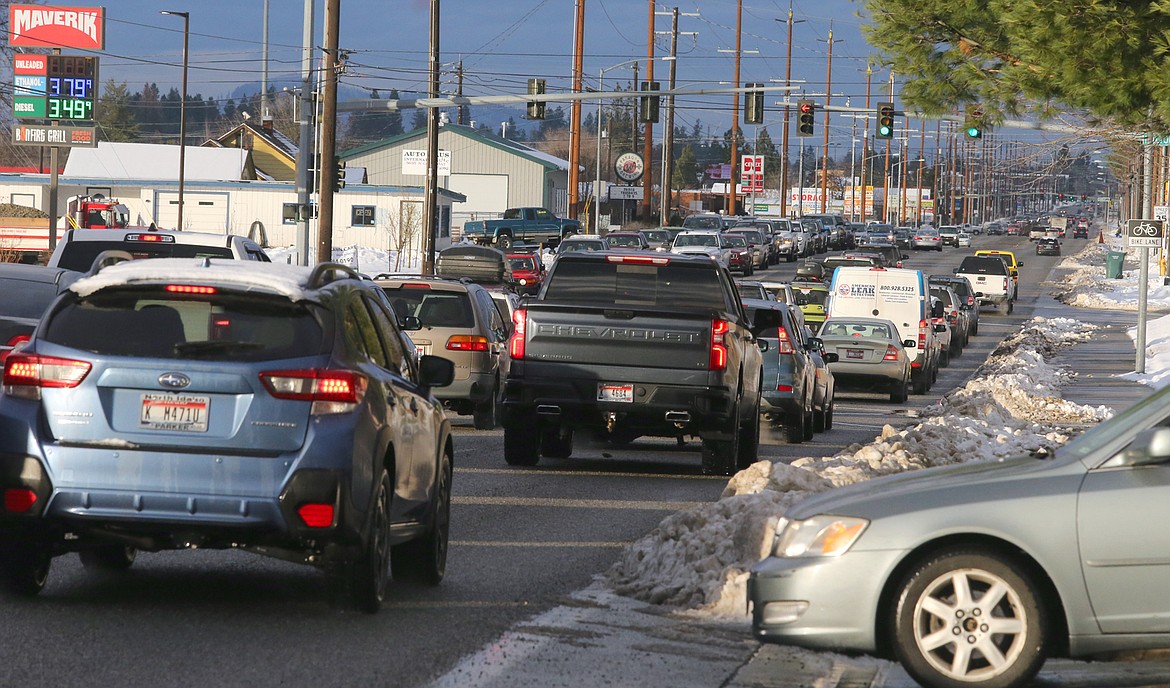 Traffic backs up in both directions in the 5500 block of Government Way near the Kootenai County Sheriff's Office on Wednesday, Dec. 22, 2021.
BILL BULEY/Press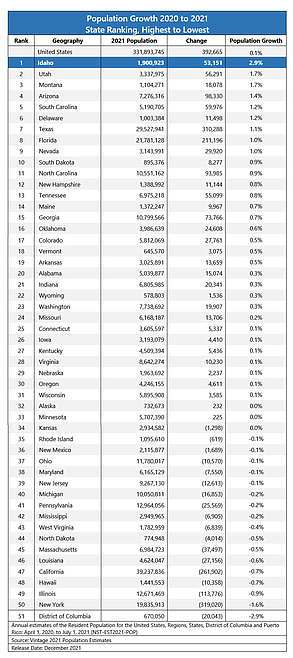 Courtesy of Idaho Department of Labor

Courtesy of Idaho Department of Labor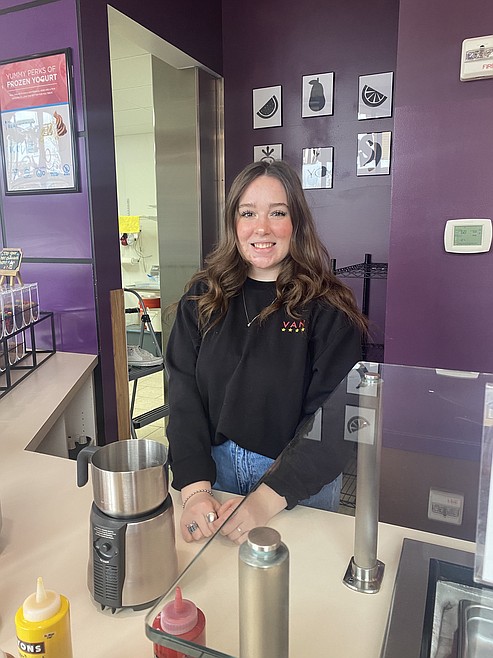 Coeur d'Alene High School senior, Andralinn Jacob, a Grooveberries employee commented on the influx of new students she's noticed at school.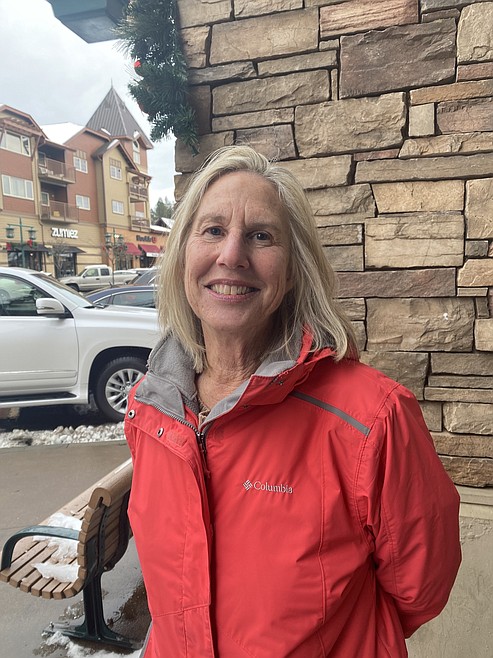 Harrison resident Deanne Miller waits for her husband Wednesday following a hair appointment in the Riverstone shopping area. As a newer arrival to Kootenai County, she hopes the hospitality and friendliness of North Idaho never change.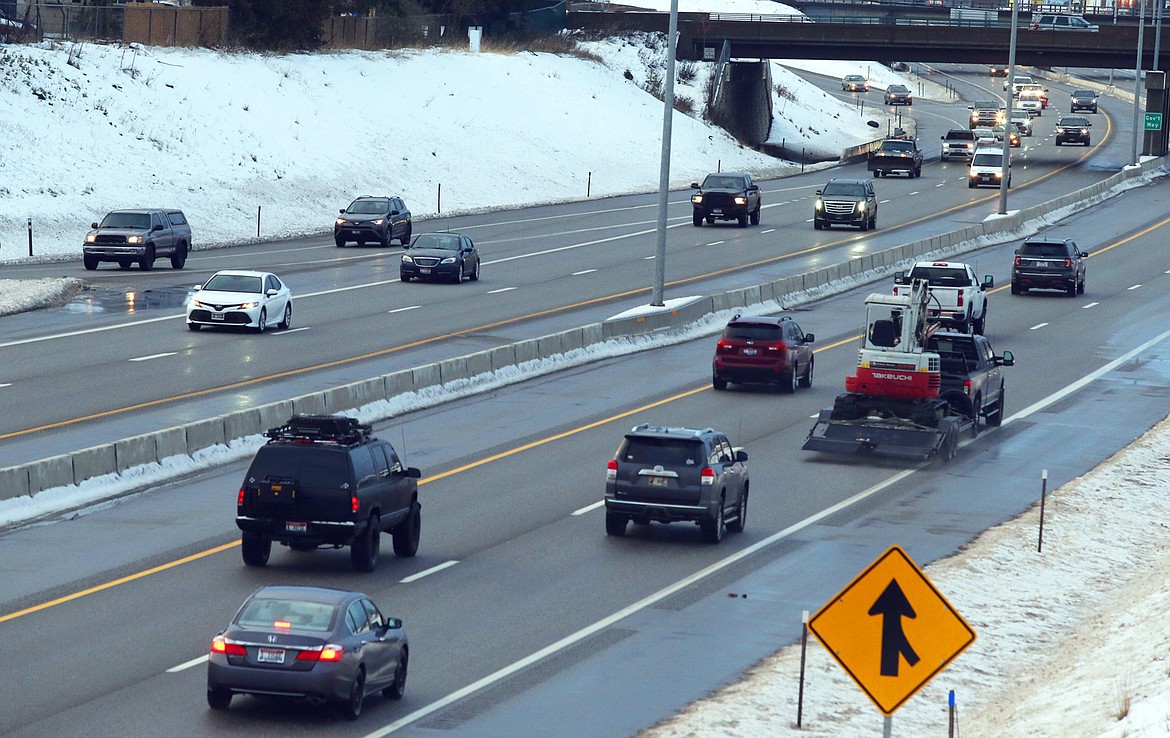 Traffic flows in both directions on Interstate 90 through Coeur d'Alene Wednesday, Dec. 22, 2021.
Previous
Next
by
ELLI GOLDMAN HILBERT & HANNAH NEFF
Staff Writer
|
December 23, 2021 1:09 AM
For the fifth consecutive year, Idaho led the country in annual population growth rate with an increase of 2.9%.
The news was delivered Wednesday by the Idaho Department of Labor.
Between 2020 and 2021, the state gained 53,151 new residents, the ninth largest numerically in the nation. The state now has an estimated population of 1.9 million, according to the U.S. Census Bureau.
Neighbors Utah ranked second and Montana ranked third, each growing by 1.7%.
Peggy Manko of Post Falls said Wednesday she's been living in the area for 40 years. She's concerned her town isn't equipped for the massive human inflow.
"We're really not prepared for the growth right now," Manko said. "We don't have enough staffing; we don't have enough schools."
Manko said there isn't enough inventory to keep up with demand because Post Falls is a small town.
"I think there has to be a curb on houses," she said. "We need to take a break from that for a while so we can catch up with schools and facilities."
Manko said she went to the post office in Post Falls three different times, and each time the line wrapped around the building. She said she'd never seen anything like that, even during the holiday season.
"It just tells me that we have been bringing more people here so we need another post office," Manko said. "When you have this much growth this fast you have to be able to provide services as well."
Seventeen-year-old Andralinn Jacob has lived in Coeur d'Alene all of her life.
"I've seen a lot of growth in school," she said. "There are a lot of new students coming in, especially at the semester breaks."
Characterizing the state as "a come as you are kind of place," Jacob said she sees most of her fellow students welcoming new peers.
"But I also feel like there are some groups of people who don't want new people to come in," she said. "It's just turning into a city and isn't so much a small town anymore."
Jacob is a Coeur d'Alene High School senior who works at Grooveberries Frozen Yogurt in the Riverstone shopping area.
The primary driving component of Idaho's population growth was people moving from other states.
Jim Morrison, a Coeur d'Alene resident, said he moved from Mesa, Ariz., last year because he liked the small-town feel and wanted to get away from the heat.
Morrison said most of the people he's met who moved to the area are from Arizona, California and Washington. California had the largest domestic migration loss in the country from 2020 to 2021, losing 367,299 people.
"They come here to live this style, to be in a smaller town," Morrison said. "Unfortunately, it's growing really fast."
Morrison said he thinks it's important that out-of-staters take on Idaho values and don't bring with them what they didn't like about their previous state.
He said with all the growth, the town will have to keep building more housing, but developers need to focus on putting up smaller houses rather than building California-style.
"It's taking away from that small-town feel," Morrison said. "I think that's where developers need to be reined in to keep it looking and feeling like a small town."
Newcomers include Deanne Miller of Harrison.
"I'm one of the ones who moved here during the past five years," said Miller, an ex-Californian. "I think the growth is a good thing but it also has its challenges in the sense of infrastructure. Where we live it's pretty rural so we don't face the traffic congestion as much as people in the downtown area."
Miller and her husband had been traveling through southern Idaho prior to relocating in North Idaho. Their vehicle broke down and they experienced an outpouring of kindness from strangers who jumped to their aid, offering everything from lodging to auto mechanic expertise.
"We fell in love with that level of hospitality," Miller said. "But we didn't love the southern terrain so then we had to explore the northern part of the state and we really fell in love with it."
"We hope that we have contributed to that same hospitable climate we fell in love with and we want to be a part of that as newcomers," Miller said. "We don't want to change things. We want the reason that we came here to be the reason that others love it, too."
Recent Headlines
---