Holiday home? Hardly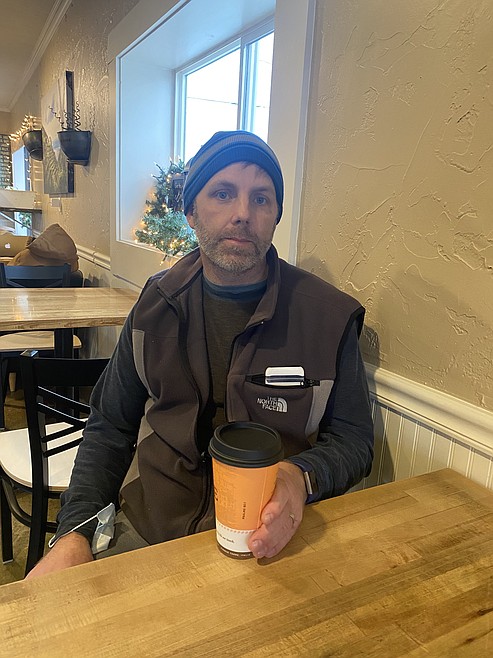 Post Falls renter Mark Martin shared his story Friday. After renting his home for over six years, the Martin family was given two days' notice that it was being placed on the market which means they may be forced to relocate during the holidays. With the current real estate market he fears they will have to leave the area.
ELLI GOLDMAN HILBERT/Press
by
ELLI GOLDMAN HILBERT
Staff Writer
|
December 19, 2021 1:09 AM
POST FALLS — Mark Martin, a married father of three, relocated to the area almost seven years ago for a job.
His family has been renting their three-bedroom, two-bath home for over six years for $1,400 per month. Now, they may be forced to move during the holidays.
Just before Thanksgiving, the family received two days' notice that their home would be put on the market. The real estate agent also said they would need access to the home for showings. The 1,382 square-foot home is listed with Keller Williams Realty for $420,000.
Though the landlord isn't doing anything illegal, the Martins are dismayed. They said they'd been told they "could stay as long as they liked," though they were on a month-to-month rental agreement, Mark Martin said.
The owners of the Martins' rental live out of state and have had little contact with them. The rent was always paid on time and maintenance issues were handled promptly, Martin said.
"We've always had a good understanding," he told The Press. "I think it's been a decent relationship."
Martin said he was a landlord for 10 years before moving to North Idaho.
"I think that's what hurt the most," Martin said. "When it came time for us to sell our property in Oregon, I gave my tenant three months' notice."
The Martins reached out to their landlord to implore them to wait until after Christmas.
They were told that due to the homeowner's "personal issues," the sale could not be delayed. Martin wonders if the sudden sale is due to rising home values.
Martin looked into renters' rights in Idaho and learned that the owner is required to present a 30-day written notice from themselves or a property manager.
Idaho Legal Aid confirmed that with a month-to-month contract, the only requirement is a written 30-day notice.
The Martins have not been told they need to move.
The family had opted for month-to-month because they've been saving to purchase their own home. For the past two years, they've been looking for their "forever home," Martin said. They haven't found the right place and now prices are placing their dream out of reach.
The situation has caused stress for Martin and his wife. They've been keeping the news from their three children, ages 4, 7 and 10, to protect them from worry, Martin said.
Because of real estate showings, Mrs. Martin has removed the family's personal effects and holiday decorations, and she's troubled about the uncertainty of their future, Martin said.
With the current conditions of the real estate market, the family hasn't found a rental home they can afford so they may be forced to leave the area, he said.
According to redfin.com, a housing market analysis group, as of November, Coeur d'Alene area home prices had gone up 27% compared with November 2020. The median home price is now $578,000.
According to the Coeur d'Alene Association of Realtors, the median price of a Kootenai County home as of October was $475,000. The association's current active listings total 382, and the average days on the market are 76.
Rent prices have increased as well.
Nathan Barber, a public relations specialist with LendingTree, said Idaho saw a 22% increase in rental prices in 2021. The average one-bedroom unit costs $841, Barber said.
Kristen Johnson, a Realtor with Century 21 Beutler & Associates and the Coeur d'Alene Association of Realtors president, said she doesn't see a "huge disruption of the rental market."
"Some investors if they have a large fleet may be letting go of some investment properties right now," Johnson said Friday. "But it's probably a small percentage."
But that small percentage is little comfort to Martin, an electrical engineer who said his family loves it here.
"We thought the environment was ideal for children. It had a small, hometown feel when we moved here," Martin said. "Now it doesn't feel like that at all."
They began to notice changes about a year ago, Martin said.
"Everything just started flying off the market. People were swarming to buy property," Martin said.
"We really love the Post Falls area," Martin said. "We've established ourselves here."
As a Cub Scout leader for his children's troops and a coach for their sports activities, Martin hopes something will work out so they can stay in Post Falls.
"We are God-fearing people — believers," Martin said. "We do trust that God will provide for us in some sort of aspect."
Recent Headlines
---