Who's ready for some pizza?
by
NILS ROSDAHL/Special To The Press
|
December 19, 2021 1:07 AM
The soft opening was Friday and the full opening is Tuesday for Malvagio's eatery in Fairgrounds Center at 4055 Government Way.
Matthew and Svetlana Petersen offer wood-fired pizza, pasta, gnocchi, salads, desserts, beer, wine and soft drinks with seating for 35, take-out, small office lunches and event catering. Mallory Frayer is general manager.
Hours are 11 a.m. to 9 p.m. Tuesday through Saturday. The Petersens have been catering pizza and working Live After 5 and farmers markets since 2017. Phone 208-667-0661. Check malvagios.com.
Sherman Waffle House opens in Plaza Shops
With a specialty of stuffed bubble waffles, the Sherman Waffle Co. has opened where the tea and coffee counter was previously at the sidewalk entry to the Plaza Shops on Sherman Avenue between Second and Third streets.
Customers can build their own waffles with spreads, drizzle, toppings and add brownies, cookies and cream, hot chocolate and more.
Hours are 3 p.m. to closing (after the Santa cruise) on weekdays and 11 a.m. to closing on weekends.
Prairie Xpress opens in Hayden
Chevron gasoline and a variety of store products will be at the Prairie Xpress when it opens in the southeast corner of Government Way and Prairie Avenue.
The store will offer grocery items, beer, wine, soda, snacks, cigarettes, tobacco, lottery, candy, water and general merchandise from 6 a.m. to 11 p.m. daily.
"This is a location where everyone can enjoy the utmost shopping experience with outstanding customer service," said Manpreet Singh, manager.
208Massage&Spa expands on Fourth St.
Adding acupuncture and skin-care services to its massage treatments, 208Massage&Spa (all one word) will expand into Suite 104 at 1022 N. Fourth St. in January.
With four treatment rooms and skin-care products, services include massage therapy, acupuncture, skin care and massage with Bethany Neal, Tashina Reyes, Claire Vouga and Karin Smith.
Hours are 9 a.m. to 6 p.m. weekdays and 9 a.m. to 3 p.m. Saturdays and Sundays. Phone 208-627-7243. Check 208Massage.com.

Now the Tidbits
A new building for Etco Services is under construction off Huetter north of Seltice and I-90.
Golden Glo Coffee will open soon at Highway 41 and Nagel Lane.
Breaking Bread Bistro will be where Davis Donuts was at Fourth and Best.
Valley Roots is new at 1001 Spokane St. in Post Falls.*
A building permit for the former Shopko building says "Sportsman & Ski."
HDR Engineering has leased space in Riverstone.
A sign along I-90 near the Ironwood exit says "CdA Kids Dental Coming Soon."
A sign on Wayne Drive in Hayden says "Future home of Blue Chip Chiropractic."
Northwest Specialty Hospital is expanding at 1551 E. Mullan Ave., in Post Falls.
Open Arms Real Choices Clinic will move from 1800 Lincoln Way to 8056 N. Wayne in Hayden.
Metro Express Car Wash is building a large new place in the northwest corner of Highway 41 and I-90.
Lone Mountain Farms & Brewery will have a new place in the Lancaster Market development at U.S. 95 and Lancaster Road.
Consign Furniture has a "coming soon" sign southwest of the U.S. 95-Lancaster Road intersection.
Renew Aesthetics & IV Hydration Bar will move from 515 Fourth St. to 1101 W. Ironwood Drive in January.
An Express Exterior Carwash is being built in the 3400 block of Seltice Way in Post Falls.
A new T-Mobile place will be in the northeast corner of U.S. 95 and Hayden Avenue.
The Rebel Junk Shoppe at 2424 N. Fourth St. will expand to a street-side location.
Bruchi's quick service restaurant is planned for a new building north of the corner of Highway 41 and Mullan Avenue.
The new Dairy Queen at 513 W. Hayden Ave., just west of U.S. 95, will open soon.
The former Ugly Fish restaurant building will be a Berkshire Hathaway Realty in Riverstone.
Watch for construction of Vantage Point Brewery across from Michael D's Eatery off Coeur d'Alene Lake Drive.
Pedego Electric Bikes is coming into Riverstone.
Kaffee Meister will be at 9212 Government Way.
A Sweet Lou's restaurant, a Dollar General store and a Grease Monkey auto place will be at the Crossings in Athol.
Gathered Restaurant is new on Spokane Street in Post Falls.
The Lucille building under construction at 2605 N. Fourth St. will have five commercial suites of Northwest Construction Management, Align Yoga Studio, Refined Salon, Heirloom (wedding dresses) and Stylus Wine & Vinyl Bar.
TownePlace Suites by Marriott Hotel will be built where the Outback Steakhouse was in the southeast corner of I-90 and Northwest Boulevard.
Several steel storage buildings will be built at 3758 W. Hanley Ave., off Atlas Road, for Hern Ironworks.
New places coming to Silver Lake Mall include Customs Laser Engraving, All Fired Up, Crime Scene Entertainment and American Heritage.
A Sarah Hamilton FACE place will be at 2120 Northwest Blvd.
A new commercial and residential building will be built at Government Way and Davidson Avenue.
Watch for major changes with the Burger Bunker and Bunker Bar off Spokane Street in Post Falls.
The Garnet breakfast place in midtown will move to the former Broken Egg building on Government Way.
A new gas station-convenience store will be in the northeast corner of Atlas at Seltice.
We have rumors of new Costcos in Hayden and State Line and a Trader Joe's in Coeur d'Alene. We'll see.
A large storage complex and new corporate office for Steel Structures of America is being built off Highway 41.
The Den will be a new tavern at 761 N. Idaho St. in Post Falls.
My Nails & Spa will be off Canfield Avenue.
The CDA Corner Store is adding a kitchen and tables downtown.
Takara restaurant will be downtown.
Schmidty's Burgers will be at 1524 E. Sherman Ave.
Napa Auto & Truck is building a new location in Rathdrum.
Coeur d'Alene Nissan will have a major addition to its building off U.S. 95.
Watch for a new apartment building at 128 W. Neider Way, across from Safeway.
Mountain Goat Lounge is under construction connected to the Moose Lounge downtown.
The Lake Coeur d'Alene Inn is under construction on Coeur d'Alene Lake Drive between Mullan Avenue and Michael D's Eatery.
Our area needs a major east-west street about halfway between the existing ones of Seltice Way and Prairie Avenue. Maybe Poleline from Post Falls and Hanley from Coeur d'Alene should connect.
Contact Nils Rosdahl at nrosdahl@cdapress.com.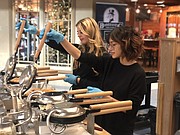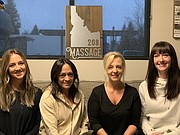 Recent Headlines
---