ZAG TRACKER: Just what has been going on with these Bulldogs?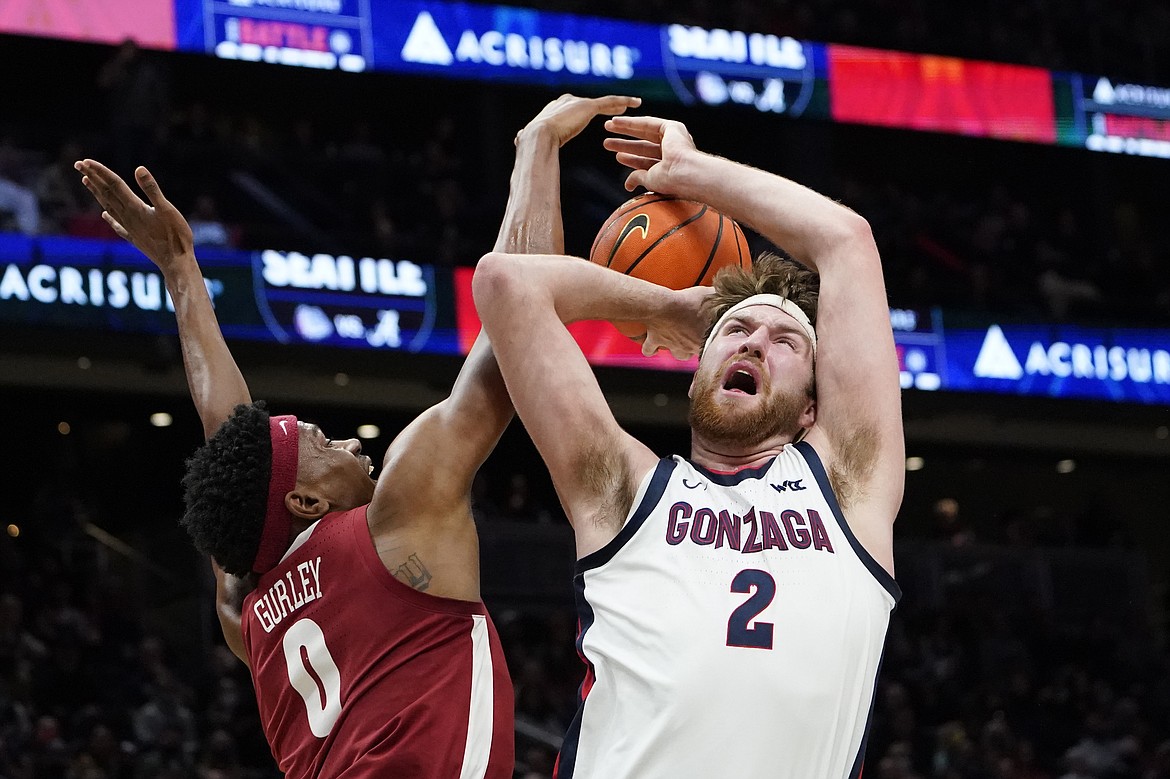 ELAINE THOMPSON/Associated Press Alabama's Noah Gurley (0) knocks away a shot by Gonzaga's Drew Timme (2) during the first half of last Saturday's game in Seattle.
|
December 9, 2021 1:15 AM
There's panic everywhere.
Women and children are racing through the streets.
The Apocalypse must be at hand.
Why?
Why?
Well …
Gonzaga has lost two of its last three games – and played indifferently in the other one.
That is not the way of our planet.
The cosmos has to be out of balance.
Yes, of course I'm joking, but the Zags' mini-slump has caused just about every basketball guru west of the Mississippi (and even some on the East Coast) to weigh in on what's going wrong.
After all, this team was ranked No. 1 in every preseason poll – boasting two terrific returning starters (Drew Timme and Andrew Nembhard), an improved bench piece (Anton Watson), three five-star freshmen (Chet Holmgren, Nolan Hickman and Hunter Sallis), a solid transfer guard (Rasir Bolton) and a star sophomore (Julian Strawther).
That's not even including some exciting young players like Ben Gregg, Kaden Perry and the currently injured Dominick Harris.
It's quite a cast.
THE ZAGS, though, have gotten off to sluggish starts in the past three games – and disorganized finishes against Duke and Alabama have cost them defeats that might impact NCAA seeding next spring.
So, what's wrong?
Most opinion pieces have seemed to focus on the beginning of games, and the notion that the Zags are "flat" or not playing with any particular "urgency."
I disagree.
It looks to me as though they're trying as hard from the opening tips as any other times.
The problem, more likely, is a lack of execution – either down to a faulty game plan or players not quite grasping what the coaches warned them to expect.
Thus, they look a bit "out of it" at the start of games.
Mark Few pointed to himself and the staff after the Alabama game, suggesting that they felt a couple of Tide starters were not good 3-point shooters, nor had the confidence to take those shots.
Few said they wanted to deny 'Bama any drives to the hoop, but the strategy exploded when the players they left alone – notably freshman JD Davison (4 of 6 behind the arc) – shot the lights out.
In the Duke game, I suspect the Zags brain trust believed Timme or Holmgren could take advantage of soph Mark Williams in the post, only to discover that Williams (17 points, 9 rebounds and 5 blocks) had improved dramatically this year — more than enough to change the entire dynamic of the night.
So, let's write off some of those disappointing starts to the scouting, which was at least partially wrong.
Fair enough.
It happens, even to the very best.
HOWEVER, there are other, more fundamental problems that these Zags — coaches and players — will have to solve if this group is going to make a run toward the Final Four.
The first item is purely physical.
Gonzaga needs to make free throws.
Timme and Holmgren, the guys you'd expect to be fouled most often, combined to go 7 of 15 from the stripe against Alabama (Timme 3 of 8, Holmgren 4 of 7).
As a team, the Zags were 13 of 25 in that game, and that's not the worst of it.
They missed the front end of five one-and-one opportunities.
Timme now has fallen to 65 percent for the season from the line, and Holmgren 67.9.
Those are the two lowest percentages on the team, except for Anton Watson (62.5), who is definitely a factor in all this because he's playing 15.7 minutes per game.
One thing that's slightly scary is that, looking at their Gonzaga careers so far, Timme has been a 66 percent shooter, while Watson is dead on his average at 62.5 These guys are simply not particularly good from the foul line.
To quote longtime TCU and Oklahoma coach Billy Tubbs: "Two things don't last long: dogs who chase cars, and basketball teams that can't shoot free throws."
NOW WE come to the truly puzzling piece if you're trying to project the success of this Gonzaga team going forward.
Few probably has sleepless nights trying to think of a solution.
To be brutally honest, Timme and Holmgren have not looked comfortable (nor been particularly productive) when they've been on the floor together.
If this were football, you could play Timme on offense and Holmgren on defense, but …
Sorry.
The issue, obviously, is that Timme has to play in the post – where he is a gifted and lethal scorer.
That leaves the multi-talented, 7-foot Holmgren doing …
What, exactly?
At times, the two big guys have found some serendipity with a high-low game, but teams have wised up to that action and simply deny one spot or the other.
Holmgren didn't come to Gonzaga to play with his back to the basket. He's preparing for the NBA and saw the success of versatile big men like Domas Sabonis and Killian Tillie.
IN THEORY, Holmgren could play power forward for the Zags, taking a few 3-pointers but also crashing the boards for put-backs and so forth.
He's also quick enough to guard most bigger forwards, although his thin frame means he can be pushed around at times.
And frankly, Chet is just learning how strong and aggressive college players can be – he's been turnover-prone when teams attack him and try to slap the ball away.
I think …
Well, I think what we're seeing is Few deciding that Holmgren is not quite the finished product many people hoped he'd be.
So, he's trying the coach the "unicorn" into a useful role, one step at a time.
Holmgren only played 22 minutes against Alabama, his lowest total of the year in a meaningful game.
One final point …
An obvious problem with playing Timme and Holmgren together is that it slows down the Zags' transition game – in other words, their proven style and most feared weapon.
Somehow, Few has to figure out how to use these two terrific players.
Wish him luck.
He's also got an issue concerning his guards, but …
We'll save that for another week.
Email: scameron@cdapress.com
Steve Cameron's "Cheap Seats" columns appear in The Press on Mondays, Wednesdays and Fridays.
He also writes Zags Tracker, a commentary on Gonzaga basketball which is published weekly during the season.
Steve suggests you take his opinions in the spirit of a Jimmy Buffett song: "Breathe In, Breathe Out, Move On."
Recent Headlines
---