Trestle Creek closure area shrinks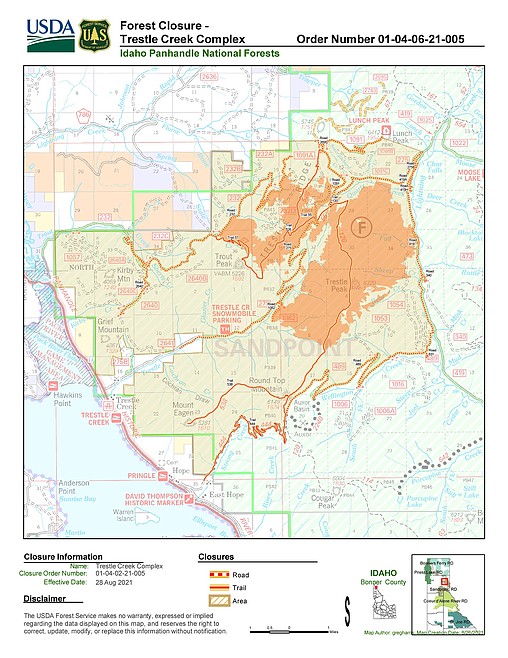 by
KAYE THORNBRUGH
Staff Writer
|
August 31, 2021 1:06 AM
KELLOGG — Recent rainfall helped firefighters make progress in their battle against area wildfires.
The Deceitful fire was 62% contained as of late Monday. The blaze comprises about 11,800 acres north of the Silver Valley and threatens 211 structures.
Crews patrolled fire lines around the contained portion of the fire Monday to extinguish hot spots.
Fuel break work continues toward Toboggan Creek on the 2349 Road and along the 939 Road north of Murray. These fuel breaks will help reduce future fire threats to structures within the Eagle Creek drainage and the community of Murray.
Level 2 evacuation orders remain in place for Murray and Eagle.
Residents in these areas should be prepared to evacuate, with supplies gathered and vehicles fueled and ready to go.
Coal Creek, Beaver Creek and Prichard remain under Level 1 evacuation orders.
Residents should consider planning or packing in case an evacuation becomes necessary.
King's Pass Road opened Monday. The public should use caution when driving through burned areas.
Meanwhile, due to recent weather conditions, road and area closures associated with the Trestle Creek Complex have reduced in size.
The complex is burning within the Sandpoint Ranger District on the Idaho Panhandle National Forests.
The boundary of the closed area is as follows:
From Hwy 200 where it intersects with the forest boundary in T. 57N, R. 1 East Section 5 and going northeast following the Forest boundary section 17 in T. 30 N, R. 2 E.
Then, continuing due East to Lunch Peak. From Lunch Peak heading southeast to the intersection of Forest Road 275 and Forest Road 1022 and heading South on Forest Road 419 (Lightening Creek Road) to the intersection of Forest Road 419 and Forest Road 489 (Wellington Road).
Continuing Southwest following Forest Road 489 to the intersection of Trail 444 and then following the 444 trail to the Forest boundary.
Then following the Forest Boundary in a northwest direction to where it intersects with Hwy 200 in T. 57N, R. 1 East Section 5.
The closed area includes all National Forest System lands within this boundary.
---