Oh my Darlin'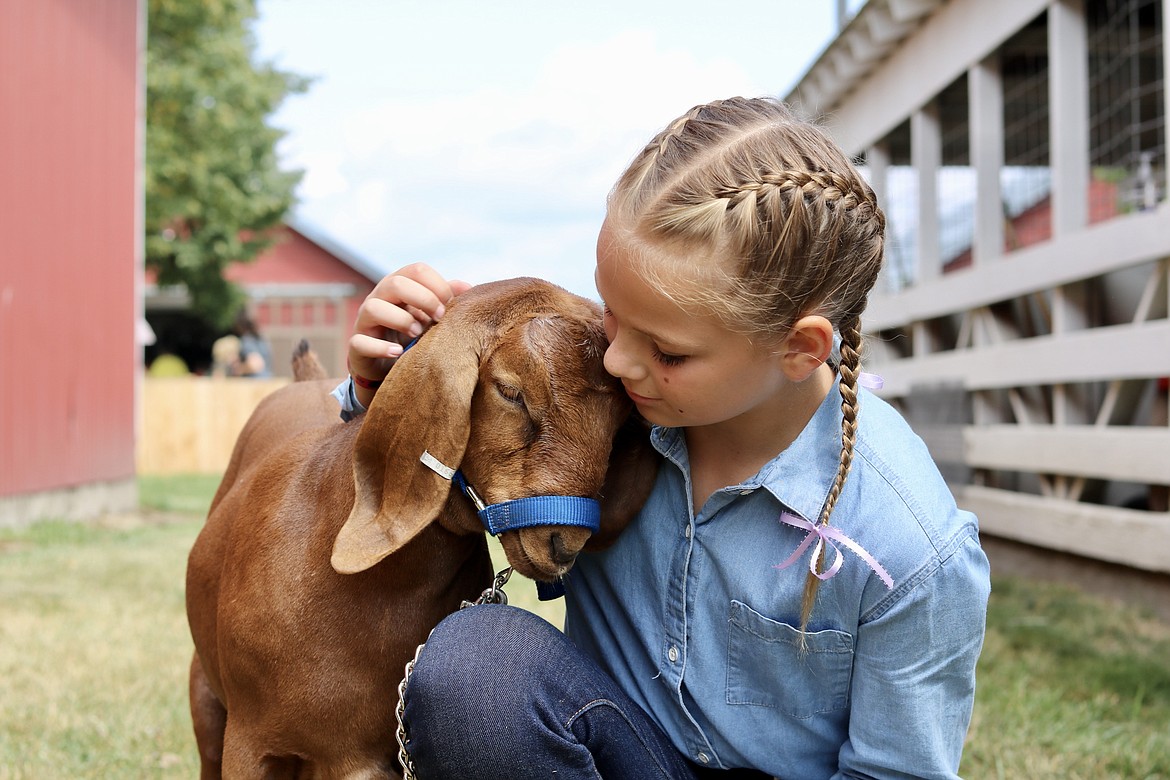 Jersey Larson, a 11 year old member of the County Roots 4-H club, prepares her market goat, Darlin', for the show ring Saturday morning at the North Idaho State Fair. HANNAH NEFF/Press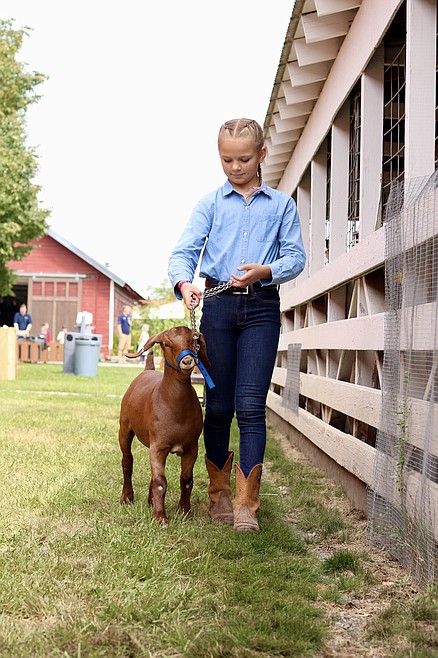 Jersey Larson, 11, walks her market goat, Darlin', to prepare for the market goat show on Saturday morning at the North Idaho State Fair. Larson has been participating in 4-H for four years. HANNAH NEFF/Press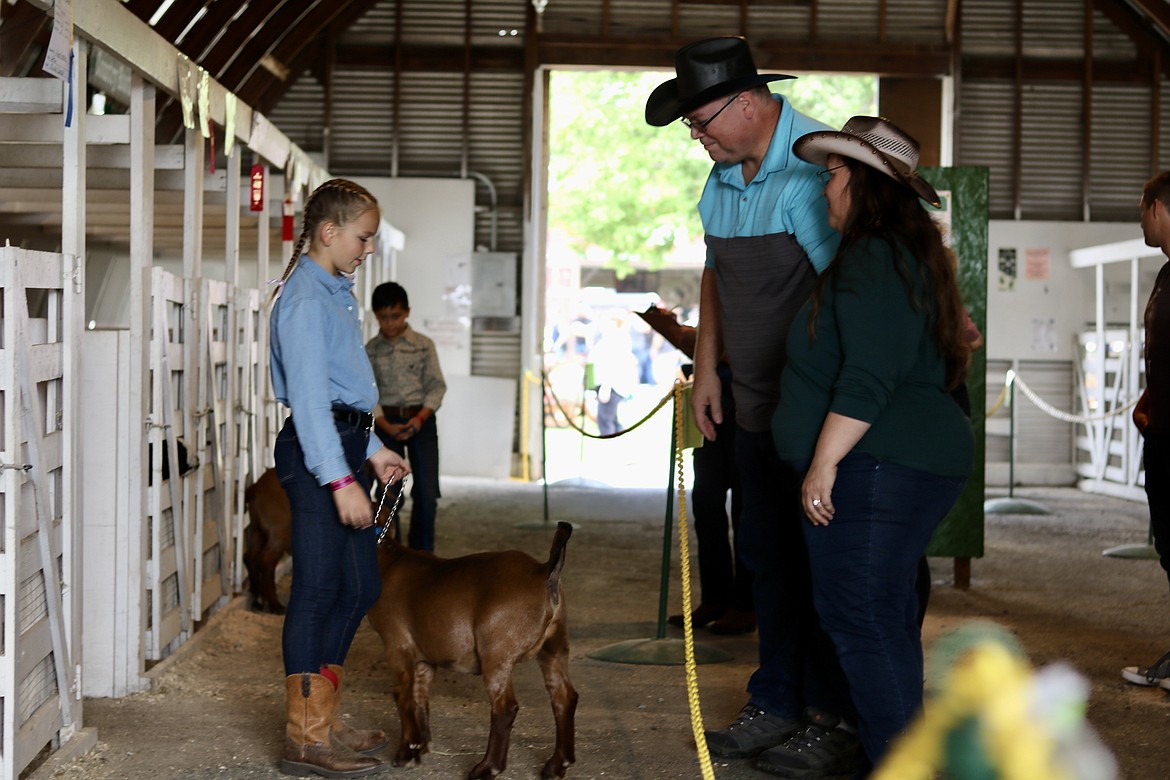 Jersey Larson, left, an 11 year old member of the Country Roots 4-H club, talks with fair-goers in the market goat barn at the North Idaho State Fair on Saturday morning. HANNAH NEFF/Press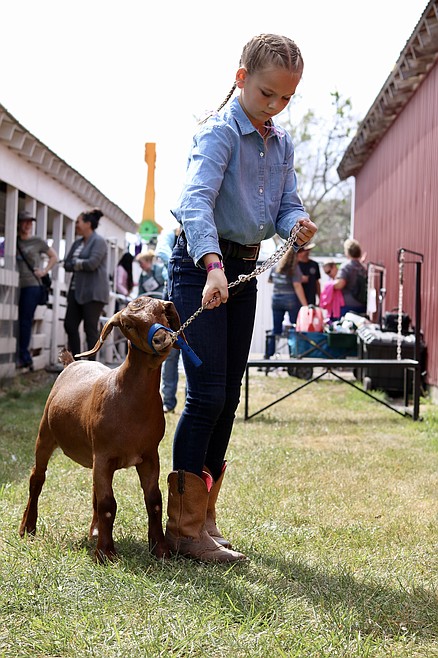 Jersey Larson, 11, practices walking her market goat, Darlin', for the market goat show at the North Idaho State Fair on Saturday morning. HANNAH NEFF/Press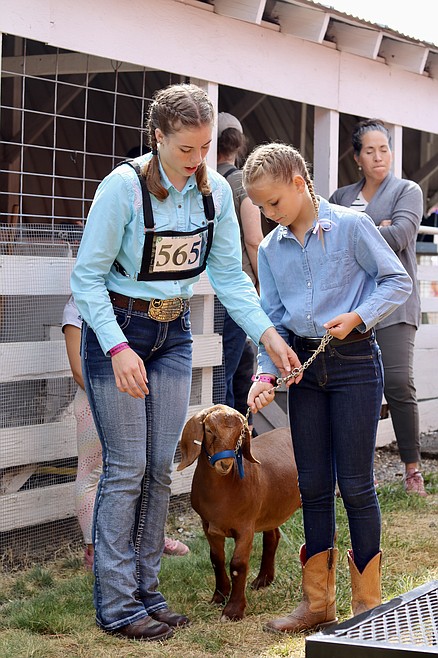 Avery Sabatke, left, a 16 year old 4-H member, helps Jersey Larson, right, 11, prepare for the market goat show on Saturday morning at the North Idaho State Fair. HANNAH NEFF/Press
Previous
Next
by
HANNAH NEFF/Press
|
August 22, 2021 1:08 AM
COEUR d'ALENE — At 11 years old, Jersey Larson is one busy girl.
Aside from soccer, piano and dance, Jersey, a member of the County Roots 4-H club, spent much of her time leading up to the North Idaho State Fair with her market goat Darlin'.
"Bonding is a really important thing to have with your animals," Jersey said. "I start by hand-feeding it food and slowly approaching it and calling it by name."
The goat barn at the Kootenai County Fairgrounds was bustling Saturday as 4-H kids washed and groomed their animals to get them ready for the afternoon show.
Young showkids hurried to change into their show uniforms and get some last-minute practice with their goats.
Avery Sabatke, a 16-year-old member of the Panhandle Pioneers 4-H club, helped Jersey practice showing and gave her tips.
"I've helped a lot with different clubs in the little kids and that's personally what I love to do," said Avery, who's been showing for six years. "It's just like helping the little kids and getting them to fair that I think is super fun."
Jersey's mom, Cassie, said she likes how 4-H teaches leadership skills and the older members will step up to help the younger kids.
"There's really good leaders like Avery Sabatke, some of these older kids, and (Jersey) looks up to them and wants to be like them," Cassie said. "And then (Jersey) became that for some of the younger kids."
Jersey has been raising Darlin' for over a year, making sure to feed her twice a day and give her fresh water.
"It helps you learn responsibility," Jersey said. "And also, it's just something fun to do."
Jersey said that to get ready for the fair, she practiced walking and bracing her goat several times a week so that Darlin' would be ready and comfortable when she got in the show ring.
Even though there's a lot of work involved, Jersey said it's all worth it, especially because she gets the opportunity to earn a profit by selling her animal at the 4-H market animal sale at 10 a.m. today.
After the market goat show, Jersey will prepare for showing her rabbit, Sport, on Thursday.
"She loves it, and she loves the camaraderie," Cassie said. "She has lots of stuff she's involved in but I couldn't see her dropping 4-H. It's taught her so much."
The fair continues through Aug. 29.
---