Future mall on prairie, neighborhood projects get OK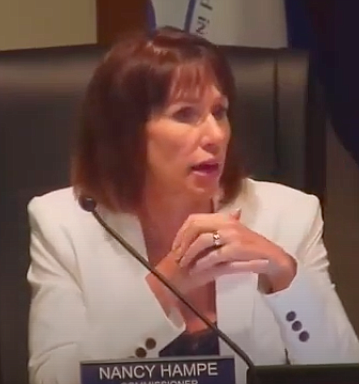 Post Falls Planning & Zoning commissioner Nancy Hampe speaks on the Blue Spruce Meadows project- "I like the idea of changing to twin-homes, it means another product will be available to the people of Post Falls"
Photo courtesy of the city of Post Falls
by
ELLI GOLDMAN HILBERT
Staff Writer
|
August 12, 2021 1:07 AM
POST FALLS — The city's Planning and Zoning Commission unanimously approved three projects Tuesday night.
Two residential subdivisions, Boyd's Landing and Blue Spruce Meadows, as well as the Prairie Crossing Subdivision for a shopping center at the corner of Highway 41 and Prairie Avenue, all got the panel's OK.
Infill building, affordable housing options and bringing more commercial business to Post Falls were prominent points of discussion.
Only two members of the public spoke to the commission Tuesday night.
The 11-acre Boyd's Landing subdivision will be divided into 43 single family lots equal to about 3.6 units per acre.
Previously zoned R-1, Boyd's Landing will be single unit residential dwellings.
Located on the north end of Bogie Drive between Greensferry Road and Cecil Road, once completed it will connect to the Corbin Meadows development to its north.
"I think they've done an admirable job creating connectivity," said Commission Vice-Chair Ray Kimball. "As far as developing for the future, they've done a really good job doing that; they've met requirements, the lots meet the zoning code for width and size. I think it meets all criteria for approval."
Eight specified conditions were met and approval was granted.
The Blue Spruce Meadows Subdivision was brought to the commission to modify a previously approved plan.
Wildflower Properties LLC had been approved to build 18 duplexes and two twin homes on the land.
Representative Ethan Porter requested allowance to develop 38 twin-home lots instead.
Duplexes and twin homes are two separate homes within one building.
The difference between the two is one of property ownership, Porter said.
Duplexes are usually owned by one person, often as a rental investment. A twin home will have two separate property owners.
Porter told commissioners that in this case, the common wall dividing the two halves will be placed directly on the property lot line.
"It will be a duplex with just a lot line in the middle," said Porter. "They are asking for more lot lines but the same amount of units on this acreage."
The project site sits on 5 acres west of McGuire Road and south of Midway Avenue and is zoned for R-2 development.
Commissioner Nancy Hampe said, "I like the idea. It allows them to be owner occupied where duplexes would most likely be rentals."
Commissioner Ross Schlotthauer approved the plan because it "creates other affordable housing options."
"It's a win," he said.
There were no public comments or questions about the project.
Jon Manley, planning manager for the city of Post Falls, presented the Prairie Crossing Subdivision.
The 44-acre lot was annexed in 2006 and previously zoned for community commercial use.
Prairie Crossing will be a shopping center with 19 commercial lots. Approval allows the subdivision process to begin.
"Eventually 19 different site plans will go through the administrative process over a long period of time," Manley said Wednesday.
"The land developer needs the lots prepared so they can then be marketed to business owners," he said.
Rumors of retailers already showing interest in the property were heard but none specifically named.
Local resident Bob Flowers spoke as a neutral party to this plan.
"I love commercial projects," he said. "The more the better.
The problem I have is with the zoning of this property as CCS. We could end up with a bunch more apartment buildings rather than businesses here."
That's not quite right, said Jack Smetana, an engineer with Frame & Smetana PA.
"For clarification, zoning is set at the time of annexation," he said. "Any type of residential apartment building in CCS zoning requires a special use permit which would require a separate public hearing."
Planning & zoning commissioners responded enthusiastically to the project, though traffic concerns were discussed.
Kimball, an engineer by trade, said "commercial traffic generation is different from residential traffic generation — they are almost opposites."
Having commercial development where there currently is none will steer people in a different direction, thus relieving pressure from other traffic spots that already have problems, he said.
"I'm glad to see some construction on Highway 41," said commissioner Vicky Jo Carey. "We would like to keep our dollars here by bringing in some good stores."
The land was already zoned for commercial use; the request was to begin the subdivision process.
"Without even doing a subdivision today they already have the right to build a Lowe's if they want to," Kimball said. "This is a little more thoughtfully planned and a long time coming."
In the eyes of Planning & Zoning, all 13 criteria points were satisfied and the plan was approved unanimously.
Planning & Zoning meetings are announced on the city of Post Falls website at postfallsidaho.org.
Recent Headlines
---