Two Lakes Inn to open on Lake Cd'A Drive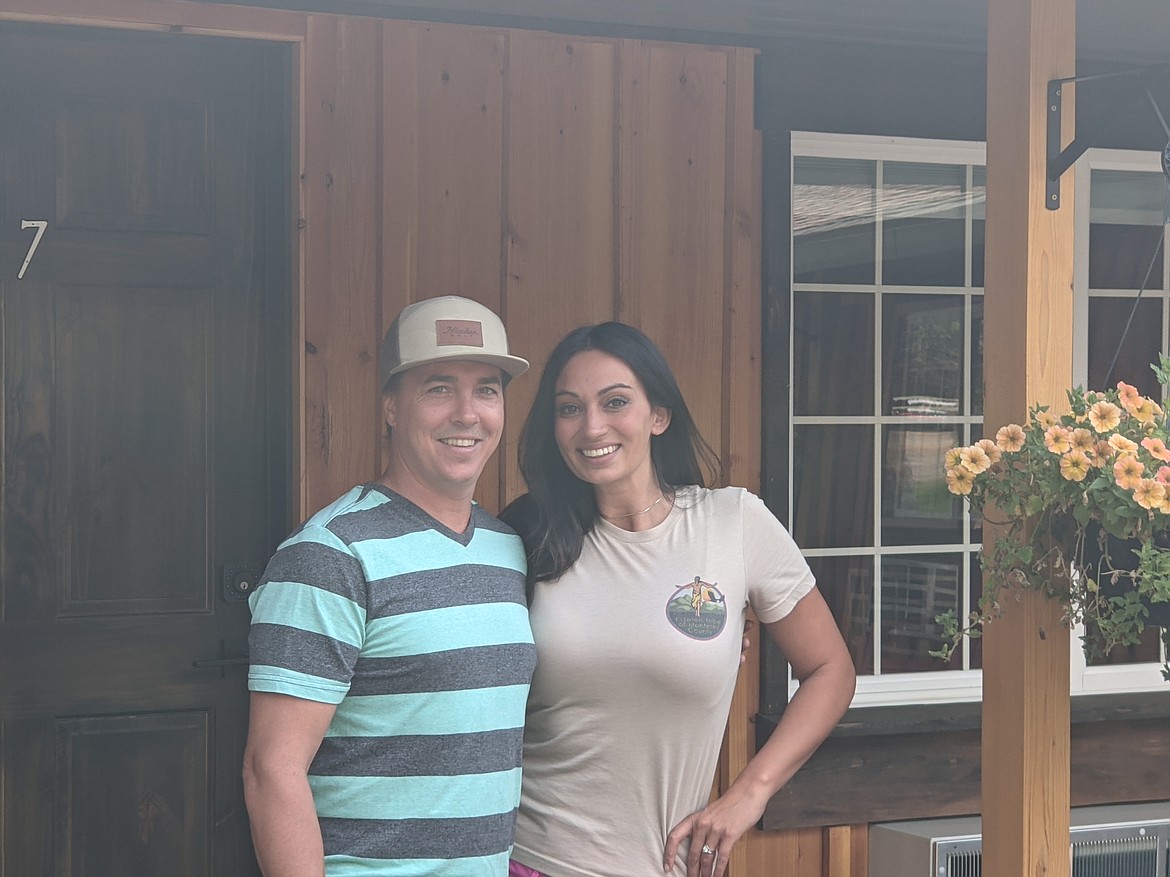 Courtesy photo Owners are Skyler and Hillary Shannon stand in front of a room at the Two Lakes Inn at 320 E. Coeur d'Alene Lake Drive.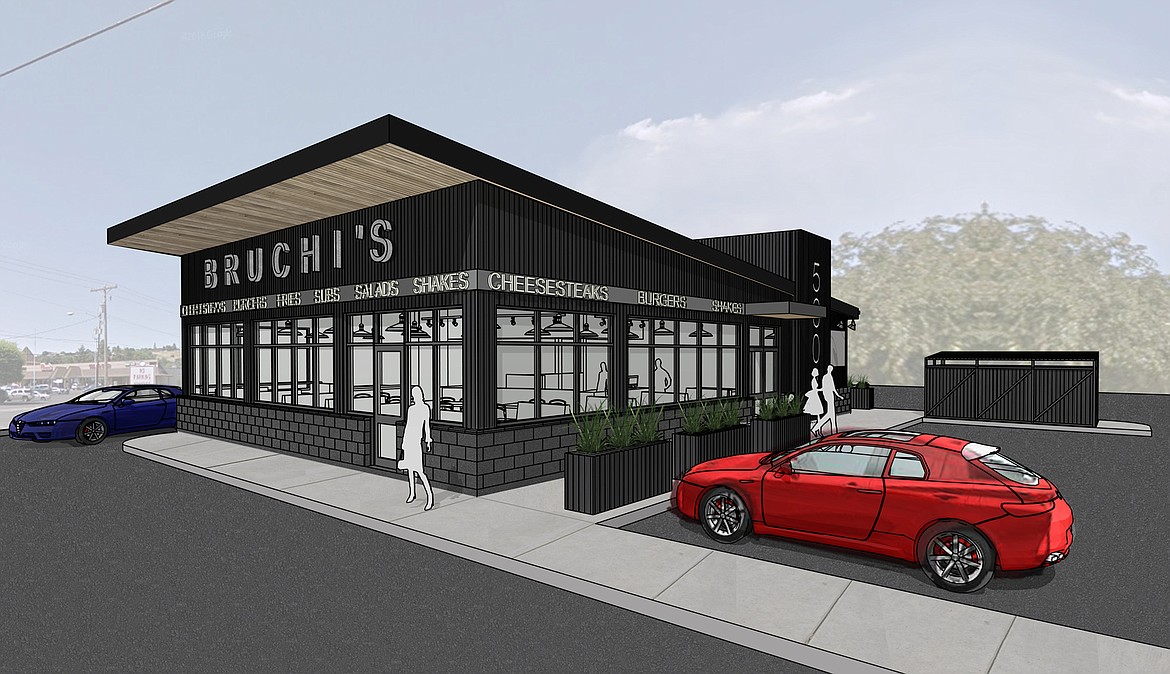 Courtesy photo This drawing shows the design of a new Bruchi's quick-service restaurant planned at the corner of Highway 41 and Mullan Avenue in Post Falls.
Previous
Next
by
NILS ROSDAHL/Business Bits
|
August 1, 2021 1:07 AM
Stressing the name is "inn" rather than "motel," the Two Lakes Inn will open Friday at 320 E. Coeur d'Alene Lake Drive.
Situated between Fernan and Coeur d'Alene lakes, it offers seven rooms that accommodate four guests and two suites for six as well as plans for a commercial kitchen and dining area for a retreat center. Hence "Inn."
With woodwork adding a Northwest feel, the rooms include a patio, mini-fridge, a coffee maker and TV. Owners are Skyler and Hillary Shannon, and Danny Vredenburg is general manager. Phone 208-916-3338. Email twolakesinn@gmail.com.
Bruchi's eatery set for Post Falls
The Spokane-based chain of Bruchi's quick-service restaurants has announced plans for a new building north of the corner of Highway 41 and Mullan Avenue.
Offering cheesesteaks, subs, burgers and more, the place will include dine-in, drive-through and a 31-stall car park. With 18 locations in the West, the Post Falls place should open in early 2022. Check www.bruchis.com.
New Dairy Queen place in Hayden
With a drive-through and inside and outside eating areas, a new Dairy Queen is under construction at 513 W. Hayden Ave. (just west of Highway 95).
The 2,500-square-foot building will include seating for 72 customers and should open in November with owner William Robinette.
Begun in 1940 in Joliet, Ill., Dairy Queen has more than 7,000 outlets in more than 20 countries. Its headquarters is in Minneapolis. Check www.dairyqueen.com.
Vocational Rehabilitation moves to Mullan Avenue
With services to help individuals with disabilities gain, sustain or maintain employment, the Idaho Division of Vocational Rehabilitation has moved from Lakewood Ave. to Suite 101 at 1121 E. Mullan Ave. in Coeur d'Alene.
Open 8 a.m. to 5 p.m. weekdays, the offices offer seven counselors, an area transitions counselor and five assistants with a mission to prepare individuals with disabilities for employment and career opportunities while meeting the needs of employers.
Phone 208-769-1441. Check www.vr.idaho.gov.

Now the Tidbits
The former Ugly Fish restaurant building has sold in Riverstone.
Watch for construction of Vantage Point Brewery across from Michael D's Eatery off CdA Lake Drive.
A cafe will be in the One Lakeside building downtown.
Pedego Electric Bikes and Golf Island are coming into Riverstone.
A new tea and sandwich place is coming to 4055 Government Way.
A Sweet Lou's restaurant and a Grease Monkey auto place will be at the Crossings in Athol.
Kaffee Meister Coffee Shop & Roastery will be at 9212 Government Way in Hayden.
Gathered Restaurant is new on Spokane Street in Post Falls.
Stogie's Cigar & Pipe Lounge is coming to Post Falls.
A Cuppa Columbian Caffe will be at 3270 W. Prairie Ave.
Several steel storage buildings will be built at 3758 W. Hanley Ave. (off Atlas Road) for Hern Ironworks.
New places coming to Silver Lake Mall include Pollen & Petal, Macadamia Coffee, Love Local, All Fired Up, Crime Scene Entertainment, American Heritage and Workwear by B.S.
Killer Burger will be where Junior's BBQ previously was in 85 W. Prairie Shopping Center.
*A new Jitterz coffee stand will be at 7925 N. Ramsey.
Watch for something coming into the ShopKo building...possibly Sportsman's & Ski Haus.
A new commercial and residential building will be built at Government Way and Davidson Ave.
North Idaho Physical Therapy will have a new location on Schneidmiller Ave. in Post Falls.
Watch for major changes with the Burger Bunker and Bunker Bar off Spokane Street in Post Falls.
A new building for Linden Coffee Co. is under construction at 1502 N. Third.
A new gas station-convenience store will be in the northeast corner of Atlas at Seltice.
Truck manufacturing company Kenworth plans a large building for 4374 W. Expo Parkway west of Post Falls.
A large storage complex and new corporate office for Steel Structures of America will be built off Highway 41.
The Den will be a new tavern at 761 N. Idaho St. in Post Falls.
My Nails & Spa will be off Canfield Ave.
The CdA Corner Store is adding a kitchen and tables downtown.
A Union Gospel Mission thrift store will open soon at 7761 N. Government Way.
Takara restaurant will be downtown.
Schmidty's Burgers will be at 1524 E. Sherman.
A 120-room boutique hotel will be where the Outback Steakhouse was off Northwest Boulevard and I-90.
Coeur d'Alene Nissan will have a major addition to its building off Highway 95.
North Idaho Rock School will be in Appleway Plaza at 213 W. Appleway.
108 North is under construction connected to the Moose Lounge downtown.
A Lake Coeur d'Alene Inn is under construction on CdA Lake Drive between Mullan Ave. and Michael D's Eatery.
The tower at U.S. 95 and Lacey is a voter-approved two-million gallon water tower.
Contact Nils Rosdahl at nrosdahl@cdapress.com.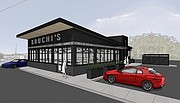 Recent Headlines
---