Everett a secret destination for nerds
by
TYLER WILSON/Special to The Press
|
August 1, 2021 1:00 AM
Over the past few weeks, the writer of this column (me) hasn't been in town to look at the latest (and expensive) real estate options in North Idaho. Instead, Neighborhood of the Week focused on expensive real estate in other places!
Specifically, we've looked at popular Inland Northwest vacation destinations, and, in the final installment of the "Hits the Road" miniseries, we look at a quietly popular locale for pop culture nerds. I can call them nerds because I'm one of them.
Everett, Wash., may not be most people's first choice for a Seattle-area getaway. Nerds, however, know its the location of Funko Headquarters, a 17,000+ square-foot flagship store for the Funko collectibles brand.
For the uninitiated, Funko is the company that makes those big-headed vinyl toys/bobbleheads of seemingly every fandom in the universe (sports teams, movies, anime, Disney, superheroes, presidents, ad icons and much, much more). The store itself includes several giant-size statues in the style of their products. You can make your own unique Freddy Funkos (a mascot) or even "Funko Yourself" and make a collectible that (sorta) looks like you.
Regardless of what you think about adults buying toys, Funko is huge in the collector's market and with kids. People travel from all across the world to Funko HQ in Everett. Another fun thing to do in the summer in Everett - attend a minor-league baseball game at Funko Field, home of the Seattle Mariners-affiliated Everett AquaSox.
Now, tell me if you've heard this one before: Home prices on the west side of Washington are insane. Everett, located about 25 miles north of Seattle, is no exception.
The Seattle-based real estate brokerage firm Redfin reported a median price of a home in Everett at $581,000. Home prices were up 23 percent compared to last year.
Realtor.com reported that the average home in the city sells after just 36 days on the market. The site lists a median price per square foot at $308, and homes in Everett sold for about 8 percent above asking price on average this past June.
At the high end are some insanely oversized homes, including a five-bedroom, almost-7,000 square foot home in northwest Everett in a gated community that overlooks Puget Sound. Price: $3.7 million.
How about a couple of middle-of-the-road options? That looks like new listings including a three-bedroom, 1,500 square foot home built in 2008 that's priced just a smidge below $500,000. For a view, you can go with a remodeled, 1925-built home with 1,800 square feet and a view of the Port Gardner Bay inlet priced at $565,000.
You can spend way less on a not-as-nice house too - a two-bedroom manufactured home in a 55+ community comes in at $165,000. A similar property is listed at $189,000. The lowest non-manufactured home listed appeared to be a 1,000 square foot home priced at $260,000, but it needs some work.
The low end homes lack square footage, meaning all those Funko fans won't have a place to put all their collectibles. If you live out west, you might want to also price out a nearby storage unit.
Let us know about more standout neighborhoods and new developments that we may feature in an upcoming Neighborhood of the Week. Our (normal) coverage area includes appealing locations all around North Idaho. Contact Tyler Wilson at twilson@cdapress.com.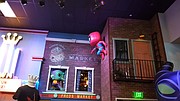 ---