Hammond runs for Cd'A mayor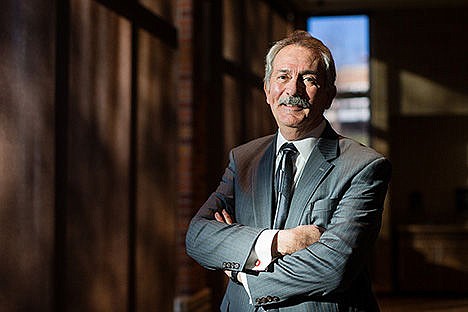 Jim Hammond
Courtesy photo
by
MIKE PATRICK
Staff Writer
|
April 30, 2021 1:00 AM
COEUR d'ALENE - A man whose life has been dedicated to public service has room for more.
Jim Hammond, former educator, Post Falls mayor, Coeur d'Alene city administrator and three-term state senator, announced Thursday he's running for Coeur d'Alene mayor this November.
"Really, public service is a part of me," he told The Press. "I want to continue to work for my community. Retirement just doesn't work for me."
Hammond, 70, hopes to make a seamless transition when Mayor Steve Widmyer departs at the end of the year. Widmyer announced earlier this week he will not seek a third term in office.
Hammond was a teacher and then school administrator locally from 1973 to 1996. He served as Post Falls mayor from 1991 to 1996, then as Post Falls city administrator from 1996 to 2006.
In 2006, Hammond was elected as state senator representing District 5. In winning his first term, Hammond earned 67 percent of the vote against Democratic challenger Chuck Thomas. Hammond won his next two terms unopposed in the general election before opting to not seek re-election in 2012.
His experience as Coeur d'Alene city administrator from 2016 to 2019 helped make his decision to run for mayor.
"In that role I got to know the city much better," he said. "I've accumulated some skills that would allow me to pick up where Steve left off and keep the city moving forward."
Hammond describes himself as a strong proponent of smart economic growth, focusing on bringing in small businesses so the area doesn't rely too heavily on one or two huge employers.
"I've seen our economy tank at least four times in the 50 years I've lived here," he said.
Building upon a more diverse array of businesses offering good jobs is, he said, a bulwark against an economic downturn.
Hammond said government "should only do what people can't do for themselves," listing police, fire, water and sewer and roads as appropriate areas of government control.
Three priorities Hammond cited if he wins the mayoral race Nov. 2:
*Public safety. Hammond wants a tourist-friendly community to stay that way, but recognizes the threat some outsiders bring.
"We get a lot of Spokane folks over here who aren't exactly the cream of the crop of Washington citizens," he said, referring to the Coeur d'Alene Police Department's recent struggles with unruly partiers in the downtown area.
In addition to providing a sufficient police presence, he said, work must continue to be done before arrests occur. Hammond said he's talked with Police Chief Lee White and they agree on the approach of not just enforcing, but educating.
"If people misbehave but are reasonable, the whole purpose is to change behavior," he said. "Try to educate first."
*Road maintenance. "You only need to look as far as Spokane to see what happens when you let your roads degrade too much," he said. "I don't want to let that happen here."
Hammond said a smart approach is to seal streets every seven years.
"When you devote sufficient funding to sealing you'll save money in the long run," he said.
*Growth. Hammond said refusing annexations is an effective way to control growth, but that's more applicable to places like Rathdrum and Post Falls with their abundant open space. "We're hemmed in," he said of Coeur d'Alene.
But he acknowledged that work must be done with existing vacant land and infill to provide affordable housing. That's key to ensuring longtime locals can stay here, he said.
"It's also important to being able to attract good employers," he added.
Recent Headlines
---