Robert Scott Runkle, 85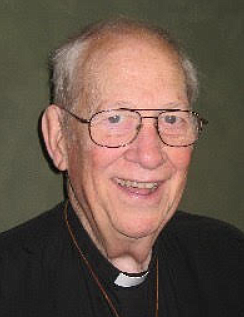 The Rev. Robert Scott Runkle (Deacon Bob), age 85, died peacefully at home in Towson, Md., on Easter Sunday, April 4, 2021. Born March 9, 1936, in Washington, D.C., he grew up in Rockville, Md. A graduate of Bethesda Chevy Chase High School, Bob received a degree in building construction from Georgia Tech in 1960.
As a commissioned officer in the U.S. Public Health Service, Bob began his career at National Institutes of Health in the National Cancer Institute, where he played a role in the 1967 development of the biohazard warning symbol now used widely throughout the world. A long career with Becton, Dickinson and Company followed, managing manufacturing and research facilities in England and the States. After subsequently working in the field of environmental consulting in Maryland and Illinois, he retired in 2003 and he and his wife relocated to Kootenai County, Idaho.
Throughout his adult life he was an active member of the Episcopal Church, with a passion for building community, helping others and social justice. He and his wife joined St. Luke's in Coeur d'Alene, Idaho,, where he focused on the Church's outreach ministries. He began a new career in the non-profit community as executive director of Trinity Group Homes, providing housing and support services for adults with mental illness.
Responding to a call to serve others in a new way, in 2012 he was ordained Deacon in the Episcopal Diocese of Spokane. He and his wife returned to the Baltimore area in 2015 to be nearer to family, and he served at Trinity Episcopal Church in Towson until his death.
Bob is survived by Mary Beth Jorgensen, his loving wife of 29 years; his first wife, Betsy Grater; daughters Beth (Ben) Mackey and Brynn (Rick) Conover; stepchildren Lori and Jay Thompson, Elizabeth (Mike) Belt and David Feild; by six grandchildren; by his sister, Peggy Curlin; and by his nieces, nephews, cousins, and by countless friends.
Visit www.parkviewfh.com for Bob's full obituary. Memorials may be given in his honor to St. Luke's Episcopal Church (501 E. Wallace Ave., Coeur d'Alene, ID 83814), to Trinity Group Homes (St. Vincent de Paul of North Idaho, 201 E. Harrison Ave., Coeur d'Alene, ID 83814), or to Trinity Episcopal Church (120 Allegheny Ave., Towson, MD 21204).
A memorial service will take place at 10:30 a.m. Friday, April 30, 2021, at St. Luke's Episcopal Church. With continuing COVID precautions of masks and physical distance, the church can seat up to 50. Overflow seating will be available in the parish hall with live simulcast. The service will be available on Zoom; contact the church office at (208) 664-5533 or go to the website, stlukescda.org, for the Zoom link.
---