Stella Mae Jeffres, 84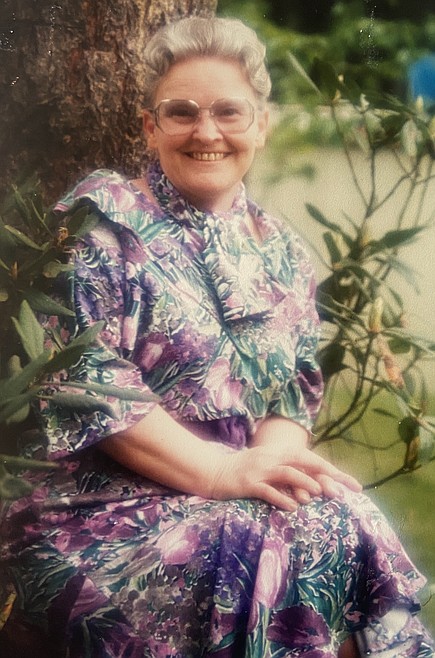 Stella was born to Chase and Blanche (Blake) Norman on April 27, 1936, in Sandpoint, Idaho. She slipped away from our lives on April 25, 2021, at Schneidmiller Hospice House in Coeur d'Alene, Idaho. Stella was the youngest of four daughters. As a child she was curious and fun by nature. She loved spending time at Jewel Lake and catching turtles. Her spirited personality often conflicted with her sisters, but she became the best of friends with them as adults.
In 1952 she married Dale Jeffres and they lived in Sandpoint for 13 years. In 1953, Stella attended Hayden Lake Convention, where she made her choice to serve God. She loved the meetings and conventions, singing hymns and especially having fellowship with God's people. Her favorite hymns were "If All Things Were Mine" and "We Love the Perfect Way." She always looked up to her Great Auntie Hazel Norman in the ministry, whom she resembled a little. Marian Thorburn, also a minister, was very special to her because she encouraged her much in her time of need.
In 1973, Stella moved to Richland, Wash. She loved being a homemaker. She kept a spotless home, decorated with hanging plants and knick-knacks of frogs and turtles. She was an amazing cook, but her homemade cinnamon rolls were the best ever!
While in Richland, she raised her five children and worked part time selling Avon and being a nanny. In 1978 she moved to Coeur d'Alene. Although Bobbi Jo, Randy, and Jill had married and moved out of the nest, she continued to raise Jeana and Chad. While there, she truly amazed us by getting her GED! She busied herself with hobbies and crafts at which she excelled. She created beautiful arrangements of silk flowers for her home and also made them for others whom she loved.
Stella suffered almost her whole life with depression and headaches. In spite of all her burdens, she had such a fun-loving personality that overflowed to those around her. If she loved you there was no doubt you knew it, and she poured out her soul. She could put on a meal fit for a king and spared nothing. She often had a twinkle in her eye, sometimes because she could be mischievous, but anyone who really knew her loved the way she could entertain us all. She loved traveling, shopping and music. Her Yorkshire terrier, Toto, was a huge comfort to her for many years, and they went for long walks together.
Eventually Stella was diagnosed with dementia and needed more care. She spent her last seven years at Valley Vista Care Center, in St. Maries, Idaho, where they loved and took very good care of her.
Stella is survived by her loving sister and best friend, Marilyn Prussack of Spokane Valley, Wash.; her children, Randy (Madeleine) Jeffres of Spokane, Jill (Frank) Palmer of Tacoma, Wash., Jeana (Bruce) Thom of Rathdrum and Chad Jeffres of Rathdrum; grandchildren, Philip, Titus, Jennifer, Jody, Jason, Jessica, Jake, Kimberly, Luisa, Makayla, Kayleen and Damon; 17 great-grandchildren; many nieces and nephews; and many supportive and loving friends. Stella is preceded in death by her sisters, Joyce Mullins of Florida and Roberta McCombs of Pasco, Wash.; and her daughter, Bobbie Jo Davis of Albuquerque, N.M.
A visitation and viewing will be held from 3-5 p.m. Thursday, April 29, 2021, at Yates Funeral Home, 744 N. Fourth St., Coeur d'Alene, ID 83814. Please visit Stella's online memorial and sign her guest book at www.yatesfuneralhomes.com.
---