Gary Whitney Shawver, 86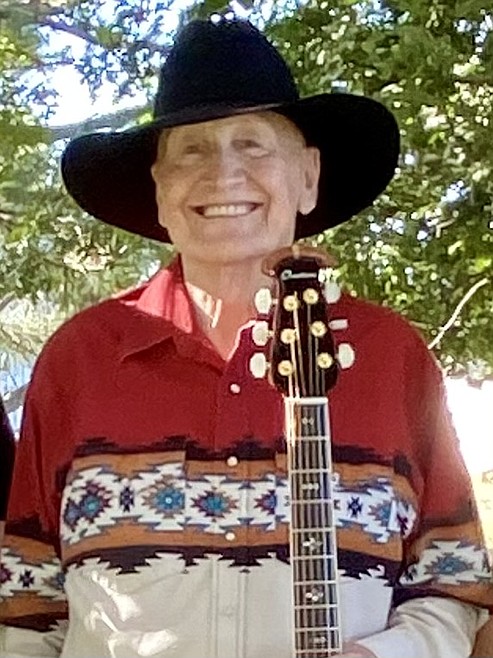 Gary Whitney Shawver passed away peacefully in his sleep in Post Falls, Idaho, at 11 p.m. on Tuesday, April 20, 2021, following a long battle with cancer. He was 86 years old.
Gary was born in Oakland, Neb., on July 30, 1934, to Harold C. and Ruth E. (Whitney) Shawver. They lived in Craig, Neb., as well as Billings and Hardin, Mont., until Gary was 10 years old, when they (along with his younger brothers) moved to the Princeton/Potlatch, Idaho area.
They were a farming and logging family, and so Gary worked on the farm until he joined the Navy at age 17 in the early 1950s (to get off the farm he later joked!). He served on the USS Suisun Navy Ship in the South China Sea during the Korean Conflict. He was a barber as well as a gunner aboard ship. While in the Navy he met many interesting guys from all around the country and made many good friends that he would later keep in touch with.
In the Navy he learned to play guitar from some of the southern guys aboard the ship that could play the thumb-bumping, Merle Travis finger-style. He also became an exceptionally good singer and yodeler and began writing poetry and songs. Music would remain a huge part of his life from then on.
Once he was out of the Navy in the mid 1950s he settled back in Potlatch and took up logging as a timber faller, which would become his career until retiring at 75 years of age. His "saw-for-hire" skills took him to many places throughout his life, from the woods all over North Idaho to Colorado, Washington, Montana and Utah, and almost 20 years working in Southeast Alaska, from 1980 to 1999.
He was a voracious reader of all types of literature and was very well read about world history. He was into physical fitness all his life, a motorcycle enthusiast in his earlier years, took Judo lessons in his 70s and was an avid MMA fan.
Wherever Gary worked his guitar was always with him, and he played weekend gigs in the local clubs. His musical abilities, combined with his insanely great sense of humor, made him quite popular wherever he went. He loved people. Some say he was much larger than life, and of course, there are always consequences to that, which he had to bear. He lived with a gusto many only dream about and crammed a lot of life into his 86 years.
He recorded several albums of his music, some of which can be found on Amazon.com and iTunes. He recorded two logging-oriented albums with musician son, Grady, in the mid 1990s, "Old Loggers Never Die" and "Big Wood Boogie," which sold several thousand copies in Alaska and the Northwest.
Gary was married to Kay Lazelle from 1956 to 1959. They had two children: Scott, and Tracy. He was later married to Barbara Faubion, from 1961 to 1967. They had three boys: Grady, Berkley and Shawn. In 1968 Gary married Kathleen McManus.
He was preceded in death by his mother, Ruth, and father, Harold; as well as two of his sons, Berkley Shawver of Juliaetta, Idaho and Gary "Scott" Shawver of Post Falls; and a grandson, Zachary Persons of Post Falls.
He is survived by his wife, Kathleen Shawver of Myrtle, Idaho; daughter, Tracy (Rob) Christopherson of Post Falls; son, Grady (Janet) Shawver of Seattle; son, Shawn Shawver of Lithuania; and stepsons, James McManus of Lewiston, Idaho and Edward Anderson of Yorba Linda, Calif. He leaves 11 grandchildren and five great-grandchildren. He is also survived by his younger brothers, Rod (Michele) Shawver of Lewiston, Bob (Ronda) Shawver of Colbert, Wash., and Craig Shawver (Lisa) of Oklahoma.
The family would like to especially thank Rob and Tracy for their excellent care of our father, brother, grandfather and great-grandfather. At Gary's request, no service has been planned.
Visit Gary's memorial and sign his online guest book at www.englishfuneralchapel.com
---