Regional partnership seeks public's input on growth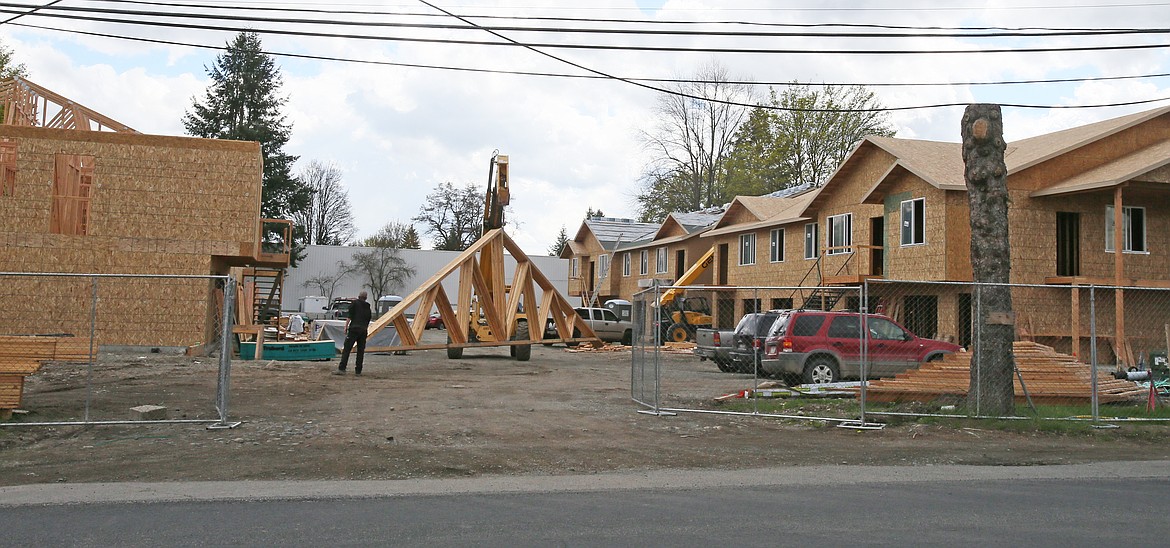 Construction continues to swell throughout Kootenai County, including this multi-family project on Hayden Avenue near Capone's in Hayden. The land crunch, skyrocketing housing prices and the escalating demand for public services has sparked a new regional partnership to explore solutions to the local growth crisis. (DEVIN WEEKS/Press)
by
CRAIG NORTHRUP
Staff Writer
|
April 27, 2021 1:09 AM
The first official Regional Housing and Growth Partnership launch was held virtually Monday, with organizers stressing one overarching theme throughout the hour-long Zoom meeting.
"It's really important that this isn't just a group of 30 opinions," Coeur d'Alene councilwoman Kiki Miller told the audience of city and county officials, planners, civic organization leaders and prominent locals. "It's really important we get the public involved in this … What we really want to have happen is to have the poll go out to the public."
The poll, found here, asks a few demographic questions before asking respondents to choose the three most important directions you'd like the Partnership to prioritize in its mission to grapple with the exploding growth in North Idaho. Those seven categories are:
• A coordinated, planned effort to address growth and open space,
• Water conservation,
• Housing code changes to allow for different housing choices and to incentivize workforce housing,
• Transportation projects,
• Growth's impact on schools,
• Lobbying the legislature to affect change, or
• Other, which would give respondents the opportunity to fill in their own remarks.
The meeting was also an opportunity for Glenn Miles to share some history of local governments' intentions and attempts to tackle growth.
The executive director of KMPO shared an example through a 2008 resolution from the then-Kootenai County commissioners, one written in concert with the cities of Coeur d'Alene, Rathdrum, Post Falls, Hauser, Dalton Gardens and Hayden. That resolution focused on the pending land crunch on the Rathdrum Prairie, which was and remains Ground Zero in Kootenai County's burgeoning growth crisis.
"Part of the challenge was, everybody saw the writing on the wall," Miles said.
But 13 years later, the problem persists, with growth tightening neighborhood density, escalating housing prices and pinching public services across the county, from the Prairie to the shores of Hayden Lake to the east end of Wolf Creek to Stateline. This spawned organizers in both the public and private sectors to once again come together to seek solutions.
"We have some work ahead of us," Miller said after the meeting. "There's no easy solution here. By working together, we may be able to put forward solutions faster. But this group may need to be in place for years and years."
The meeting was also an opportunity to continue brainstorming ideas and best practices to help guide the infancy of the Partnership.
David Callahan, community development director for Kootenai County, spoke to possible strategies should the public choose to focus on a lobbyist approach to initiate change through the Idaho Legislature. He cited his 12 years as planning manager in Boulder County for reference.
"The little bit that I dealt with in Colorado, pivotal was having all of the minds aligned and then going to the legislature," Callahan said.
While the survey is being distributed digitally, those without internet access can still participate. A copy of the survey will be distributed in Wednesday's edition of The Press.
---