NJCAA WRESTLING CHAMPIONSHIPS: Silva's revenge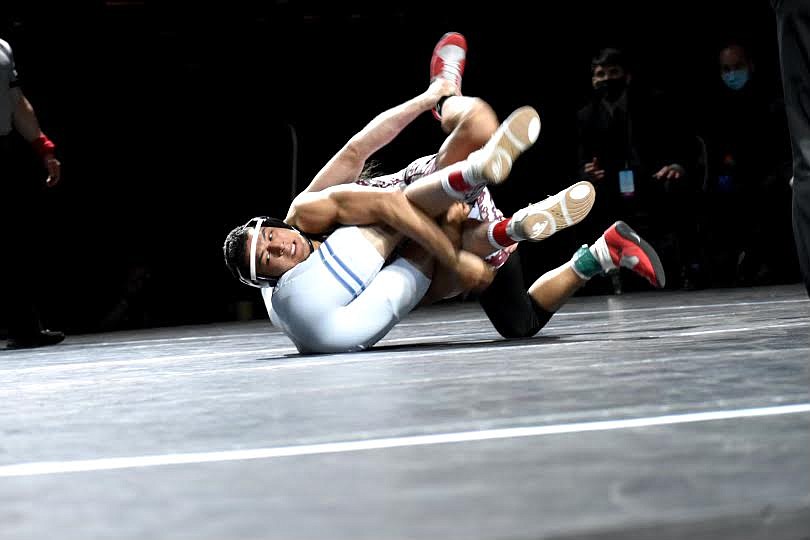 Photo courtesy of BROOKE VOTE North Idaho College sophomore Sal Silva puts defending NJCAA champion Jacob Beeson of Platt on his back during the 149-pound championship match in Council Bluffs, Iowa on Thursday.
COUNCIL BLUFFS, Iowa — As a redshirt freshman in 2020, Sal Silva thought he was the best wrestler in his 149-pound weight class at the NJCAA wrestling tournament.
Then, in the semifinals, Silva slipped up and it wound up costing him a bid for a national title.
This time around, Silva was ready.
Silva beat defending national champion Jacob Beeson of Platt by a 3-1 decision to capture the 149-pound title on Thursday, becoming the 55th wrestler in program history to capture a national title. Silva is the program's first individual champion since Dajour Reece won the 2016 title at 165 pounds.
"It feels great," Silva said. "I've won state titles before, and thought that was a great feeling. I'm filled with so much joy and fulfillment right now."
In 2020, Beeson beat Silva 4-3 in the semifinals.
"I seriously thought I was the best wrestler in the nation," Silva said. "I got passive and he caught me. I knew this year that I couldn't come out flat and had to keep pushing at him. I've worked on that plan all year and it worked out well for me."
"I think last year, the nerves got to him a little bit," said second-year NIC coach Mike Sebaaly, whose team finished sixth with 92.5 points. "His whole plan was to get back here and get it done. In the semifinals, you put a little too much pressure on yourself. After Sal won in the semis, I told him he could let loose and just go out and have fun. He had a great match in the semifinals and did a great job of being aggressive in the finals."
Silva, who finished third last year, signed to wrestle at NAIA Arizona Christian University in Glendale, Ariz. Silva is a native of Tucson, Ariz., graduating from Walnut Grove High.
"I'm really happy and proud of him," Sebaaly said. "It's a night he's going to remember for a long time."
Other NIC All-Americans include redshirt sophomore Navarro Nanpuya (fourth at 174), sophomore Cohle Feliciano (fourth at 285), freshman Brandon Bollinger (sixth at 157) and freshman Weston Presser (seventh at 165). Feliciano was seventh as a freshman in 2020.
It is the most All-Americans NIC has had since 2019, when the Cardinals also had five in a sixth-place finish at nationals. Clackamas of Oregon City, Ore., won its third straight national title, finishing with 162 points. Western Wyoming was second with 157.5 points.
"We didn't put it all together this weekend, but we're coming," said Sebaaly, whose program finished ninth last season and last won a national team title in 2014. "Because of the free year (due to COVID-19, wrestlers were not charged a year of eligibility), everyone but Sal is coming back. We're looking to build on that. We're thankful we got this experience because it only helps us for next year."
TEAM SCORES — 1, Clackamas 152. 2, Western Wyoming 147.5. 3, Iowa Central 129. 4, Pratt 126.5. 5, Northeastern Oklahoma 125. 6, North Idaho 92.5. 7, Indian Hills 81. 8, Iowa Western 80. 9, Rochester 79. 10, Northwest Kansas Tech 77.5. 11, North Iowa Area 58. 12, Cloud 55. 13, Cowley 46.5. 14, Labette 44. 15, Southwestern Oregon 41.5. 16, Iowa Lakes 35.5. 17, Jamestown 30. 18, Triton 29. 19, Neosho, Niagara 26. 21, Muskegon 23. 22 (tie), Henry Ford, Mott 22. 24, Rowan 21. 25, Barton 19.5. 26, Ellsworth 17.5. 27, Otero, Umpqua 12.5. 29, Joliet 12. 30, Camden 9. 31, Garrett 8.5. 32, Colby 6. 33 (tie), Lackawanna, Minnesota West 5. 35, St. Claire County 2. 36, Ancilla, Sussex 0.
NIC RESULTS
Placing matches
Championship matches
149 — Sal Silva, North Idaho, d. Jacob Beeson, Pratt, 3-1.
Third/fourth-place matches
174 — Dax Bennett, Clackamas, d. Navarro Nanpuya, North Idaho, 14-12.
285 — Dan Baker, Northeastern Oklahoma, p. Cohle Feliciano, North Idaho, 1:21.
Fifth/sixth-place matches
157 — Trent Silva, Clackamas, d. Brandon Bollinger, North Idaho, 9-8.
Seventh/eighth-place matches
165 — Weston Presser, North Idaho, tf. Tyson Villalpondo, Neosho, 16-1.
Semifinals
149 — Silva, North Idaho, d. Malik Johnson, Cowley, 6-1.
157 — Isaiah Crosby, Iowa Western, d. Bollinger, North Idaho, 20-5.
174 — Jose Rodriguez, Iowa Central, d. Nanpuya, North Idaho, 11-3.
Consolation semifinals
157 — Chinges Tsermaa, Northwest Kansas Tech, d. Bollinger, North Idaho, 21-6.
174 — Nanpuya, North Idaho, d. Dayton Fields, Northeastern Oklahoma, 9-7.
285 — Feliciano, North Idaho, p. Devon Dawson, Pratt, 1:03.
Consolation quarterfinals
165 — Austin Raby, Southwestern Oregon, d. Presser, North Idaho, 9-4.
285 — Feliciano, North Idaho, p. Wyatt Kearn, Western Wyoming, :12.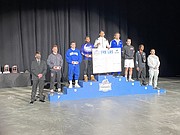 ---