THE CHEAP SEATS with STEVE CAMERON: Us duffers can empathize with Schauffele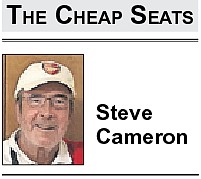 Yep, I know the feeling.
Xander Schauffele gauged the wind on No. 16 at Augusta and knew the shot he needed to execute.
"I hit it flush," he said later of that fateful 8-iron, which wound up left, short, and eventually wet on the par-3.
"I got a down cut," Schauffele said of the gust that came up as he hit the ball.
Wind from nowhere.
Welcome to the Masters.
That shot seriously damaged Xander's chance to catch leader Hideki Matsuyama, but his pursuit wasn't quite over.
And then it was.
Schauffele's next try, from about 145 yards at the designated drop zone, reacted precisely opposite to his tee shot.
This one rode a different wind, acted like a line drive to center field, and ultimately whacked a spectator sitting behind the green.
Schauffele's wretched luck cost him a triple bogey — his first in 1,041 holes at major tournaments — and Japan was well on its way to having the Masters victor that golf-mad country has craved.
I'LL ADMIT I'm fascinated by Schauffele, who is pretty much living the life I'd have picked for myself.
He's the handsome son of a naturalized French/German mom and Taiwanese father, he grew up in San Diego, has a lovely girlfriend, and, well…
The young man is a PGA Tour golfer.
He's a nice guy, too (although I hope I'd also be nice if I could trade places with him).
For instance…
He was comfortable playing the final two rounds with Matsuyama.
Hideki speaks only a little bit of rudimentary English — but that was no problem, since Schauffele speaks Japanese.
Of course he does.
Don't you?
During a rain delay on Saturday, the two golfers exchanged jokes in Japanese.
I mean, really.
How cool is Xander Schauffele?
There's something else about the X-man, too.
He's developing a reputation as a guy who plays terrifically, but somehow fails to finish the job at the big tournaments.
That 8-iron that rolled into the water at No. 16 on Sunday wrapped up another event after which Schauffele found himself saying to interviewers…
"We'll keep going, and use it as a learning experience."
Xander is only in his fourth full season on the Tour, but he's already racked up a second and third at The Masters, a second place at the British Open and a third at the U.S. Open.
THAT'S A lot of close, but no cigar.
Don't you think?
And here's the deal…
Schauffele had every reason to think he would be winning these majors instead of congratulating someone else — in English, Japanese or any language.
He's won four times in regular events, plus a triumph in the prestigious Tour Championship as a rookie in 2017.
Xander's got serious game, but…
Not much luck over the past three years.
Maybe my allegiance is part of the problem.
After all, I have plenty of experience hitting shots flush and having the wind — or divine intervention, or something — cause a hideous result.
Approximately a million times in my life, I've turned to playing companions and whined: "I hit that solid, and right on my line."
So…
I was suffering with Xander again on Sunday.
At least the winner was Matsuyama, the first Japanese male golfer to capture a major — a feat which will give him almost god-like status back home.
Japan has almost 10 million golfers despite almost no room in the country for courses.
Good luck on that tee time in Tokyo.
Matsuyama's triumph will make him a hero in Japan, and like all athletes from that nation, he certainly will handle it with dignity.
I can live with that result.
It's actually a pretty neat way to put that first spotlight on the 2021 golf season.
Heck, I'm ready to play right now.
And just like my man Xander, I'm sure I'll be saying…
"I hit it flush."
That exclamation will come right after a splash.
Email: scameron@cdapress.com
Steve Cameron's "Cheap Seats" columns appear in The Press on Mondays, Wednesdays and Fridays. "Moments, Memories and Madness," his reminiscences from several decades as a sports journalist, runs each Sunday.
Steve also writes Zags Tracker, a commentary on Gonzaga basketball which is published monthly during the offseason.
---