MOMENTS, MEMORIES and MADNESS with STEVE CAMERON: Since you asked — my best moment as an athlete involved an out — and a save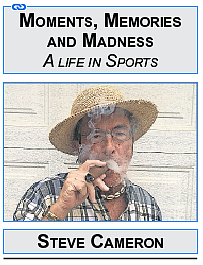 The question made me laugh out loud.
Here's exactly what the email said…
"I'm pretty sure you were an athlete at some point, since you seem to know the sports you write about pretty well.
"What's your very best moment, the one you remember most, in your time as an athlete?"
OK, I have to start by confessing that my talent level only took me so far — and for that, I blame our local pediatrician.
He didn't personally stop my growth at just a hair over 6 feet, but for two or three years, he insisted to my parents that I would be much taller.
"Steve has very big hands and feet for his age," Dr. Bachman said. "I'm sure he's going to be 6-4, or more likely something like 6-5."
The doc was wrong, and I still have unpleasant memories of the man — because once I developed some serious skills as a point guard and baseball pitcher, well…
If I'd been 6-5 by then, I'd have made everyone pay attention.
I had some sniffs from pro baseball scouts, anyhow, and could have signed with the Phillies.
An NAIA university offered me a partial scholarship for basketball.
But that was it.
HERE'S THE odd thing: As the years went by, it turned out that my best sport was fastpitch softball — a sport I only played for the first time in the military.
I was an information officer, stationed at the now-defunct Forbes Air Force Base outside Topeka.
There is plenty of irony attached to the non-sports part of my job in the Air Force. I had to lie to the media routinely, all because I'd sworn an oath to my country — and by the time Vietnam got really awful, my country decided it was best if we didn't tell the truth.
You obey lawful commands, so in my case, I lied to people.
A lowly information officer in Kansas can't be trying to decide what's lawful.
Anyhow…
I have some terrific memories of that time, as well.
As a California kid who'd never seen fastpitch softball, I realized there was a role in the sport that suited me far more than any game.
I was a classic leadoff hitter, that specific type of guy in fastpitch who can bunt and really get out of the box in a hurry.
This is outrageous self-flattery, but my game would have compared to someone like Ichiro — get the ball on the ground and beat the throw to first.
Once on the bases, I could steal everything but your shoes.
For the purposes of answering today's question — what's the best play I've ever made in any sport — it's noteworthy that I generally played center field or first base in fastpitch.
AS MORE years rattled along, I didn't quite graduate from playing fastpitch softball.
No, it's more accurate to say that once I left the military, I rarely found the sport being played at the proper level in the cities where I'd moved on to become a journalist.
So, what about slowpitch softball?
The truth is that slowpitch doesn't suit my skills.
The idea in that version of softball is to simply hammer pitches far, far into the night — and I was never a slugger.
It's still softball, though, which you might be able to say is a cousin to the baseball I'd played when I was younger.
Bottom line…
I've never looked for world-class slowpitch leagues.
I would be a little bit useless as a slick defensive player in a game that requires bashing the ball — and considers defense almost a necessary evil.
You can't bunt, you can't steal bases.
Nah, slowpitch at the highest level is a unique game, but I was never a fit for it.
On the other hand…
There are just-for-fun slowpitch leagues almost everywhere, no-pressure games that sometimes are even co-ed.
YOU KNOW a sport is being played for the simple enjoyment of it when men and women are teammates — and in equal numbers.
And it was there, in a co-ed softball game where a win or loss could be called basically irrelevant, that I got involved in a play that, well…
Let's say it had to be the very best of my life.
Any time, in any sport.
Remember, I did play in front of screaming crowds at other times along the way, and won a high school basketball game by hitting both ends of a one-and-one from the foul line with the game already over — with fans going absolutely nuts.
That was hero stuff.
But the moment I'll always recall as something extra-special came later, in Flagstaff — where I worked at the Arizona Daily Sun (alongside our editor here at The Press, Mike Patrick).
Mike never played on our slowpitch team, perhaps not wanting to sully the reputation he CLAIMS to have as an all-universe star from his days growing up in Lawrenceville, Ill.
WE DID have a pal on the newspaper's co-ed team, however.
Phil Hagen was called "Fridge," because he was a smaller version of the former Chicago Bears defensive tackle, the awesome William Perry.
Our own Fridge was also built kind of square, and he was unbelievably strong. Phil had played college football, and you would never question it.
He also had a spectacular throwing arm, which you wouldn't immediately guess — and it was one of Fridge's jaw-dropping throws that set up my play of a lifetime.
It came, yes, in a co-ed softball game, and if you don't know the general rules, teams are split up evenly — and even batting orders are set up so that you have a male hitter, then a female, then male and so forth.
If there are players of either sex who are really not very athletic, you put them in positions where — hopefully, at least — they will see the least action.
On the Daily Sun side, we had some respectable players, but also a couple who were there because it was a social outing.
One of those was our catcher, whose name was Cecile.
NOW, WE get to the play.
My forever moment.
I was playing first base, and the other team had the bases loaded.
They had one of their women batting, but what mattered most was that there was a big kid — no doubt once a serious athlete — running at second.
The batter was a really decent player, and she whacked a single to left-center.
The hit naturally scored the runner from third, and it was obvious the guy on second would breeze around to the plate, as well.
Except…
Phil Hagen was playing left field, and he cut off the ball before it got too deep in the outfield.
I need to point out here that Cecile, bless her heart, had no clue at all what was happening or what she was supposed to do — which was to get the hell out of the way.
Instead, she wound up standing ON home plate, puzzled, staring out to center field.
Or maybe looking at the sunset.
IN ANY event, somehow the entire panorama flashed perfectly in my head.
Hagen tracking down the base hit, turning and squaring his shoulders toward home plate.
The baserunner from second, flying around third and barreling home — ready to score easily.
And Cecile, standing motionless, almost in the posture of a convict about to executed by firing squad.
She no idea at all what was happening.
Piecing it together now, there was a split-second when my mind registered something like, "Oh, my God!"
I shouldn't really have been part of the play.
Normally, the left fielder would just throw to second, halting any further advance by the runners, and I would be backing up that play.
Except…
I saw disaster coming, and it clicked into focus with perfect clarity.
Hagen was unleashing a bullet throw, trying to get the runner at the plate, where Cecile was about to be absolutely clobbered — by the runner or the throw, or both.
I dashed toward the plate, aiming just a foot or two up the line toward third.
EVERYTHING came together simultaneously, at a spot only a single stride from home plate.
Somehow, I caught Fridge's throw, head high, while going full speed and the force of it pushed my glove onto the runner's shoulder for an out – just before I started a barrel roll to avoid slamming into Cecile.
The runner missed her by inches, as well.
Maybe you think it's amusing that, with all the famous athletes and teams I've covered, this play in a totally meaningless slowpitch game sticks in my mind.
I don't even remember if we won the game.
But I'm telling you, poor Cecile was about to get knocked into little pieces.
My contact with the runner's shoulder pushed the guy just enough off stride that he crossed the back side of the plate, flying past the stationary Cecile.
Replaying the entire sequence in my head, I know exactly where I caught that bullet throw, and I swear it would have hit Cecile square in the face.
ONE WAY or another, she was going to get blasted just standing there — but she didn't.
Post script: You can get hurt in slowpitch softball.
A week after my play (and Cecile's near-miss), Flagstaff's director of public works, Mike Adams — a terrific former college athlete — tried to stretch a double into a triple during a co-ed church league game.
Mike went head-first and dove directly into the third baseman's arm and glove, totally smashing up his eye and all those bones around it.
He recovered, thankfully, after months of surgery and rehab, and his only explanation for a head-first slide in a nothing game was simple…
"My competitive nature kicked in."
It was the same with Fridge's throw.
When he jogged in after we all had taken a deep breath, he said…
"Good play!"
He meant getting the third out at the plate, never mind that Cecile could have been the victim of something like a bad car accident.
Athletes are athletes.
Fortunately, I guess that gene hadn't quite left me yet, either.
Email: scameron@cdapress.com
Steve Cameron's "Cheap Seats" columns appear in The Press on Mondays, Wednesdays and Fridays. "Moments, Memories and Madness," his reminiscences from several decades as a sports journalist, runs each Sunday.
Steve also writes Zags Tracker, a commentary on Gonzaga basketball which will be published monthly during the offseason.
---