THE FRONT ROW with MARK NELKE: From Lakeland to NIJC to WSU and beyond, Schultz did it all as a player and coach in the area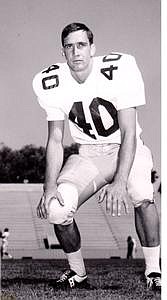 Courtesy WSU, Lakeland High Former Lakeland High standout Dick Schultz was a defensive back in his one season with the Washington State football team, in 1968.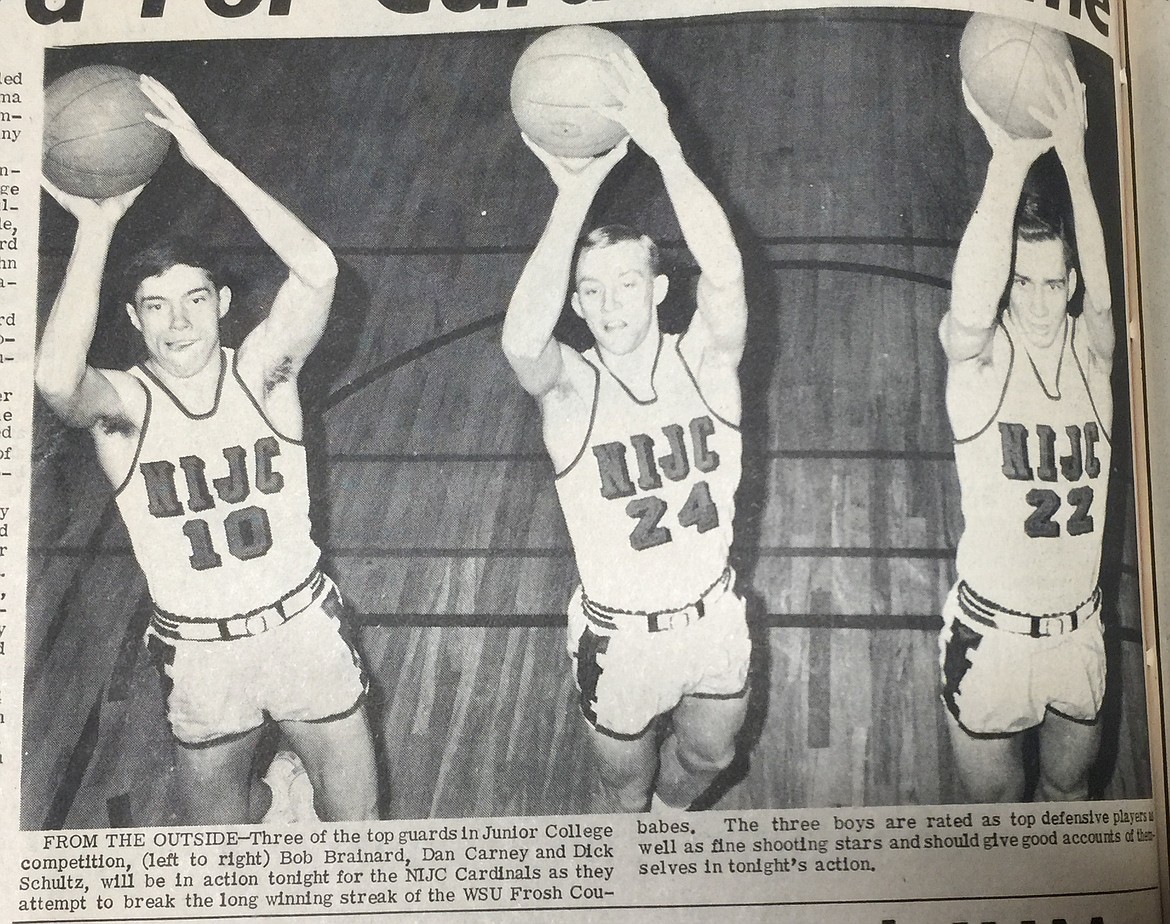 Press archives Dick Schultz (22, right) with teammates Bob Brainard (10) and Dan Carney (24) in a preview photo before North Idaho Junior College played host to the Washington State freshman team in February 1966 in Coeur d'Alene.
Previous
Next
While a member of the Washington State basketball team in the late 1960s, Dick Schultz saw the shot go up by the other team, and turned to box out the tall, lanky center from UCLA.
It was at that time he was introduced to Lew Alcindor, now known as Kareem Abdul-Jabbar.
"I tried to block him out one time, and it was kind of a joke, almost," Schultz recalled. "I remember getting into him, and I remember … he just kind of moved me out of the way like I wasn't even there."
That might have marked the last time in athletics that Dick Schultz "wasn't even there."
He was a four-sport athlete at Lakeland High, graduating in 1964.
He was a three-sport athlete at what was then North Idaho Junior College, eventually earning a scholarship after walking on to the basketball team.
He was recruited to play basketball at Washington State by Marv Harshman and Jud Heathcote, where he played two seasons.
Then, his basketball eligibility exhausted, he played one season of football for the Cougars.
After graduation, he went on to a 35-year career in education, 34 of those years in the East Valley School District.
On Saturday night, Schultz will be inducted into the Idaho Athletic Hall of Fame at the 58th North Idaho Athletic Hall of Fame Banquet at The Coeur d'Alene Resort.
"He's probably one of the best athletes to ever come out of Lakeland," said his longtime friend Terry Kiefer, who was one year ahead of Schultz in school, and would go on to have a long career coaching football at Lakeland. "He's just a really talented guy. He's got great strength. Anybody that can go down to WSU and play there, and then in his senior year go out and start on the football team, you've got to be a pretty good athlete."
BORN IN Coeur d'Alene and raised in Rathdrum, Schultz competed in football, basketball, baseball and track and field at Lakeland — and, before that, at Rathdrum High before Spirit Lake High closed and those kids came down to Lakeland. He was a three-year letterman in all four sports, being voted all-state in football one year and also qualifying for state in the high jump.
Back then, it was normal for kids to play baseball and run track in the spring.
"In those days we would have baseball practice, and after baseball practice we would go over and do some things for track," Schultz recalled. "Things weren't quite as intense as they are now. We didn't have a lot of kids in high school, and you almost had to do everything to have teams.
"I was a high jump, long jump."
Meets and games were were usually scheduled for different days, so there would be no conflict.
"Two sports in the same season … that'd be tough to do now," he said.
Schultz competed in basketball, baseball and track and field at NIC, going over to Person Field to work on the javelin, triple jump and high jump after practice for baseball, where he played shortstop.
He walked on to the basketball team, and was put on scholarship second semester after making the team. As a sophomore, the 6-3 shooting guard averaged 15 points per game and led the Cardinals to the regional title and a 26-2-1 record.
Harshman, then the WSU head coach, came up to NIJC to recruit Schultz. During Schultz's sophomore season, the Cardinals twice played the WSU freshman team, coached by Heathcote (freshmen were not yet eligible for varsity play at that time).
"The first game we played 'em (in Pullman) we tied 'em, and they had to call the game because the varsity was going to play," Schultz recalled.
The second game was played at NIJC, to much local fanfare. The Cardinals won easily, 98-76, with Schultz leading NIJC with 21 points.
Schultz committed to WSU. He had an offer from Northern Arizona, and Idaho was interested late following a coaching change.
He played mostly off the bench in his two seasons with the Cougs, who finished second to UCLA in the Pac-8 both years. And that was back in the days where only the conference champion advanced to the NCAA tournament — the runner-up wasn't even allowed to play in the National Invitation Tournament.
"In those days teams tried to stall, and we played them (UCLA) straight up," Schultz recalled. "And they beat us by 10, 12 points down at Pauley, and I remember the fans after the game, coming down to the floor, saying thanks for playing them — because we didn't stall."
One time he recalled being in the locker room at WSU, and the football team was in there. He saw the defensive backs, and "I was as big as those guys are."
Hugh Campbell, who went on to coach the Edmonton Eskimos of the CFL, was the wide receiver coach at the time, and Schultz talked to him about turning out for football.
"I played wide receiver for a couple weeks or so, and (head coach Jim) Sweeney called me in and said, 'I've got some good news and bad news. We're going to scholarship you for next year, but we want to move you to defense.'
"I said, 'I'll play any place,'" Schultz said.
He ended up starting, and led WSU in interceptions.
"I really had more success in football than basketball," he said. "We didn't have the best record (3-6-1) We beat Idaho, and tied Stanford with Jim Plunkett and Gene Washington in Spokane."
Who knows what would have happened with his athletic (and later, teaching and coaching) career if he had not made the basketball team at NIJC.
"If I hadn't have gone to college or, if I hadn't made the team, I might have gone into the military and gone from there," Schultz said.
SCHULTZ DID his student teaching in Spokane, then East Valley offered him a job.
He was head baseball coach, assistant football and assistant basketball coach at East Valley for three years.
Then he came to Lakeland in 1973, where he was head football and basketball coach, and assistant track coach, for one season.
He then returned to East Valley, where he was head boys basketball coach for 6-7 seasons, an assistant in several other sports, and later a head golf coach. He also spent some years in administration before retiring in 2004.
During his one season as Lakeland's football coach, Schultz's coaching staff included the likes of Kiefer and Vern Bengtson.
"He was really a student of the game," Schultz said of Kiefer. "We both played back in high school — I was a quarterback and Terry was a running back.
"And when I got the head job, I didn't know a lot about line play, and I don't know if Terry knew a whole lot, too. But I assigned him the line and I took the backs," he said with a laugh. "Since I was the head coach I could do that. And he got into it and became a very excellent line coach."
When Schultz returned to East Valley in 1974, Kiefer succeeded him as head football coach at Lakeland — and years later, turned the Hawks into a powerhouse in their division in North Idaho.
Kiefer's Lakeland teams were successful for years running the wing-T, and making subtle tweaks to the offense over the years.
"Dick brought the offense over here (from East Valley)," Kiefer said. "I was familiar with the offense before, because I would visit them (Knights coaches) when he was at East Valley. After Dick left, he still helped me out a lot.
"And we ran that offense, and that's the offense we ran until I retired.
"Ran the ball, a lot of misdirection, ran off-tackle a lot. A lot of that came from Dick and (head coach) Bob Shill over at East Valley."
In 1980, with Shill as head coach and Schultz as defensive coordinator, East Valley won the state title.
During that time, Schultz recalled one game vs. Sandpoint at War Memorial Field.
"I was defensive coordinator, but I sat upstairs, and I would call defenses and I would be on the headphones with the guy on the sideline," Schultz recalled. "I remember talking to the guy on the sideline and you've got Sandpoint fans sitting like 3 feet from you (in the press box)."
You mean right below, as the press box was above the grandstand?
"Actually they were beside us in the press box," Schultz said.
Did you have to be careful what you're saying?
"I did. We were on headphones, but you had to talk pretty loud into them."
After living in Post Falls for nearly three decades, Schultz moved to Coeur d'Alene seven years ago.
Retirement for Schultz, 74, involves playing a lot of golf and watching his grandkids, in La Grande, Ore., and the Boise area. His daughter, Michelle Schultz, was a star basketball player at Post Falls High, and went on to earn All-America honors at Boise State.
"He was competitive at anything — golf, or tiddlywinks," Kiefer said.
Schultz is also a member of the Lakeland High and North Idaho College athletic halls of fame.
When Schultz went into the Lakeland hall, Kiefer told a story — "and I know he gets tired of me saying it," Kiefer said.
"When we were in high school, we were always looking for something to do. He had this older black car, and he would come on down to the house. We were always saying, 'I can do this better than you.' 'No you can't.'
"One time … no, we did it quite a few times. It might be 90, 95 degrees out, and we'd take his car, black car, go out in the middle of the field, and roll the windows up, and see who would give first.
"And then you would fake like, 'I can't take it anymore.' It was probably 130, 140 degrees in that car. You would fake like you were opening the door, so the other guy would open up his door first."
Who usually gave up first?
"Oh, I can't remember. It was probably me," Kiefer said. "You would get out of the car and you would be wringing wet."
When the original Lakeland High (now Lakeland Junior High) was being built, Schultz and Kiefer just happened to be passing by one day and noticed someone was in the gym, which was under construction.
"And they were putting the hoops up," Schultz recalled. "They'd just put up a hoop at one end and I had a basketball and I said, I need to shoot one. So I was the first one to make a basket in that gym. I don't know if the floor was even down. They were laying the wood. I just walked up and banked it off the bankboard … and we left."
Mark Nelke is sports editor of The Press. He can be reached at 664-8176, Ext. 2019, or via email at mnelke@cdapress.com. Follow him on Twitter @CdAPressSports.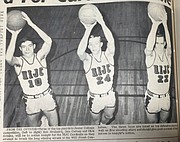 ---