Anna juggled busy schedule to help kids
Many of you know that Anna "Patty Duke" Pearce won an Oscar at age 16 for her portrayal of Helen Keller in "The Miracle Worker." But did you know she won the hearts of Mead sixth-graders by juggling?
It was 1999, and teacher David Groth was desperate.
He had taught his sixth-graders how to juggle and then written a play that incorporated the difficult exercise. The play, titled "My Favorite Place," had a "West Side Story" theme, David tells Huckleberries. Two rival gangs competed for juggling superiority.
David and the jugglers worked on the play for months. With just weeks to go, the one adult in the play dropped out, citing personal reasons.
And Anna, as Patty Duke, entered stage right.
At the time, she lived three doors from the teacher in Coeur d'Alene's historic Fort Grounds. David knew the actress well enough to ask, "Want to be in our sixth-grade play?"
She was willing to do so if David could change the dates of his play, which conflicted with a Hallmark movie she was in. He did.
The sixth-graders didn't know who she was, David said. After the first read-through, however, they told him, "She's good." A few days later, she brought her Oscar to rehearsal. And she practiced juggling. She progressed enough to make her role believable.
One show was scheduled. With the addition of Patty Duke to the cast, that one performance turned into four, with a full house of 400 at each one.
"She was delightful to work with, and I don't know who had more fun, Anna or the kids," David said. "She closed the show with a passionate speech about the pleasure of working with those kids."
The Oscar that Anna showed the young Mead actors 22 years ago is now on display at the Museum of North Idaho. It is part of the museum's newest exhibit, "Hollywood of the North," a salute to film stars with ties to this area.
Check it out. You'll get an idea what the late Anna Pearce meant to Coeur d'Alene.
Sadder but wiser
Shirley Stafford Thagard left this message to former Kootenai County neighbors after returning to her southern roots. From Decatur, Ga., she Facebooks: "Do not put eggshells in your garbage disposal." She learned that pricey lesson after stuffing eight potato skins into the garburator, followed by six eggshells. She did this slowly to avoid overwhelming the disposer. Her wet shoes were the first sign that she had failed. The loose pipes and mess under the sink offered more clues. Her friends weighed in that she should also avoid jamming celery, artichokes, and corn skins down the disposal. Shirley's plumber gave good advice, too. Once a month, he said, pour a good drain cleaner into the sink and let it sit overnight. His advice was free, unlike his $250 repair bill.
Huckleberries
• Poet's Corner: Weighed down by news of murder/and wars that maim and kill,/she glanced out of her window/and saw the daffodil — The Bard of Sherman Avenue ("Hope in the Backyard").
• Oopsy: Huckleberries switched genders on Shawny Le of Coeur d'Alene last week in an item about St. Vinny's donations. Shawny's female, not male. Can we blame the snafu on COVID, too?
• A fist bump may not seem like much, but it is, when it comes from basketball coach Mark Few of the Gonzaga Bulldogs. The bump was enough reward for charter bus driver Herb Helstrom of Coeur d'Alene, after he drove Few and his 31-1 Bulldogs from the Spokane Airport to campus. Huckleberries will let you know when Herb decides to wash that hand again.
• Fan Mail: Ellen McLain Brown recalled the late Dr. E.R.W. "Ted" Fox of Coeur d'Alene, who was mentioned in Huckleberries April 2. He delivered her three siblings — Susan, Sarah and Patrick — and her for parents Betty and Charles (Mac) McLain. Said Ellen: "I never had another doctor until I was in my 30s and he was retiring. He was one of a kind. A wonderful doctor and man." Bingo.
• Fan Mail II: Sandy Emerson of Hayden Lake recalls Dr. Fox as fastidious: "I mowed his lawn at the office on 11th & Mullan. He was a stickler as to the pattern mowed into it. My brother Tom did his landscaping at their East Lakeshore Drive home. Dr. Fox was a perfectionist about that, and it was a show place." Does anyone know what happened to Dr. Fox's lawn Buddha?
Parting Shot II
The annual migration of eagles to Higgens Point and Mineral Ridge attracts bird watchers from November through February. But fewer are aware of the migration of another bird of prey. Ospreys arrive in early April. And outdoors photographer David Taylor of Post Falls is waiting for them. David counted six osprey nests on Tubbs Hill this month, including one badly damaged by the windstorm. If they have chicks, David tells Huckleberries, the adult ospreys will stay near the nests until the young ones can fly, usually in late August or September. Osprey nests are easy to spot, if you're looking for them, David said. But most Tubbs Hill hikers are unaware of the raptors and their nests overhead.
• • • 
D.F. "Dave" Oliveria can be contacted at dfo@cdapress.com.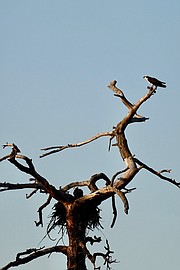 ---