THE FRONT ROW with MARK NELKE: Oh, those future college basketball standouts Post Falls faced back in December 2017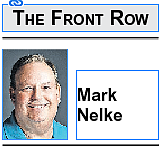 Gonzaga vs. USC in an Elite 8 game of the NCAA Tournament last Tuesday sparked more than just the usual local interest.
It also brought together three players the Post Falls High boys basketball team played against in December 2017, part of a grueling stretch of nonconference games for the talented Trojans.
On Dec. 7, in Post Falls' second game of the year, the Trojans played host to Gonzaga Prep and junior star Anton Watson, who is now a sophomore at Gonzaga.
Two weeks later, in the Platinum Division of the Tarkanian Classic in Las Vegas, Post Falls opened vs. Rancho Christian of Temecula, Calif., which featured future USC Trojans Isaiah and Evan Mobley.
Two nights later, the Trojans took on Centennial of Corona, Calif., which included sophomore Jaylen Clark, who last Saturday came off the bench for UCLA in that overtime thriller vs. Gonzaga at the Final Four.
And there were other "name" players the Trojans took on that month, as it turned out.
"It's just a little surreal to think of what we did," Post Falls coach Mike McLean said. "At the time when we were down there playing, we knew those guys were good, but maybe not until you see them in the Elite 8, playing against each other … wow, it's just interesting to see how far they have all come in their development."
AGAINST POST Falls, Watson totaled 28 points 12 rebounds, three steals, two assists, one block and a handful of dunks as the Bullpups, who would go on to win state 4A titles in Washington that season and the next, handled the Trojans 68-51.
"We played against some pretty good kids over the years in my career at Post Falls," McLean said. "I think Anton is the most complete high school player, and the best high school player, all around, that we've ever played against. Obviously in high school he was a scorer, but his rebounding, you couldn't keep him off the boards. Even now, I think he's an underrated passer … Obviously at GU his role's a little different, but he still does all those little things — taking the charge, having that tough blockout … his high/lows to (Drew) Timme … I just think Anton is such a well-rounded player, and a good teammate."
Anton in 2017 vs. Anton now?
"He's a heckuva lot bigger," McLean said. "His build looks a lot more like his dad (Deon, who played at Idaho) all the time — big body that really likes to bang. Every once in a while you still see the physical Anton come out.
"It's always fun to see a guy that you've watched growing up — guys like Anton are easy for me to root for. He's a Coeur d'Alene guy … dad's a U of I guy, mom's from Mullan. That's about as local as it gets."
In their opener at the Tark Classic, Isaiah Mobley, then a junior, scored 24 points, and Evan Mobley, then a sophomore, added 13. But Post Falls got 23 points and 10 rebounds from Tanner McCliment-Call, and 17 and 10 from Jake Pfennigs, and won 70-64 at the Orleans Arena — site of the West Coast Conference tournaments, and other conference tourneys.
Coaches from most of the Pac-12 schools, as well as NBA personnel, were there to watch.
"I can tell you this — we watched them warm up, and I was a little concerned," McLean recalled. "My staff was REALLY concerned. The first play of the game, they win the tip, they go down, they go high/low, Isaiah Mobley drops it down from the high post to Evan Mobley, and he throws down a NASTY, hard, two-hand dunk on us. 2-zero. I looked at my staff and said, 'We might be in the wrong bracket.'
"We go down and reverse the ball a couple of times, Jake Pfennigs hits an NBA 3, we're up 3-2, and it was a battle, and we end up winning. Things all work out, I guess."
How did Post Falls beat the Mobleys?
"Honestly, the same way Gonzaga did," McLean said. "We moved the ball, they try to funnel everything to those two shot blockers, and we tried a few times … we're playing in the Orleans Arena, and there wasn't a lot of fans there. They're blocking that ball and we had to go chase it for 30 seconds.
We did it by passing and shooting, and when we got them to take a tough shot, and miss, we tried to get a runout, and get easy layins.
"And honestly, Jake Pfennigs outshot them, and Tanner McCliment-Call, they had no answer for him. If guards would try to pressure him, Tanner would take one, two dribbles and shoot that little 12-to-15-foot pullup that he was so good at."
THE NEXT night, James Akinjo, who was then committed to UConn, poured in 35 points as Salesian College Preparatory School of Richmond, Calif., downed the Trojans 74-61 at Bishop Gorman High.
Akinjo got out of his commitment after a coaching change at UConn, and played at Georgetown before transferring to Arizona. Akinjo recently declared for the NBA draft, but left open the possibility of returning to Tucson.
"He's probably the second-best offensive player we've ever played against, after (Zack) LaVine (of Bothell High, later of UCLA and now with the Chicago Bulls)," McLean said. "We couldn't do anything with him, and he could do anything he wanted against us. He could beat us off the dribble, he could pull up, He could change speed. It was just, in high school, he didn't have to do a lot of (defense and rebounding). When the ball was in his hands, it was either a basket or a foul shot. He was way more one-dimensional."
Pfennigs finished with 19 points and 15 rebounds.
In the next game Clark, then a sophomore, scored just three points in Centennial's 78-66 win at Bishop Gorman High.
But DJ Davis, a 6-foot sophomore now at UC Irvine, poured in 37 points and Paris Dawson, also a sophomore and now at Portland State, added 21 points.
"He (Davis) was the closest thing to Steph Curry that I've ever seen," McLean said. "He was shooting from the volleyball line. And Clark, he could do everything. He could lock us down. He guarded Pfennigs probably as well as anybody in the Tarkanian, and then he'd switch off on Tanner, and we had Drake Thompson at the time, and he could stay in front of them. I was super impressed with him. He wasn't asked to score as much."
A UCLA assistant told McLean they were really high on Clark, mostly for his ability to guard the 1 through 4 positions, and because of his basketball IQ.
Chino Hills was where the three Ball brothers (Lonzo, LiAngelo and LaMelo) played. But all were gone by the time they played Post Falls on the final day of the Tarkinian Classic.
But Chino Hills had 6-8 Onyeka Okongwu, a junior at the time. He scored 23 points against Post Falls. He went on to play one season at USC and is now with the Atlanta Hawks, the sixth overall pick in the 2020 NBA draft.
"He's just built different," McLean recalled of Okongwu. "His arms are so long, his hands are so big. He was a nightmare. Dunking it, blocking shots, rim protector, rebounding … he couldn't put it on the floor well then, but they were throwing lobs to him at 11 or 12 feet, and he was a 'go get it and try to rip the rim off' kind of guy."
Still ...
Pfennigs had 33 points and 10 rebounds, and McCliment-Call had 24 points, seven rebounds and four assists as Post Falls "won" easily, 80-59.
"Actually we didn't beat them," McLean said. "It's like the Korean War — it was suspended with 40-some seconds left. Their crowd got kind of unruly, and Bishop Gorman High School has armed security at this tournament, and they came onto the court because the Chino Hills people were standing on the court, they weren't real happy with the situation, so they ushered us rapidly into a locker room. So that game, in my eyes, has actually never been finished. It was suspended. There's still some 40 seconds on the score clock. Obviously we were way ahead, but that's how the Tarkanian Classic ended for us."
AS IT turned out, one of the better players in that tournament is now playing in college in a sport other than basketball.
Pfennigs, a standout pitcher, is at Oregon State, where he currently starts the third game of each weekend's three-game conference series.
But at the Tark, he had Pac-12 schools interested in him playing basketball.
"I don't want to say I was dishonest," McLean said, "but to get into the Platinum Division you have to have a high major recruit on your team, and I told them that we had a Pac-12 recruit that was being recruited by numerous Pac-12 teams. Which was accurate — I left out that it was baseball. I didn't think that was a true lie."
After the games each day at the Tark Classic, high school coaches and college assistants would meet up at a restaurant at the Orleans Hotel, and mingle.
"(UCLA) wanted to know why he wasn't being recruited by the basketball world," McLean said. "By that third game, UCLA's recruiting coordinator and assistant coach at the time (under former coach Steve Alford) came into our locker room to talk to Jake, and he had told me they would take Jake Pfennigs right now to play basketball.
"Obviously Jake's having a good (baseball) career at Oregon State, but in theory he could be playing at UCLA (in the Final Four) right now."
McLEAN SAID that group that played at the Tarkanian Classic in Las Vegas in December 2017 was the best Post Falls team he has coached. Shortly after that, the Trojans lost two players (including one starter) to suspension. Still, Post Falls lost just twice after that trip until state, where the Trojans lost in the semifinals and the third-place game.
"I think about that all the time," McLean said.
Post Falls was scheduled to return to the Tarkanian Classic this past December, but that event was canceled due to COVID-19 — though they did put on a smaller version for private/prep schools.
"We have an open invitation to come back whenever we want, with the understanding that I'm not going to bring a team that can at least compete at that level," McLean said. "Down the road, we'll go back."
Trenton McLean, Mike's third son, is an eighth grader, and Mike, who recently completed his 14th season as head coach at his alma mater, has made it no secret he plans to step down once Trenton graduates.
So that means just four more chances to coach his team (and possibly his son) in the Tark Classic.
"I think before the end of my career, we'll be back there," Mike McLean said.
Mark Nelke is sports editor of The Press. He can be reached at 664-8176, Ext. 2019, or via email at mnelke@cdapress.com. Follow him on Twitter @CdAPressSports.
---