Little bans state 'vaccine passports'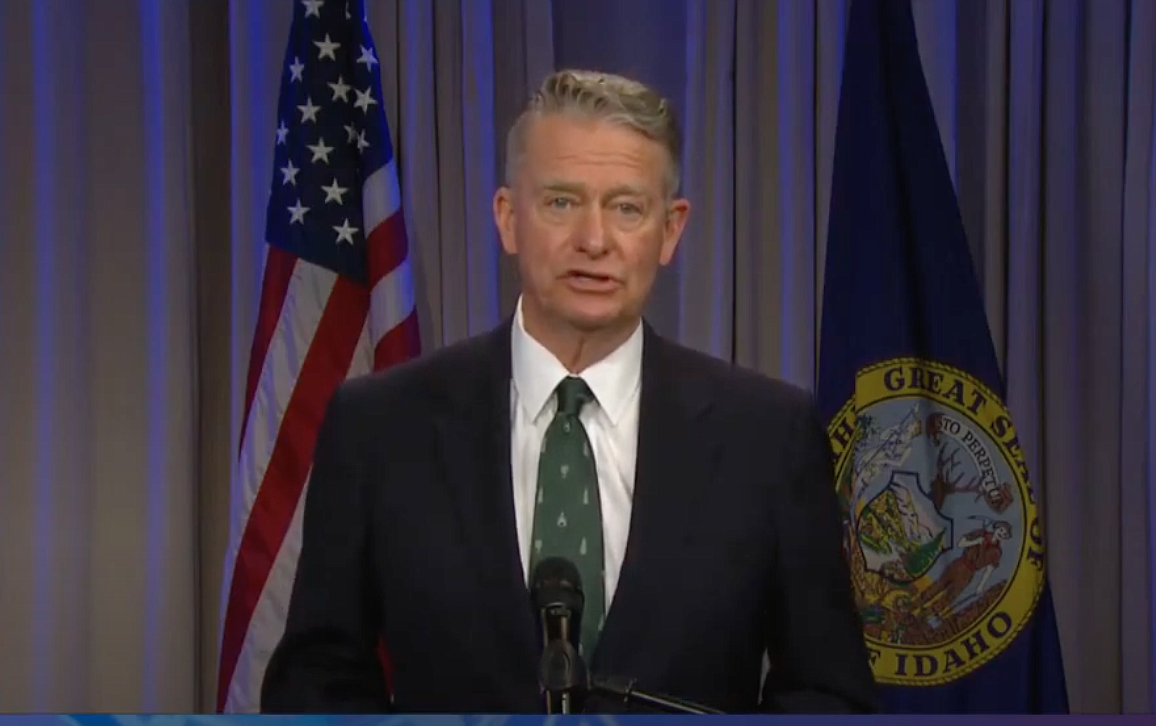 Gov. Brad Little during his announcement Wednesday. Little said his newly-signed executive order prohibits any state government agency or employee from denying services to Idahoans on the basis of whether or not they've been vaccinated against COVID-19. (Courtesy Idaho Public Television)
by
CRAIG NORTHRUP
Staff Writer
|
April 8, 2021 1:09 AM
Gov. Brad Little signed an executive order Wednesday prohibiting Idaho's governments from creating restrictions based on whether a person is vaccinated from COVID-19.
"Vaccine passports," as they've become known, are scenarios in which people would be required to show documentation they were vaccinated from the virus.
But as the vaccine continues to proliferate and businesses open up, debate has simmered nationwide about the rising potential for vaccine passports. On Wednesday, Little laid Idaho's debate to rest.
"A trend is starting to emerge across the country, one that threatens individual freedom and patient privacy," Little said. "I'm talking about vaccine passports. Vaccine passports create a different class of citizens."
The executive order prohibits any state agency from refusing to provide public services to those who have not been vaccinated against COVID-19, as well as a prohibition on state officials to require proof of vaccination.
It does not, however, speak to smaller agencies or businesses.
"Vaccine passports violate individuals' freedom to choose the vaccine," Little said. "From the start, I have stated I am opposed to vaccine mandates. Today, I am signing an executive order putting law behind my opposition."
As states across the country have loosened restrictions amid the distribution of Pfizer, Moderna and Johnson & Johnson vaccines, businesses are starting to re-open. With those re-openings have come debates about whether certain venues should only be allowed for people who have received their doses.
Some multi-national businesses, such as IBM and British Airways, are reportedly developing plans to require employees and customers alike to show proof in order to enter certain facilities.
Vaccine passports are being considered for customers in industries taken for granted before the pandemic, including air travelers, cruise guests and patrons at concerts or sporting events. But those industry leaders are hearing pushback from governments and consumer bases alike.
Little became the third governor to sign such an executive order, joining Texas Gov. Greg Abbott and Florida Gov. Ron DeSantis.
President Joe Biden, through his press secretary, said the United States government would never support the notion of vaccine passports.
"The government is not now, nor will be, supporting a system that requires Americans to carry a credential," press secretary Jen Psaki said. "Our interest is very simple from the federal government, which is Americans' privacy and rights should be protected, and so that these systems are not used against people unfairly."
Little's announcement comes as his administration continues to encourage Idahoans to get vaccinated. Little has estimated in the past that 70 to 80 percent of all Idahoans would need to get vaccinated for the state to achieve herd immunity.
He has also expressed concern about vaccine hesitancy, the phenomenon of skeptical Idahoans declining a dose. Little made a point to thank the 497,602 Idahoans, about 28% of the state's population, who have been vaccinated against COVID-19 so far.
"The availability of a safe and effective COVID-19 vaccine is a game-changer in our pandemic fight, and I want to thank the close to 500,000 Idahoans who have chosen to receive the vaccine."
---