Commissioner opts out of frying pan
by
MADISON HARDY
Staff Writer
|
April 7, 2021 1:07 AM
A wave of backlash by Kootenai County Republican organizations against Commissioner Bill Brooks' optional forms of government study has pushed him to cancel an upcoming keynote presentation. 
After receiving a tip that his speech at Thursday's Reagan Republican meeting would be received much like last week's at the monthly Kootenai County Republican Women Federated event, Brooks respectfully declined to participate.
"I was going to wear a necktie, and then I realized that they were really going to have a necktie party," Brooks said. 
Kootenai County Republican Central Committee volunteer coordinator Steve Van Zeveren sent a mass email calling for members to "keep up the pressure" on Brooks and "please show up and tell him to stop this madness." 
Brooks said the event would become less of a discussion and more of an attack on his character and on the study. While he has in the past enjoyed talking to the KCRWF, Reagan Republicans, and North Idaho Pachyderm Club, Brooks said a radical group has taken over. 
"The funny thing is they are really into this cancel culture now, which is exactly what they squeal about when someone shuts down their conversation on Facebook or Twitter," Brooks said. "But they have no problem shutting down anyone they disagree with." 
The principal reason for this "violent reaction," the commissioner believes, is the doing of the KCRCC and its chairman, Brent Regan. In Brooks' opinion, altering the form of government would "threaten Regan's control of Kootenai County."
"When he sees the people discussing one form of county government that might threaten his control, he becomes frantic. He's having temper tantrums," Brooks told The Press. "I'm reminded of the wicked witch of the west from 'The Wizard of Oz.' He has released his flying monkeys on the people of Kootenai County to try and keep control." 
The KCRCC and Reagan Republicans are two separate organizations. Though both are conservative groups, they differ in membership makeup and views.
Regan said he's disappointed that Brooks canceled his appearance at the Reagan Republicans' Thursday event, as he had looked forward to attending and participating in the discussion. 
"Commissioner Brooks has long advocated for the county administrator and even included that option as the "Objective" of his original draft bylaws," Regan told The Press in a written comment. "His claims now that he is only interested in giving people a choice rings hollow. His feigned indignation when people confront him on this fact is not persuasive." 
Regan noted that last Friday at the North Idaho Pachyderm meeting, Dan Gookin — a Coeur d'Alene City Councilman and Brooks' ad hoc committee nominee — spoke on the deficiencies of the city council government structure. Similar faults, Regan noted, could be found in the county system. 
"I went on to point out that the city government form is the example Mr. Brooks cites as a reason for changing county government, and that is not a good reason as we are simply trading one set of problems for another new set of problems," Regan said. "In fact, the real issue was that the people in government are far more important than the form of government. Mr. Gookin agreed."
While chairman of the KCRCC, Regan said his opinions are not necessarily the official position of the organization. 
Brooks' opponents say his study of forms of government is just a means of pushing an agenda: for pushing the consolidation of political power through the commission-manager form of government. 
Not true, he said Tuesday.
Brooks said he doesn't favor any alternative government structure — just a study to see if there's a better option. During the KCRWF meeting, the group showed a graphic from a 1997 study depicting the commission-manager system. Brooks felt the group had done him a disservice by showing only one of six optional forms and stating it was his preferred style.
"That's not accurate, and when people do that, it's not an accident," Brooks said. "These are smart people. This was a hit job. This was an ambush, and I'm not going to the Reagan Republicans and do this again."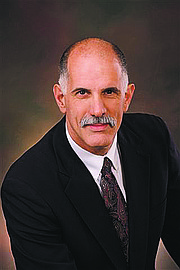 ---