THE CHEAP SEATS with STEVE CAMERON: A weary end to a terrific Zags' season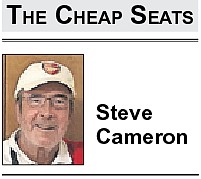 There is this picture.
I can't get it out of my head.
It's a vision where you see thousands of fans, spread across North Idaho and the entire Inland Northwest, and they are all still sitting there — staring at blank TV screens.
They're waiting for the real Gonzaga to magically appear, and gloriously win an national championship without a single loss.
But the truth, of course, is that you can stare forever (or at least until next year's Final Four), and nothing will change.
History has eluded the Zags.
So many hearts were broken.
After 31 wins and what seemed like a permanent spot atop all of college basketball, Gonzaga was absolutely battered by Baylor on Monday night.
It's a result that hardly anyone saw coming.
Maybe we should have, though.
That amazing overtime win over UCLA on Saturday night, the "Suggs game" that will be replayed over and over for years, was a poisoned triumph.
As it turned out…
All that excitement came at a huge cost.
NOW, I wish that the Zags had played their scheduled game against Baylor back on Dec. 5.
We'd have gotten a much fairer comparison of the two teams – as opposed to that Monday night butt-kicking.
Along with my visual of Zag fans staring at dark TV screens, I'm also finding it hard to shake a quote made famous by the legendary Vince Lombardi.
"Fatigue makes cowards of us all," Lombardi said.
And what we saw in that national title game was a Gonzaga team fatigued both mentally and physically after all the adrenaline, excitement and exertions poured into the UCLA game.
In the first few possessions against Baylor, we watched a bunch of Zags who couldn't move their feet — unable to jump, to block out for rebounds, to hustle into position offensively.
They were dead, and the result was going to be sadly predictable.
It's notable, and honorable, that the Zags refused to use their exhaustion as an excuse for getting blown out.
No matter how obvious it was, seeing them unable to move, to react, to do all the things that were routine for them through 31 games…
They didn't complain.
The closest thing to truthfulness was just two words, when Mark Few conceded that playing a powerhouse like Baylor less than 48 hours after one of the most draining games in school history was that it made for a "tough turnaround."
No kidding.
Don't get me wrong.
Baylor earned the right to be the fresher team by hammering Houston in that semifinal, while the Zags had to play every possession for their lives against the Bruins.
Fair enough.
FEW TOLD his team to forget the loss, to put it in context and remember what a fantastic season they had.
He was wasting his breath, and knew it, but…
Heck, you've got to remind the kids that it was a brilliant year, even if the last game is the one that will stick with them forever.
The thing about college sports is that you almost never have the same team from year to year.
So, sure, Gonzaga has reached a place in college hoops hierarchy where another shot at a championship seems pretty likely.
Not with this group, though.
Not with Corey Kispert, who put in four years of work — or Jalen Suggs, who trusted Gonzaga with his formative season ahead of playing in the NBA.
Suggs will be a millionaire soon, but he left the court in tears on Monday.
Kispert admitted that while his entire experience in Spokane was amazing, and that he was "grateful" to wear a Gonzaga jersey…
He was never going to forget that Baylor beatdown.
We'll be doing a special Zags Tracker feature to run in The Press on Thursday — an effort to look into the immediate future of Zags basketball.
It'll be bright, believe me.
But I promise you that, win or lose, these 2020-21 Zags – the group that spent a season in COVID isolation and came within a game of making history – would love to play Baylor again with the teams on equal rest.
It would be a lot easier to live with that.
Email: scameron@cdapress.com
Steve Cameron's "Cheap Seats" columns appear in The Press on Mondays, Wednesdays and Fridays. "Moments, Memories and Madness," his reminiscences from several decades as a sports journalist, runs each Sunday.
Steve also writes Zags Tracker, a commentary on Gonzaga basketball which will be published Thursday – and then monthly during the offseason.
---