Cd'A trustees split on future of mandatory masks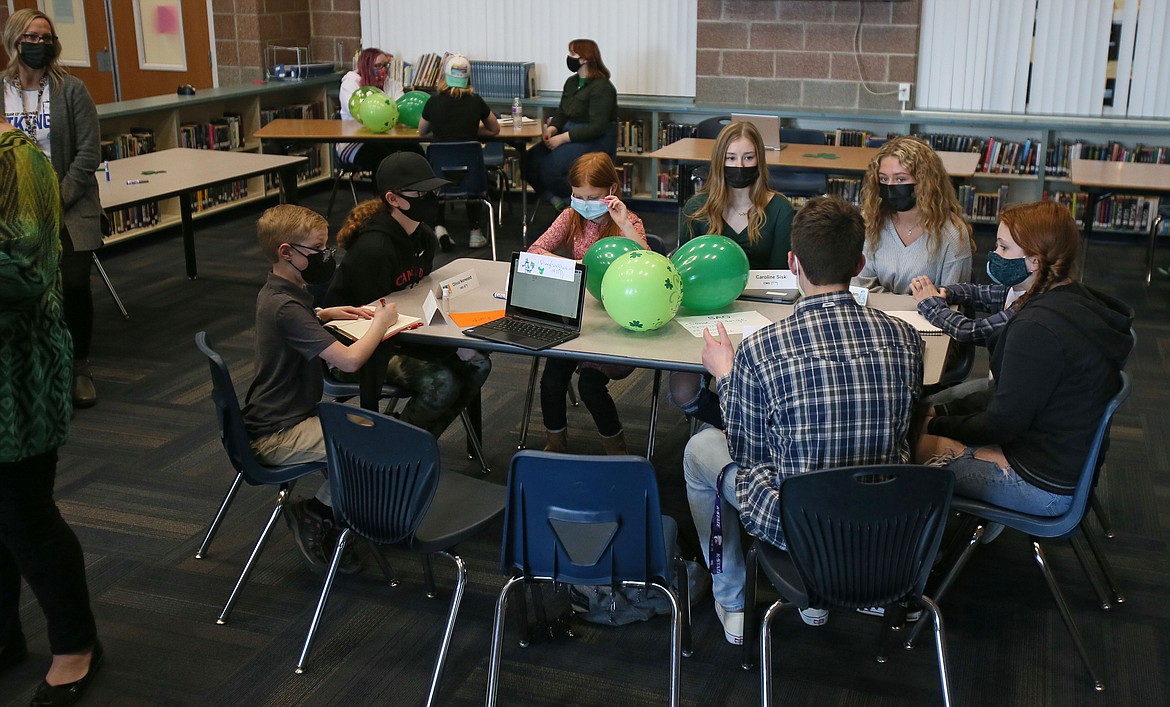 Students wear face masks during the first in-person meeting of the Student Advisory Group in March. Masks were a hot topic Monday during the Coeur d'Alene School Board meeting.
DEVIN WEEKS/Press
by
DEVIN WEEKS
Staff Writer
|
April 6, 2021 1:06 AM
COEUR d'ALENE — Come April 19, the Coeur d'Alene School District may lower its face mask requirement to a recommendation.
Tensions momentarily flared Monday evening during the regular meeting of the school board, when trustees were split on when and how to proceed with masking now that the Panhandle Health District mask mandate has been lifted and cases within the district are decreasing.
The discussion was opened by Superintendent Steve Cook, who presented four options: Continue the current plan, which aligns with the adoption of the metrics provided by PHD; adopt a step-down model to phase out masks along a timeline by groups of grade levels; adopt new metrics proposed by district administration, which are guided by rolling average and positivity rate in Kootenai County; or combine the second and third options to create a hybrid plan for the remainder of the school year.
An impassioned Trustee Lisa May made the case to not move too quickly to allow time for students who are eligible to get vaccinated if they so choose.
"Our students have lost so much in the last year," she said. "Being on the sidelines because of a quarantine because the person sitting next to you is not wearing a mask is no longer fair. We're asking a small amount to continue this year masked, at least two weeks until we see how spring break sails out."
She said unless they can have a plan in place to do away with quarantine, which she isn't comfortable doing either as that would go beyond Centers for Disease Control guidance, "I just am pleading for our students, please let's not take anything else away from them. They have lost so much."
"Wearing a mask might be the last thing that they have to do, and it's not going to be forever," May said. "It might be two weeks, it might be a month."
Trustee Casey Morrisroe said he would support moving to a recommendation and "would be comfortable right away" to implement the change, "but I understand the reluctance and could go along with that," he said.
Vice Chair Rebecca Smith said as of Monday evening, only 48 days of in-school instruction were left in the school year.
"We've got 48 days to land this plane," she said, adding that she has received letters from people who say, "Can we just ride this plane to the end?"
"For me right now, can we just get to the end?" she said. "Given the CDC and all the other things, I'm struggling to do a full step-down."
Morrisroe motioned to consider moving to a mask recommendation on the 19th after reviewing new data. He asked the administration to draft recommendations around a revised quarantine procedure, with the ability to require masks in the case of COVID outbreaks, separated by grade level, elementary and secondary.
Tambra Pickford seconded, and a 3-2 split vote followed — Chair Jen Brumley, Pickford and Morrisroe voted yes, May and Smith voted no.
"This is going to be a matter of discussion," Brumley said. "As we have in the past, this is uncharted territory, so once again, we're going to look at uncharted territory."
The board is expected to take action on the district mask requirement during its next meeting at 5 p.m. April 19.
Info: www.cdaschools.org
---