Near the Cd'A shore around a million or more
by
TYLER WILSON/Special to The Press
|
April 4, 2021 1:00 AM
Even the homes in the $800,000s and $900,000s are selling fast. Better up that offer to a million bucks.
In Coeur d'Alene, high demand continues to drive prices, and even the top end of the market remains thin for those looking to blow a wad on a waterview home.
Two new construction listings in The District gated community at Riverstone and near the Spokane River are already pending — one with 2,100-plus square feet listed at $825,000 and another with 2,200 square feet at $945,000. Another 2,800-plus-square-foot home on Bellerive Lane at The Village was sold at listing at $945,000.
On the other side of the river in the same area is a humongous waterfront home with some impressive, multi level deck space priced at more than $3 million. It's pending sale too. Come on! There's nothing available in this town even for rich people!
If you're OK with being a short drive to the waterfront, you can get yourself into some homes near Harrison Avenue in midtown Coeur d'Alene for a little less than a million. Live in one half of a 2,700-plus total-square-foot duplex and rent out the other side (three bedrooms on each side) for $925,000. Or keep one side for the adults, and ship the kids off to the other side. They'll be fine by themselves, right?
Or perhaps more appealing to you big spenders out there… a midtown-located Coeur d'Alene home with open spaces (3/4 of an acre), plus a beautiful, four-bedroom, 3,400-square-foot home plus a four-car detached garage for just a shade under a million — $995,000. You can exaggerate the $5,000 when you tell your fancy friends.
Midtown and closer to Lake Coeur d'Alene are a few nice homes in the $800,000 and $900,000 range. Good options here, but let's be big spenders and check out the big guns near the water.
Here's a rarity — an updated Ft. Grounds home located directly across from Coeur d'Alene City Park with five bedrooms (with a setup for vacation rental options) and 3,400 square feet is priced just a tad under $1.5 million.
Looking to rise above the competition? How about a brand new condominium on the 15th floor at One Lakeside with a spectacular view of the lake? The three-bedroom, 3,100-plus square feet can be yours for just over $2.7 million.
Over in the always-in-demand Sanders Beach community, get in on the unique, three-story, two-bedroom home located one block from public beach access with just under 3,500 square feet. Price: A tad under $1.2 million. If you need more bedrooms, you can go for the nearby four-bedroom, 3,300-plus square feet with custom cabinetry and appealing built-ins throughout. It's listed for just under $1.8 million.
And now for the biggest swing of the article — a stunning stone and brick home on the waterfront with four bedrooms, 5,800 square feet and a spectacular outdoor space. There's even an elevator in the house. Price: $4.5 million.
Maybe you can't afford these right now. But hey, maybe check to see if you're getting any money back on your taxes?
• • •
Let us know about more standout neighborhoods and developments that we may feature in an upcoming Neighborhood of the Week. Contact Tyler Wilson at twilson@cdapress.com.
Real Estate Agents, take advantage of Neighborhood of the Week by sending in your suggestions for featured areas, including sites outside the normal confines of Coeur d'Alene, Post Falls and Hayden.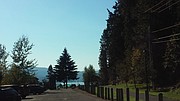 ---