Missing Anna, five years and counting
We called her Anna because she preferred her real name.
She loved us for it. And in response we embraced her and protected her privacy.
The world knew her as Patty Duke, the Oscar winner who played identical twins in her 1960s TV show and wrote a bestseller about her struggle with mental health, "Call Me Anna."
In 1990, when Anna moved from Los Angeles to North Idaho, she discovered home and sanctuary.
"I found here the ability to have a conversation with someone in the supermarket or in a car lot that had nothing to do with anything but the grapes we were buying or the car we were looking at," Duke told The Spokesman-Review. "I let the word out that I preferred to be called Anna, and soon acquaintances were calling me Anna. It was as if I was seeking roots, and they were willing to give some."
The actress volunteered her enormous talent for local charities and stage performances. And persuaded NBC producers to film a short-lived TV series in Coeur d'Alene. "Amazing Grace" aired on April 1, 1995.
Why am I telling you this? The fifth anniversary of Anna's unexpected death from sepsis in Coeur d'Alene passed without fanfare Monday, March 29.
Anna, as Patty Duke, appeared in this column several times.
The mentions began on Sept. 26, 1994, after I bought her record album (featuring her 1965 hit single, "Don't Just Stand There") for 50 cents at a garage sale. She would autograph it for me through an intermediary, her nephew Mike Kennedy of Coeur d'Alene, now president of Intermax Networks.
In 2011, nephew Mike, then a Coeur d'Alene councilman, would lament in this column that his aunt had begun following him on Twitter: "This sucks," he quipped. "I can't curse on Twitter anymore because my aunt is following and will call my mother."
Then, there was the time Anna attended the Lake City High production of "Seussical" and delivered the line of the night — from the audience. After the play, cast members were drawing tickets for various prizes when they picked two in a row, purchased by the Patano family.
In perfect time, Anna's voice could be heard above the hubbub, sing-songing, "One Patano, two Patano …"
She was fun. She was at ease here. She was a community treasure.
Vinny's or bust
Shawny Le thought he was the only one who did it — you know, load donations for St. Vincent de Paul into his car — and then drive them around for three months. When the Coeur d'Alene man mentioned his habit on Facebook, however, several friends responded: "Me, too!"
Michelle Rakes Coppess of Coeur d'Alene said she is reminded of her undelivered donations whenever she packs toilet paper on top of them in the Costco parking lot. Melissa Hanenburg Cleveland of Coeur d'Alene has unloaded St. Vinny's-bound stuff from her vehicle into the garage to make room for a weekend trip. Newcomer Amy Callahan said she still has a box of donations under her kitchen table from her move here — in July. Jeff Weir of Coeur d'Alene urged Shawny to put St. Vinny's items in the front seat where he can't ignore them.
Shawny appreciates the advice. But he's already hedging. He has had a load of books and outgrown clothes for Vinny's in his car since Monday. He tells Huckleberries he's holding off the delivery phase of his Vinny's run because he's "close" to cleaning out another closet.
And that's how the not-so-vicious re-cycle continues.
Huckleberries
• Poet's Corner: April is the month for fibbing,/spinning tales and ad-libbing,/with fervent hope they don't distress/those folks down at the IRS" — The Bard of Sherman Avenue ("April").
• St. Vinny's, by the way, offers a great bang for your medical buck. For $10, you can buy crutches at the Coeur d'Alene store. And you get $5 back if you return them with a receipt.
• Jeanne Helstrom of Coeur d'Alene felt as though the label of the child-proof pill bottle mocked her after she gouged a finger trying to open it. It read: "arthritis strength Tylenol."
• Not only was Dr. Bob McFarland of Coeur d'Alene one of the 4,000-plus babies delivered by the late Dr. E.R.W. Fox, but "Ted" Fox also inspired him to enter medicine. Dr. Bob, who is running for the hospital district board, tells Huckleberries: "I have his black leather doctor's bag, with the syringes he used to give us little kids our penicillin shots on his house calls." How about a show of hands out there from everyone who was delivered by the revered Dr. Fox?
• Count Norman Oss among those who are in heaven because his "second home" (aka the Coeur d'Alene Public Library) is open again. The Coeur d'Alene man has been there almost daily since. But things are different. Fewer chairs are available, discouraging loitering. Only three seats are open at the computer kiosks. But the "new normal" is still a good re-start for a beloved institution.
Parting Shot
Nils Rosdahl offers another story of life on the set of "Dante's Peak," filmed in Wallace 25 years ago. He and daughter, Cory, were extras in the movie. During a lull in the filming one day, Nils took his transistor radio up a hill to get better reception for a Mariners game. Suddenly, Nils recalls, actor Pierce Brosnan and a woman appeared. "You listening to the Mariners?" Brosnan asked. "How are they doing?" Nils had the good sense to ask the star to sign his pay stub, which he has since lost. Now that the Major League Baseball season has begun, we'll all know soon how the 2021 version of the M's are doing.
• • • 
D.F. "Dave" Oliveria can be contacted at dfo@cdapress.com.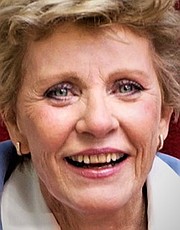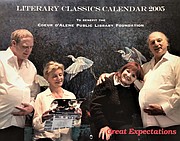 ---