Mangia Pizza to open in Cd'A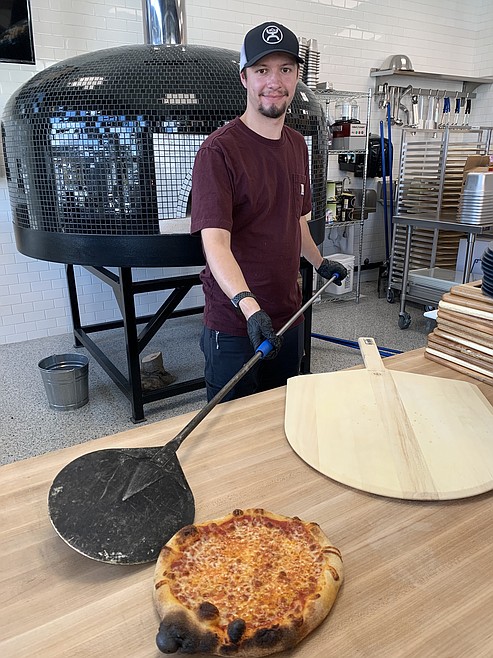 Courtesy photo General Manager Thomas Cook prepares an order at Mangia Wood-Fired Pizza, which will open soon in The Northern complex at the Ramsey Road and Hanley Avenue intersection.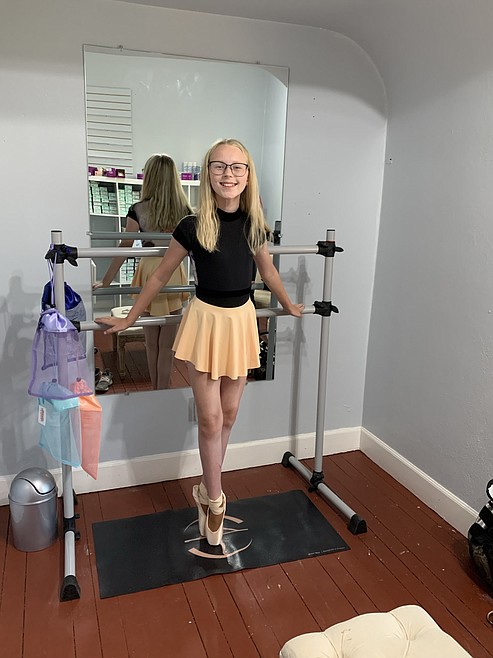 Courtesy photo Ashlyn Weaver shows off her pointe shoe fittings at the new Bou Cou Dancewear & Fitnesswear at 2112 N Government Way in Coeur d'Alene.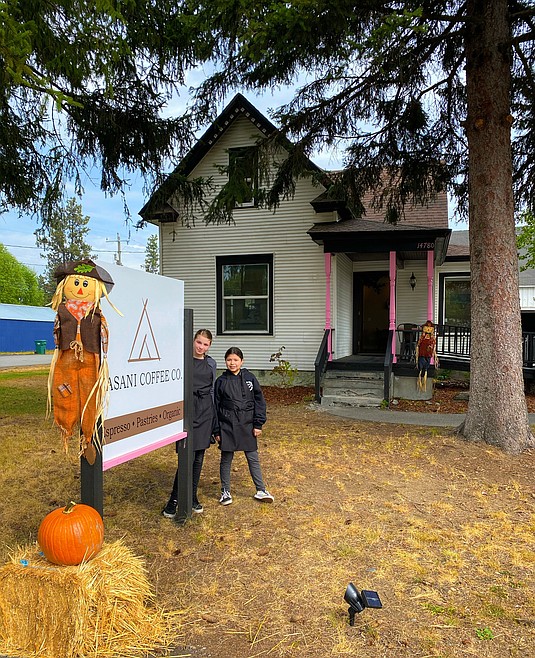 Courtesy photo Angelica and Alivia, daughters of owners Will and Hasani McMinn, work as baristas and hostesses at the new Hasani Coffee, located at the corner of Pine and Highway 41 in Rathdrum.
Previous
Next
|
September 27, 2020 1:20 AM
With an opening bar made of puzzled-together firewood and an awesome open-wood oven, Mangia Wood-Fired Pizza will open soon in The Northern complex at the northwest intersection of Ramsey Road and Hanley Avenue. (Suite 104 at 2045 Tea Olive Lane).
Neapolitan-style pizza will be cooked in the specialty oven with local applewood. The menu includes garlic knots, salads, cheese bread, mini-meatballs, desserts, a variety of pizza options (served by the slice or 10-inch size) and beverages with beer and wine.
Seating is inside and outside with take-out, delivery, catering and event space. Hours are 11 a.m. to 9 p.m. daily. Thomas Cook is general manager with partners Tim Mitchell, Matt Logan, Hayden Anderl, Tyler Anderl and Tom Anderl.
Phone 208-966-4622. Check www.mangiapizzaco.com.
Hasani Coffee opens in 1901 farmhouse
This full-service coffee shop offers indoor seating for coffee, espresso, specialty drinks, pastries, muffins and dairy-free, vegan and gluten-free options.
Located in a 1901 farmhouse at 14780 Highway 41, with the original front door and a barn behind, hours are 7 a.m. to 4:30 p.m. Monday through Thursday and until 8 p.m. Friday and Saturday.
Owners are Will and Hasani McMinn. Phone 208-352-6702. Check hasanicoffeeco.
Bou Cou offers dance, fitness wear
With several options of dance wear and fitness wear, Bou Cou Dance & Fitness Wear has opened in a yellow house that is now a commercial property at 2112 Government Way.
Owners Candace Jones Love and daughter Kirsten Love are open 10 a.m. to 6 p.m. Tuesday-Wednesday-Thursday, 10 a.m. to 5 p.m. Friday-Saturday and Sunday-Monday by appointment.
Phone 208-966-4320. Check www.boucou.net.
Unlimited Health Chiropractic
expands to Post Falls
Offering "affordable-available-awesome" healthcare, Unlimited Health Chiropractic has opened a new office in Suite 500 at 3145 E. Mullan Ave. (across from Walmart), Post Falls.
Owners and providers Dr. Jana Hull and Dr. Brian Hull also have an Unlimited office at 320 E. Neider (Suite 105) and a Restoration Healthcare (integrated medicine) clinic at 611 E. Sherman in Coeur d'Alene.
The team includes Dr. Richard Hauser, Dr. Melissa Trost, Dr. Michael Jaramillo, Dr. Jerry Inghilterra, nurse practitioner Max Holliday and massage therapists Jodi Sivright and Angela Whitaker.
Hours are 9 a.m. to 6 p.m. weekdays with no appointments needed. Phone for the new Post Falls office is 208-981-0129.
And now the Tidbits
The Shanty Bar at Seltice and Huetter will have a major change.
A sign says "Hanks Hatchets" at 2506 N. Fourth.
Spies say a Family Dollar store will be at 317 E. Seltice Way.
5-in-1 Fitness will be at 1631 Seltice Way.
The 10/6 eatery that used to be on Fourth Street will be at Seventh and Wallace in 2021.
Cookie Crumble will be in the Costco Plaza area at 3524 Government Way.
Emerge is opening at 119 N. Second St.
Milk & Honey Coffee is "coming soon" to Mullan and Cecil in Post Falls.
Schmidty's Burgers will be at 1524 E. Sherman.
A 120-room boutique hotel will be where the Outback Steakhouse was off Northwest Boulevard and Interstate 90.
A new restaurant will happen above the river in Riverstone.
Construction on a new Maverik gas and convenience store has been started in the northwest corner of Highway 41 and Mullan Avenue.
A new UPS distribution center is under construction at 192 N. Beck Road in Post Falls.
Metro Car Wash will be near Wendy's in Post Falls.
Watch for something new at 655 Best Ave.
The Hayden Dairy Queen will be at 513 W. Hayden Ave.
108 North is under construction connected to the Moose Lounge downtown.
La Cabana Mexican Food on Seltice Way is adding a new place in Riverbend Commerce Park.
The Union Gospel Mission Thrift Store is under construction on Government Way.
Something new is going into 413 Sherman beside the Art Spirit Gallery.
Adam & Eve will move next door to a bigger space at 348 W. Bosanko.
Trademark Mechanical is building a new place in Hayden.
• River City Pizza will have a place in the strip mall at Atlas and Prairie.
The new Hardwick Hardware is under construction at 3820 E. Mullan in Post Falls.
A new motel is under construction on CdA Lake Drive between Mullan Avenue and Michael D's Eatery.
A Chase Bank is being built in front of Tractor Supply on Neider Avenue.
A Starbucks Coffee building is under construction kitty-corner from the Kroc at Ramsey and Maria.
Vicio Pizza will be in the former Bullman's pizza location in Riverstone.
The word "racecar" reads the same either way, a palindrome.
*Contact Nils Rosdahl at nrosdahl@cdapress.com.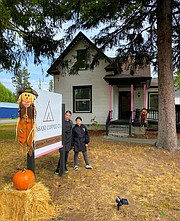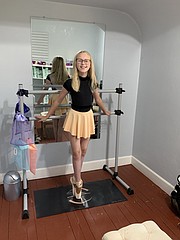 ---