'Quite a journey'
by
BILL BULEY
Staff Writer
|
September 22, 2020 1:09 AM
COEUR d'ALENE — Pastor Paul Van Noy spent a week sick at home before being admitted to Kootenai Health, where he spent 18 days in the critical care unit.
At one point, his lungs severely damaged from the coronavirus, he was told he had a 20 percent chance of survival.
And he still has a long road to a full recovery.
But Monday, Van Noy was released to go home.
His wife of 36 years, Brenda, waited outside for him about 4:30 p.m. and briefly recounted the trials they endured in the past month.
"I haven't touched my husband in almost three weeks. And I had to go home and be sick by myself and recover from COVID while he was in here, fighting for his life," she said. "I'm very glad to get him home."
When her husband came through the doors in a wheelchair, an excited Brenda said, "There he is. There he is. Yay," and ran and hugged him.
They shared the moment for several seconds. Then Van Noy, wearing a mask and breathing oxygen through a tube, stood on his own and walked to the SUV.
He will remain under close medical care at home and will not be leaving his house for some time. He's not sure when he will return to lead services at Candlelight Christian Fellowship.
But he knows he's a blessed man.
"I feel good," said the pastor of Candlelight. "I'm just glad to be going home."
"It's been quite a journey," he added.
Not a pleasant one, either.
Besides the physical battle, it's been a spiritual, emotional and mental one, as well.
Since sharing the news on the church website that he and Brenda had contracted the coronavirus, and the Coeur d'Alene Press first reported it, Van Noy has been the subject of national media reports that he was an anti-mask, anti-government leader, arrogant faith healer who ignored health officials and warnings about the virus.
He was called the "no-mask pastor." The story of a pastor who flaunted coronavirus precautions, then contracted the disease, went around the world, and people noticed.
He said threats have been made against him, his wife, Candlelight staff and the church in general. Online comments, emails and phone calls poured in and said Van Noy deserved it.
People took pictures of those going to services at the church on Pioneer Drive, some yelling at them as they entered the building.
Van Noy described the barrage of threats as malicious and vicious, littered with profane language.
"It was just unbelievable," he said. "The thing is, it tells you the character of the individuals."
The 60-year-old refutes how he has been portrayed.
"A lot of things have been said that aren't true," he said.
He maintained that his stance from day one of the coronavirus was, if you want to wear a mask, wear one. If you don't want to wear a mask, don't. Candlelight, like many churches, did not require masks.
He said he never said the coronavirus wasn't real and people didn't need to worry about it.
"We want people to be safe," he said. "I love our people. I love our community."
He said when churches and nonessential businesses were closed in late March per Gov. Brad Little's orders, Candlelight closed along with them, and turned to live streaming services for five weeks.
"We like everyone else closed our church," he said, adding that as president of the Coeur d'Alene Ministerial Association, he encouraged pastors to close their churches.
He also pushed for the reopening of churches, arguing they were essential. And under Stage 1 of Little's Idaho Rebounds plan, they were given the government's OK to reopen May 1.
Candlelight cleaned and sanitized and took the measures recommended by state health officials such as social distancing and washing of hands.
When it came to masks, he left it to churchgoers to make their own decisions. If you don't feel well, stay home, he said. If you want to wear a mask, then do.
But he admits to something that got some people upset.
"We did not and will not treat adults like children," Van Noy said. "We were not going to force anyone to wear a mask. That's the part that got everybody upset."
Van Noy was fine, physically, until late August, when he began feeling "not 100 percent" at work. That day, he isolated himself from staff.
"That was the last day I was in the building," he said.
Van Noy's condition worsened. A nurse checked on him at home and found his oxygen levels were dangerously low.
"I had an unrelenting fever before I got to the hospital," he said.
Rather than keep it private, Van Noy posted his condition on the church website. He said it's important to be transparent rather than hide things.
"I think people need to know what's going on," he said. "The unknown is something that creates fear."
Several staff members did get the virus and have since recovered. The church closed temporarily, but is open again.
This Sunday, the church will host two speakers at its in-person services.
Charlie Kirk is the founder and president of Turning Point USA, a national student movement "dedicated to identifying, organizing, and empowering young people to promote the principles of free markets and limited government."
Rob McCoy, pastor of Godspeak Church in California, which was fined for holding church services during coronavirus restrictions, will also speak.
They will address the church's role in America and "how it's currently abdicating its leadership role out of fear of man; and why now is the moment for the church to rise up, be strong and do not fear."
Van Noy said he is upfront in sharing his Christian faith and political viewpoint, which is conservative, stand for the national anthem and salute the flag.
"Those got me into a position where people started throwing stones," he said. "The whole thing has become overly politicized."
He said that of course he wants people to stay safe and make good decisions about their health. But he said what happened to him doesn't change his position on anything.
Van Noy said he will continue to stand for freedom, the right to choose and oppose government overreach.
"My opinions haven't changed," he said.
People have asked if he will repent and wear a mask.
"The answer is no. I have nothing to repent of," he said.
"I've never been a no-mask pastor. I've always been a freedom loving, freedom exalting pastor," the father of four said.
Van Noy said the past weeks in the hospital have been like living in a fog.
"A gaping hole in my life," he said. "I don't even remember a two-week window. It's just gone."
He does remember doctors telling him they might need to put him on a ventilator and if that was necessary, he had a 20 percent chance of survival.
"At that moment, it was either I surrender to the ventilator or I'm fighting," he said. "I fought hard and today, I'm thankful."
He praised the staff at Kootenai Health and said the prayer vigils outside the hospital and around the world strengthened him. Government leaders frequently called him and offered encouraging words.
"I appreciate the love and support of our community," he said.
Van Noy remains firm in his faith and believes in a sovereign God.
"God's not done with me. I'm just getting warmed up," Van Noy said. "I'm looking forward to many, many years of ministry and the opportunity to share the gospel with all who will listen."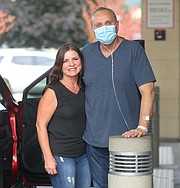 Recent Headlines
---