Teton House to open in Post Falls
Courtesy photo Teton House restaurant, with manager Troy Brown and owner Leo Hancock, will open soon on West Seltice in Post Falls.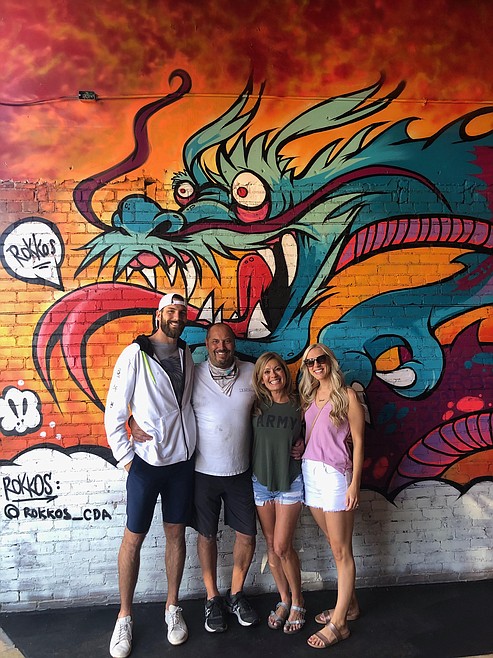 Courtesy photo Rokko's Teriyaki & BBQ is moving from its Riverstone location and opens soon at 322 Sherman Ave. in downtown Coeur d'Alene. Pictured from left are Brandon Kaufman, David Hall, Inez Hall and Lauren Kaufman.
Previous
Next
|
September 20, 2020 1:20 AM
With seating inside and outside (with heaters) for close to 200, Teton House will open soon at 1901 Seltice (west of Greensferry). The place previously was Post Falls Steakhouse and Mongolian Grill.
     With a high-class Western menu, Teton will offer fresh hand-cut steaks, prime rib, seafood, salads, soups, sides and special beers and wine.  The decor includes a special wooden hand-crafted wine bar and several TVs.
     Owners Leo Hancock and Felix Cabrera and Manager Troy Brown with 20 employees are open 11 a.m. to 9 p.m. Monday through Thursday, 11 a.m. to 10 p.m. Fridays and Saturdays and 10 a.m. to 2 p.m. for a Sunday brunch.
     Teton House also has a place in Blackfoot, Idaho. Check "tetonhousepostfalls" on Facebook.
Rokko's opening
on Sherman
     With a huge wall inside and out with a painted dragon decor, Rokko's Teriyaki & BBQ opens soon at 322 Sherman Ave.  
     Moving from its Riverstone location, Rokko's offers teriyaki, yakisoba noodle bowls, salads, sides, rice, a Little Ninja menu, beer and wine. With table seating inside and out and a wooden buddy bar, the decor includes a colorful dragon painted by Scott Lakey and four TVs.
     Owners Dave and Inez Hall and Brandon Kaufman have Rokko's open 11 a.m. to 9 p.m. Monday through Thursday and 11 a.m. to 2 a.m. Fridays and Saturdays. 
     Phone 208-930-0092. Check www.rokkosteriyaki.net.
Steel Structures expanding
to Highway 41 and Spokane
     With a new office being built soon at 2202 N. Highway 41 and others in Spokane Valley and Monument, Colo., Steel Structures of America is expanding its services.
     The Post Falls location will move from 3635 E. Covington with a 7,500-square-foot office and a 170,000-square-foot self-storage area called Giant Storage.  The other new places are similar. The company also has offices in Zillah, Wash., Spokane and Longmont, Colo., and builds up to 800 projects a year. 
     Owners Shawn Sternberg and Justin Sternberg have been in business since 1995 and have built more than 12,000 projects. Phone 208-659-4800. Check www.steelstructuresamerica.com.
Findlay Auto adds
Special Finance Center
    Findlay Auto (Chrysler, Jeep, Dodge and Ram) has added a Special Finance Center at 1854 Mullan Ave. in Post Falls.
     The objective is "to help people with challenging credit or bankruptcies for a new or quality used vehicle."
     Hours are 8 a.m. to 7 p.m. Monday through Saturday. Phone 208-262-7415.
And now the Tidbits

The Shanty Bar at Seltice and Huetter will have a major change.
A sign says "Hanks Hatchets" at 2506 N. Fourth.
Spies say a Family Dollar store will be at 317 E. Seltice Way.
5-in-1 Fitness will be at 1631 Seltice Way.
The 10/6 eatery that used to be on Fourth Street will be at Seventh and Wallace in 2021.
Cookie Crumble will be in the Costco Plaza area at 3524 Government Way.
*Emerge is opening at 119 N. Second St. 
Milk & Honey Coffee is "coming soon" to Mullan and Cecil in Post Falls.
Schmidty's Burgers will be at 1524 E. Sherman.
A 120-room boutique hotel will be where the Outback Steakhouse was off Northwest Boulevard and I-90.
Adam & Eve will move to a bigger space at 348 W. Bosanko.
Construction on a new Maverik gas and convenience store has been started in the northwest corner of Highway 41 and Mullan Ave.
A new UPS distribution center is under construction at 192 N. Beck Road in Post Falls.
Metro Car Wash will be near Wendy's in Post Falls.
A new commercial building is under construction at 6040 Government Way.
The Hayden Dairy Queen will be at 513 W. Hayden Ave.
108 North is under construction connected to the Moose Lounge downtown.
La Cabana Mexican Food on Seltice Way is adding a new place in Riverbend Commerce Park.
The Union Gospel Mission Thrift Store is under construction on Government Way.
Something new is going into 413 Sherman beside the Art Spirit Gallery.
A  Mangia Wood-Fired Pizza will be in The Northern complex northwest of the Ramsey Road-Hanley Ave. intersection.
Trademark Mechanical is building a new place in Hayden.
• River City Pizza will have a place in the strip mall at Atlas and Prairie.
The new Hardwick Hardware is under construction at 3820 E. Mullan in Post Falls.
A new motel is under construction on CdA Lake Drive between Mullan Ave. and Michael D's Eatery.
A Chase Bank is being built in front of Tractor Supply on Neider Ave.
A Starbucks Coffee building is under construction kitty-corner from the Kroc at Ramsey and Maria.
Vicio Pizza will be in the former Bullman's pizza location in Riverstone.
We need a mid-way connecting road to go from the east end of Poleline from Post Falls to the west end of Hanley from CdA.
 *Contact Nils Rosdahl at nrosdahl@cdapress.com.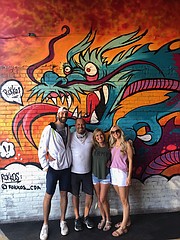 ---