Police: Man robbed teens at gunpoint
by
KAYE THORNBRUGH
Staff Writer
|
September 16, 2020 1:08 AM
A Spirit Lake man is facing multiple felony charges after allegedly taking two 17-year-olds to a wooded area and robbing them at gunpoint.
A judge ordered Monday that Triston H. Beach, 22, be held on $250,000 bail after he was arrested and charged Friday with two counts of robbery, two counts of aggravated assault and one count of possession of a controlled substance with intent to deliver.
One of the teens contacted police Sept. 5 regarding an alleged robbery. He told police he had posted on the messaging app Snapchat to request a ride to Post Falls for him and a friend. Beach reportedly agreed to pick the pair up in Rathdrum. Three people who were unknown to the teens were also in Beach's vehicle when Beach arrived, according to court records.
Beach reportedly pulled over on Atlas Road and asked the teens to get out of the car because something was wrong with the vehicle. The teens told police that Beach bent down near the driver's side front tire; when he stood, he had a pistol, which he allegedly pointed at the teens.
The teens said they were told to walk into a wooded area with their hands above their heads.
In the woods, one of the minors said Beach pointed the gun at him and said, "This is personal."
He reportedly went on to say the minor was "a pedophile" who had raped an underage girl. The minor indicated to police that he was recently released from the JCC-Nampa facility and he was charged with sexual battery approximately three years ago, according to court documents.
Beach allegedly told the teens to empty their pockets and lay face-down on the ground. The minors told police Beach took their belongings, including electronics, a wallet containing cash, a motorcycle jacket, a machete and a knife with built-in brass knuckles.
When police contacted Beach, he said he was in Montana visiting family at the time of the alleged incident and planned to remain there until Sept. 11, court documents said. Beach also told police he did not own a gun.
However, court documents said automated license plate recognition technology detected Beach's vehicle throughout Kootenai County during the period when he said he was out of state, including in the vicinity of the alleged crime.
Police located Beach driving his car westbound on Seltice Way on Sept. 11. Beach allegedly drove over the speed limit and "almost caused a collision with a semi trailer," court documents said.
Beach reportedly pulled into a dirt lot and began to spin doughnuts until an officer approached with weapon drawn. Police detained Beach at the scene, along with a juvenile passenger who was later released to her parents.
Upon searching Beach's vehicle, police reportedly found marijuana, plastic baggies, a digital scale, blunt wraps and other paraphernalia. Police also found "an extremely realistic-looking" airsoft gun in the vehicle, as well as a knife with built-in brass knuckles, court documents said.
Beach reportedly told police the teens initially contacted him to buy marijuana, not just for a ride to Post Falls.
Police said Beach admitted to robbing the teens in order to get money to pay off people in Spokane who were threatening him, court documents said. He said he pointed the airsoft gun at the ground, not at the teens. He did not identify the other car occupants.
He also told police that he chose the teens because one of them had "molested" his girlfriend and "hit her back up after he got out of jail," according to court documents. Beach said his girlfriend was not involved in the alleged robbery and did not ask him to do anything.
"I don't like pedophiles," Beach reportedly told police.
A judge on Monday also issued a no-contact order between Beach and the teens.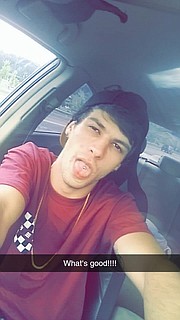 ---