THE CHEAP SEATS with STEVE CAMERON: Brady took some heat — but at least the cat came back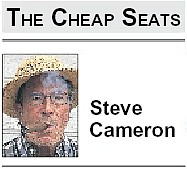 |
September 16, 2020 1:25 AM
Great news!
Sammie the World's Greatest Cat is home.
However, before she would curl up on my lap, Sammie tacked up a note — saying that we'll have to watch all NFL games with the sound off.
No more silliness from color analysts who describe complicated blocking schemes that no one will ever understand.
Samantha wants to watch without being told — in some garbled language — what she's actually seeing.
You got it, girl.
Now then, what else is lighting things up today…
ITEM: So, if Sammie had a disturbing Sunday, I think we can say that Tom Brady's was worse.
Some of the problems that Tom Terrific encountered surely were due to rustiness and a bit of unfamiliarity with his new Buc mates.
The 43-year-old Brady did throw two touchdown passes and scored once himself on a QB sneak in Tampa Bay's sloppy 43-34 loss to New Orleans, but…
"We didn't do anything that great on offense today," Brady said. "We made a few plays but, in the end, we're all going to wish we had a lot of plays back.
"Certainly, I do."
One of the plays in question was a sideline pattern on which Brady clearly was late delivering the ball, which was picked off by corner Janoris Jenkins — who cruised in for a Saints touchdown.
Remember the days when Pats coach Bill Belichick simply never criticized Brady in public?
It seems the Bucs' Bruce Arians is a different cat (sorry, Sammie).
Here was Arians' take on Brady's two interceptions…
"One was a miscommunication between he and Mike (Evans). He thought Mike was going down the middle — it was a different coverage, (and) Mike read it right.
"He should have been across (the safety's) face, but Tom overthrew it.
"The other one was a screen pass with an outlet called. He threw the outlet and it was a pick-six.
"Bad decision."
Ouch.
ITEM: It appears the Mariners will fall a little short of the American League's expanded playoffs.
However…
Seattle has uncovered several players — including a few surprises — who look like they'll be front and center when this team eventually becomes a contender.
As usual with teams rebuilding from scratch, though, the issue will always be pitching.
Specifically, starters.
You can go out and buy a bullpen once you're a serious playoff team, but a starting rotation is the toughest thing to piece together.
Ace Marco Gonzales is fine, and rookie Justus Sheffield appears ready for a regular spot.
Unfortunately, second-year import Yusei Kikuchi still hasn't commanded his obvious talent, and newcomer Justin Dunn falls into that same category.
There's some good news, however.
The Mariners and legit starter Taijuan Walker — whom they traded to Toronto midseason — seem to be cozying up to the notion of Walker coming back to the M's as a free agent.
That would really help.
Meanwhile, the entire project really took a hit with no minor league season.
Prospects like Logan Gilbert, George Kirby and Isaiah Campbell — all of whom are close to becoming big-league starters the Mariners can use as building blocks — missed almost an entire year of development.
There's talent around this franchise now, but it's likely that the Mariners will need one extra season to see the fruits of their planning.
Keep the faith, though.
All signs are positive for 2022 and beyond.
Maybe even a surprise next year.
ITEM: No, it wasn't your imagination.
The Seahawks really did come out cooking — sorry, throwing — against Atlanta.
Russell Wilson wound up 31 of 35 with four touchdowns.
For the first time in maybe forever, though, Danger Russ was turning it loose right from the get-go.
Maybe we shouldn't get used to this, since the strategy could have had a lot to do with the Falcons' terrible pass defense.
Still, after all that screeching about letting Russ cook, that's what happened.
Here's the proof from ESPN's Bill Barnwell…
"What I found particularly interesting is what the Seahawks did early in their 38-25 win — throw the football.
"In the first quarter, offensive coordinator Brian Schottenheimer officially called up 14 plays. Eleven of those plays were passes, and while two of them were sacks, Wilson went 9-for-9 for 86 yards on the other pass attempts.
"If we use that 11-for-14 mark, 78.5 percent of Seattle's first-quarter plays were called passes in the huddle.
"That's the highest ratio for any first quarter of any Seahawks game in the Wilson era. And crucially, despite leading comfortably most of the way, they never let off the gas.
"They finished with a 65.5 percent pass ratio, which was the first time in the Wilson era in which they won a game by 10 or more points and finished the game having called for passes more than 60 percent of the time.
"The Seahawks, finally, are letting Wilson take over as the focal point of their offense for the entirety of games."
Maybe.
Let's see how "Mr. Run Game" Pete Carroll game-plans against the New England defense this weekend.
Will they still have the front burner on high?
Email: scameron@cdapress.com
Steve Cameron's "Cheap Seats" columns appear in The Press on Mondays, Wednesdays and Fridays. "Moments, Memories and Madness," his reminiscences from several decades as a sports journalist, runs each Sunday.
Steve also writes Zags Tracker, a commentary on Gonzaga basketball, once per month during the offseason.
---