Smoke from coastal wildfires concealing local blazes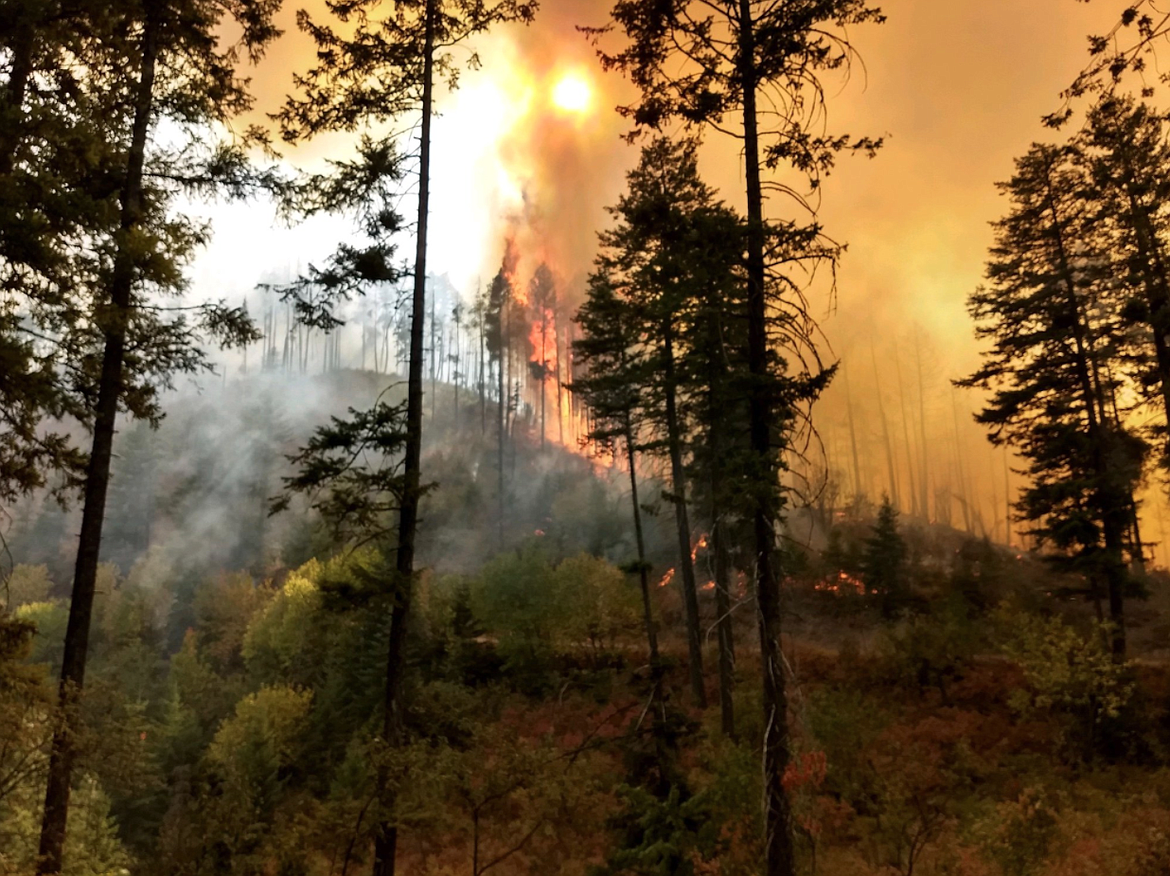 The Bernard Fire near Bayview Sunday. The fire has consumed 660 acres as firefighters have kept the fire from spreading further. (Image courtesy of USFS)
by
CRAIG NORTHRUP
Staff Writer
|
September 15, 2020 1:07 AM
The heavy blanket of smoke enveloping Kootenai County — along with the rest of the Northwest — stems primarily from wildfires in Oregon and California, but that doesn't mean we locals don't have our own fires to put out.
The Bernard Fire was originally discovered in the mid-afternoon hours of Labor Day along Lake Pend Oreille about a half-mile south of Bayview. Fire officials have stated the cause of the fire was man-made, and locals further believe it started from a campfire. In the days after, the fire burned up steep terrain until it summited the ridgeline and quadrupled in size as it exploded west, where it now stands at 660 acres.
Only 20 percent contained and fueled by timber and brush, U.S. Forest Service firefighting efforts include five engines, a dozer, an excavator, several aircraft and the Lolo Hotshots. Their efforts have kept the fire from spreading over the past 36 hours.
While Bayview residents continue to monitor the situation, no evacuation orders have been given. Restrictions to Forest Service roads in the area continue, and the USFS has issued civilian flight restrictions over the fire, including drones.
The Hunter 2 Fire near Blanchard is now 100 percent contained. Firefighters continue to patrol the 740 acres to extinguish any hotspots. The Type 3 Incident team that managed those firefighting efforts has now moved to take over the Bernard Fire. Locals may still see fire equipment in Blanchard, as that team continues to operate from its command center while it battles the Bayview blaze.
The largest fire in the region still burns to the south. The Sunnyside Complex Fire near Orofino nearly doubled in size over the weekend. Despite growing by more than 600 acres over the past two days to reach 4,388 acres, firefighters gained ground to get the complex 55 percent contained. Pilot cars are escorting drivers along parts of Highway 12.
Orofino residents are dealing with heavy smoke from both the Sunnyside Complex Fire and the Oregon and California wildfires that are impacting Kootenai County. The National Weather Service continues to label our air quality over Coeur d'Alene as hazardous, with readings of 273 micrograms of smoke per cubic meter — well above the 12 micrograms considered safe — and the department expects the smoke to continue through at least Friday, gradually improving to moderate as the winds carry it northwest.
---