Marilyn Nellie Buckham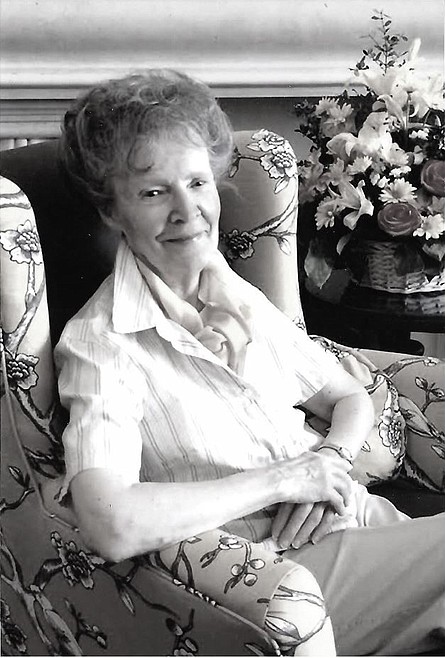 |
September 12, 2020 1:00 AM
Marilyn Nellie Buckham died peacefully in her sleep on Aug. 21, 2020, at The Garden at Orchard Ridge Memory Care Center, in Coeur d'Alene. She was born on March 3, 1933, to Robert and Leora Walls. Marilyn was one of four sisters, all of whom graduated from Wallace High School as either valedictorian or salutatorian.
Before moving to Coeur d'Alene, Marilyn lived much of her life in Wallace, Idaho, where she met her future husband in the high school band class, where they both played saxophone. Marilyn and Robert Buckham were married for 51 years. From an early age, Marilyn's big brown eyes reminded family and friends of black-eyed Susan flowers, whence came her nickname, "Susie" and later in life, "Aunt Susie."
Marilyn began her working career at the Wallace Providence Hospital when she was 12 years old. During her junior high and high school years, she worked at the popular and busy Al's Grocery Store and J.C. Penney.
After her two sons started school, Marilyn began a 30-year career in government service. First, she worked for the Selective Service, calling young men drafted to military service, and then transferred to the U.S. Forest Service. A proper lady, she dressed professionally for work at the Forest Service, yet looked forward to the times she could wear jeans and head into the woods to work with the guys. She is remembered at the Forest Service as someone who donated her extra vacation time to younger workers with small children.
She had a strong work ethic, loved learning new things, and the family remembers her as the kind of person who did not just want to know what time it is, but also how the clock worked.
Marilyn loved spending time with her family. She was an avid swimmer, a Cub Scout leader, a member of Eastern Star and the First Presbyterian Church of Coeur d'Alene. She enjoyed camping, picking huckleberries, gardening, reading, watching her sons play various sports, crocheting, cross-stitching and making quilts, many of which were donated to the Inland Northwest Candlelighters. She was also an excellent seamstress.
Marilyn and Bob enjoyed traveling in the U.S., Canada, Germany and Italy. A believer in service to others, even after suffering a debilitating medical condition, she found ways to help the caregivers and others around her. Her advice was sage, as she was quick to remind us that "this too shall pass" and that little things, from quiet mornings spent on a boat with loved ones to toaster waffles for breakfast, should be cherished.
She was preceded in death by the love of her life, Bob; her parents Robert and Leora Walls; sisters JoAnne Schauer of Spokane and Barbara Maple of Lewiston; grandson, Rhys Buckham; and great-grandson, Jameson (Bear) Reyes.
She is survived by sons Robert Buckham (Sara) of Hayden and James Buckham (Mary) of Port Townsend Wash. and her sister, Robynn Duncan (Richard) of Springfield Ore. She is also survived by grandchildren Brandi Stoker (Eric), Brian Buckham (Sarah), Kyle Buckham (Clayton), Elizabeth Reyes, Michael Buckham (Jana), Brittany Lin (Jason), Devon Buckham (Katy) and Tyler Buckham; as well as great-grandchildren Tyler, Quinn, Isabella, Grace, Evan, Matthew and Arianna Stoker, Lina and Liam Buckham, Adrian and Austin Buckham, Lucero Reyes, and Charlie and Claire Buckham. She loved taking their little hands and going on adventures, sitting on the floor playing games and putting together fun craft projects.
Marilyn will be remembered as being a kind person, a conscientious worker, devoted to her family, and the teller of many good stories. We will carry her in our hearts, knowing she is in a better place. Her family is so grateful for the positive and loving influence she had on us all and the joy she brought to so many.
The family would like to especially thank the Orchard Ridge Memory Care unit staff, who so thoughtfully and lovingly cared for Marilyn the last four years.
A family celebration in lieu of a funeral will be held at a later date. If you wish to make a donation in her name, the family suggests Children's Village.
Yates Funeral Home has been entrusted with arrangements. Please visit Marilyn's online memorial, share your memories, and sign her guest book at www.yatesfuneralhomes.com.
---