Barbara Jo Elfsten, 91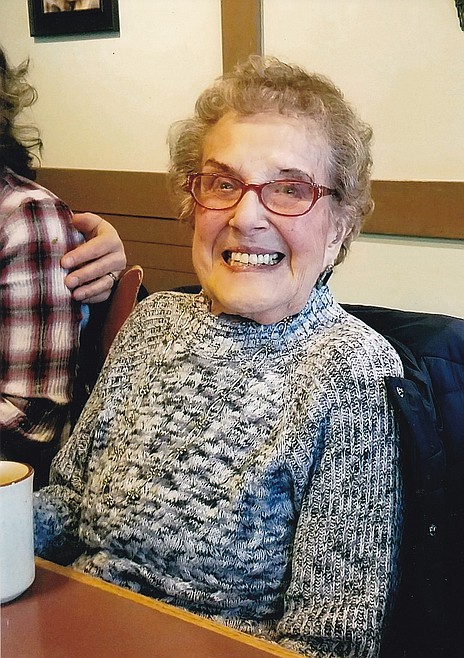 |
September 12, 2020 1:00 AM
Heaven received a beautiful lady in Barbara Jo Elfsten on Sept. 1, 2020. She passed away peacefully from natural causes in her home at Good Sam's, in Silverton, Idaho. She was born on Jan. 14, 1929, in Kellogg, Idaho, to Clyde York and Dora Williams. In 1948, she married Norm E. Flaget, who passed away in 1979. She was remarried to Don Elfsten in 1991, who she remained married to until his death in 2007.
Barb worked as a bank teller, a cashier at the Bible Book Nook, and was a dedicated wife and mother.
Barb was a born-again Christian and active servant of each church she attended (First Baptist, Ironwood Chapel, Mountain View). She was an avid collector of ceramic dolls and figurines, acquiring more than 1,000. Barbara also loved to travel, can, and experience all of the outdoor activities Idaho has to offer.
Barb loved her family. She is survived by her brother, Ron (Joyce) York; her two daughters, Vicki Freligh and Norma Wolfe; and stepchildren, Jule Swanson (John), Mike Elfsten (Suzanne), Pat Elfsten and Cindy Elfsten. She was blessed enough to see her five preceding generations including nieces, nephews, and up to great-great-grandchildren. She will be greatly missed by all who knew her.
Her family would appreciate it if you attended Barb's celebration of life at 1 p.m. Wednesday, Sept. 16, 2020, at Yates Funeral Home – Coeur d' Alene Chapel, 744 N. Fourth St., Coeur d'Alene. A viewing will be held at from noon to 1 p.m. Barb will be laid to rest at Coeur d'Alene Memorial Gardens following the service.

Yates Funeral Home is entrusted with final arrangements. Please visit Barb's online memorial and sign her guest book at www.yatesfuneralhomes.com
---