Halloween smiles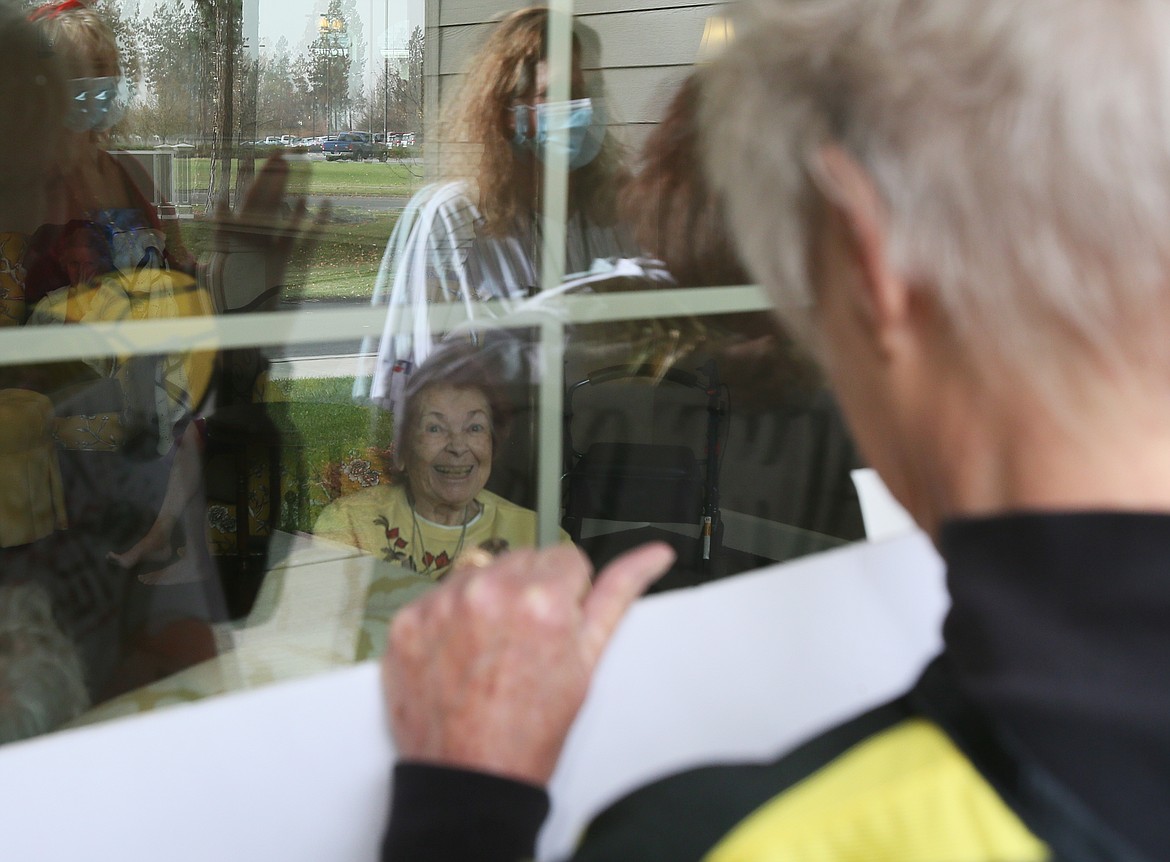 Renaissance at Coeur d'Alene resident Susan Ruyf wears a huge smile as Silver Angels for the Elderly volunteer Karen Gardy, dressed as a bee, shares a "Hello, pumpkin" sign through the window on Friday afternoon.
DEVIN WEEKS/Press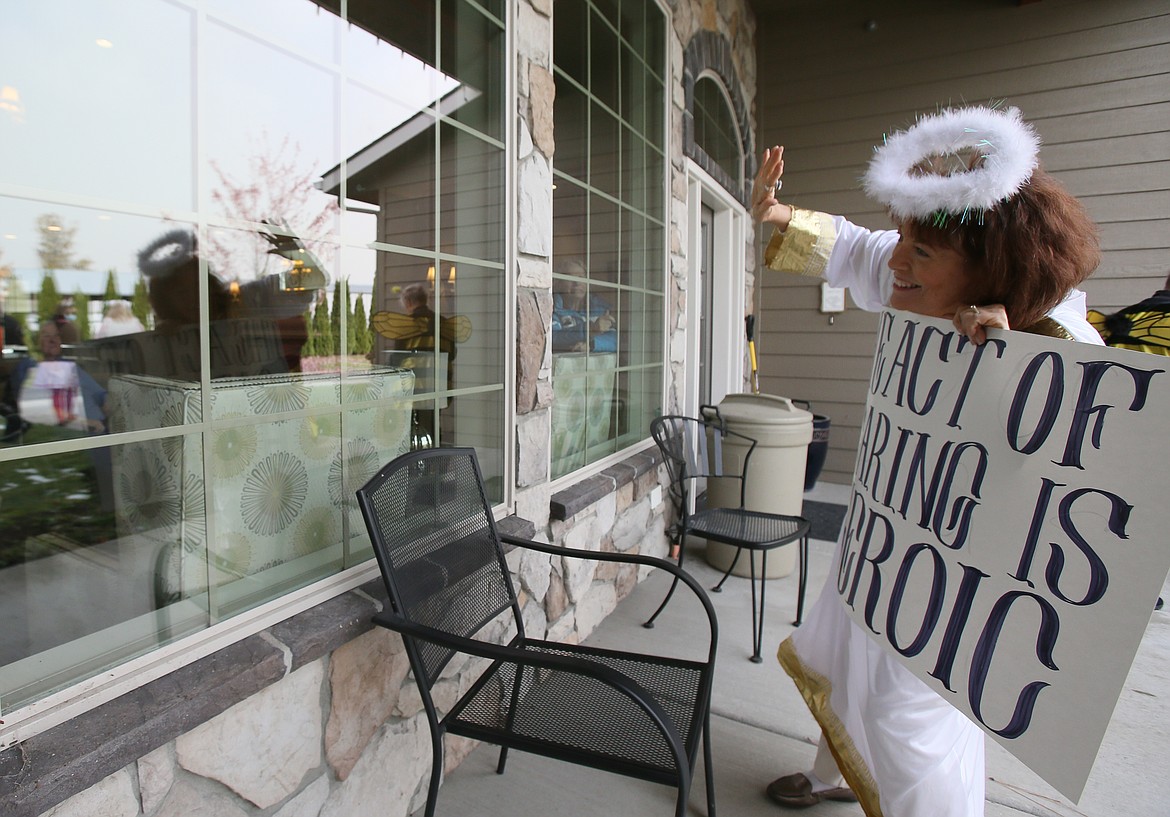 Silver Angels for the Elderly volunteer Peggy Lemm waves through the window to Renaissance at Coeur d'Alene residents during a Halloween parade Friday. Her sign reads, "The act of caring is heroic."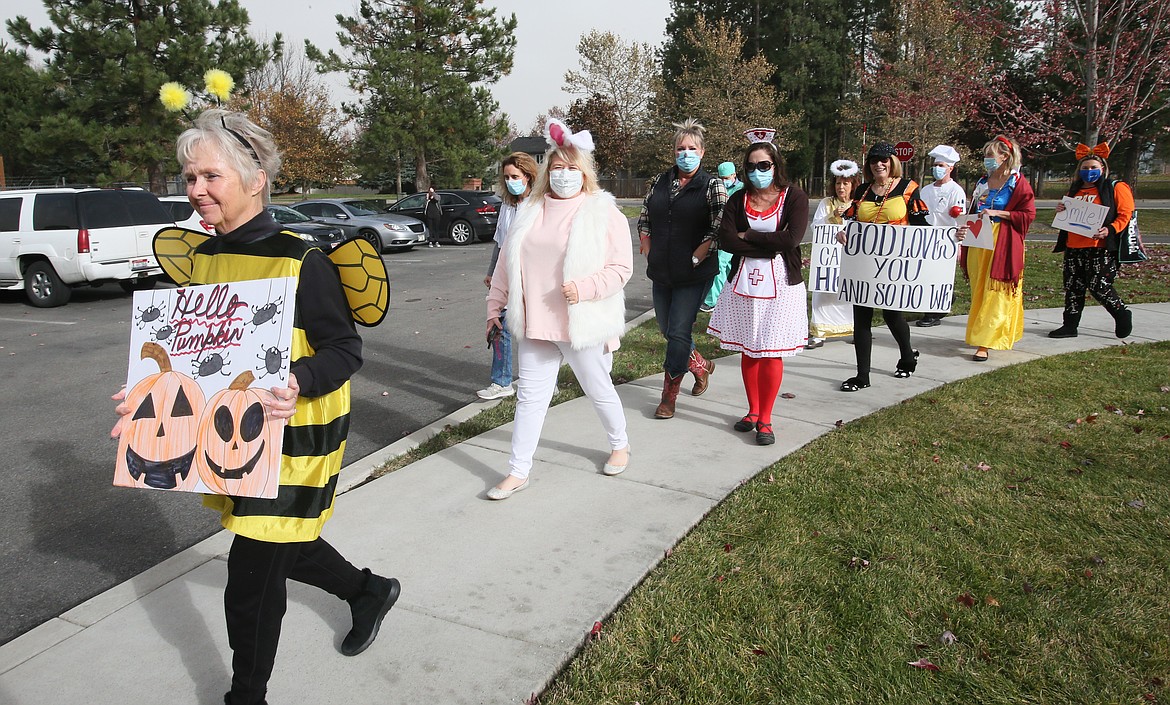 Silver Angels for the Elderly volunteers parade at the Renaissance at Coeur d'Alene senior living community Friday afternoon to bring joy to the seniors, who have been isolated during the pandemic.
Previous
Next
by
DEVIN WEEKS
Staff Writer
|
October 31, 2020 1:00 AM
COEUR d'ALENE — The volunteers of Silver Angels for the Elderly tightly held onto their paper signs as they paraded in the wild Halloween Eve wind.
They were on a mission — to bring a little festive joy to residents of local senior living facilities.
"We're looking forward to making some people smile," Diane Zell, executive director of Silver Angels, said Friday afternoon. "A little bit of normalcy is always nice."
Zell and her crew, all in cheerful Halloween costumes and gear, visited several retirement communities, carrying signs with messages of love to share with seniors who have been isolated during the pandemic.
"If we get some smiles, it's worth it," volunteer Peggy Lemm, dressed as an angel, said.
The costumed, energetic merrymakers stopped at windows and waved to resident through the glass, as visitation is highly restricted to protect the vulnerable seniors from COVID.
"I am excited to engage with our community partners on such a fun event," said volunteer Shannon Boston, of Blue Cross of Idaho. "I truly enjoy bringing smiles to the faces of Idahoans during this lonely time"
Inside the Renaissance at Coeur d'Alene, residents laughed, waved and blew kisses to the Silver Angels.
"I really loved it," said Renaissance resident Susan Ruyf, who shared her message with a staff member who kindly relayed it to The Press.
Renaissance executive director Christie Robinson, with a scarecrow face drawn on her cloth mask, said the visit from Silver Angels was amazing.
"Our residents really, really enjoy it," she said. "We are very appreciative for them coming around and spreading some cheer with our residents. It adds a little more to their day than we are able to do currently, with the whole COVID situation. It's just fantastic, we appreciate it very much."
Silver Angels for the Elderly is a nonprofit that provides awareness and support for residents of eldercare facilities in Kootenai County. Volunteers find ways to remind seniors that they're loved, whether it's Christmas events, birthday parties, or, in this case, Halloween parades.
"I know how seniors are so isolated, and they're so lonely," Silver Angel Karen Gardy said. "If we can bring a smile to their face, it's awesome."
Info: www.silverangelsfortheelderly.com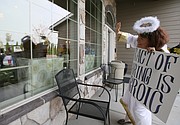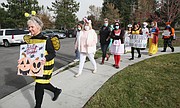 ---