Planting a position: The business of political yard signs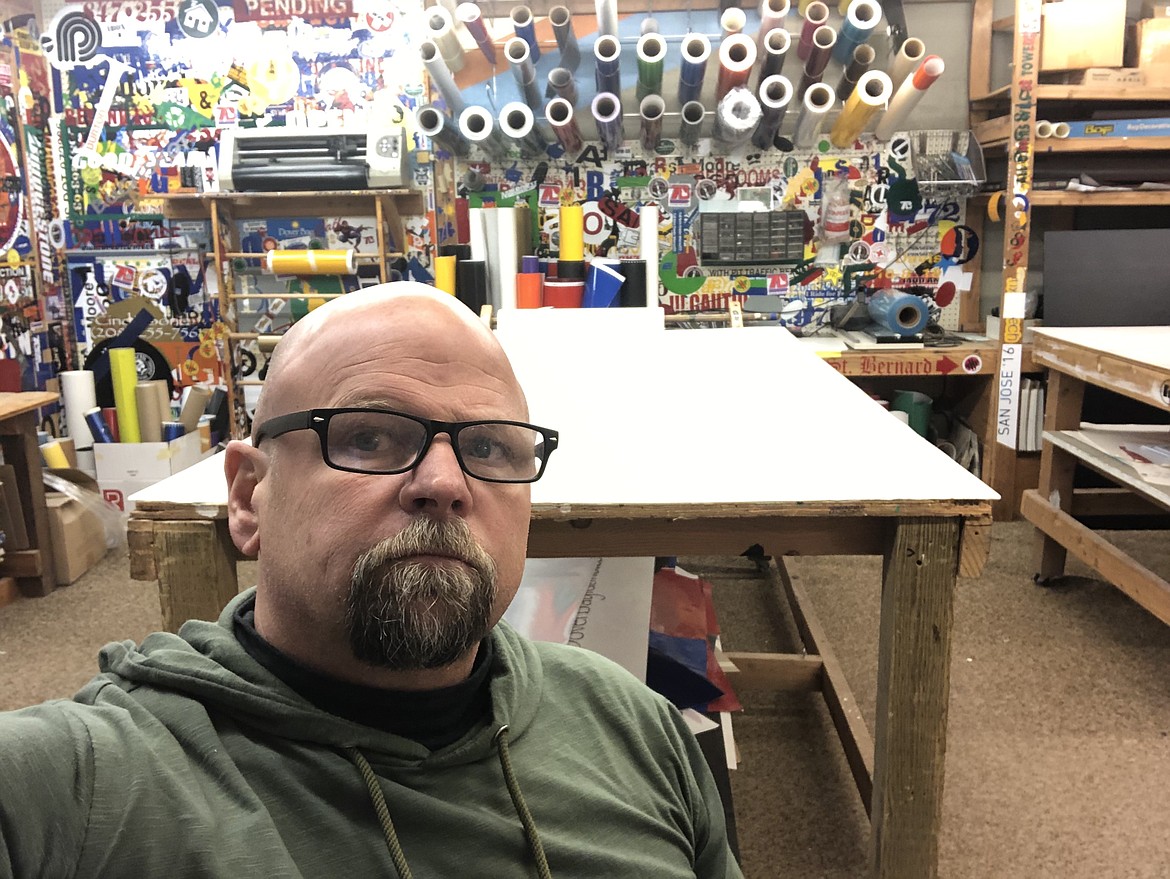 Carl Preston's Sandpoint print shop, Kodiak Advertising, has been in business for 25 years. In that time, the biggest threat to his slice of the local political yard sign market has seen no greater threat to his livelihood than the internet.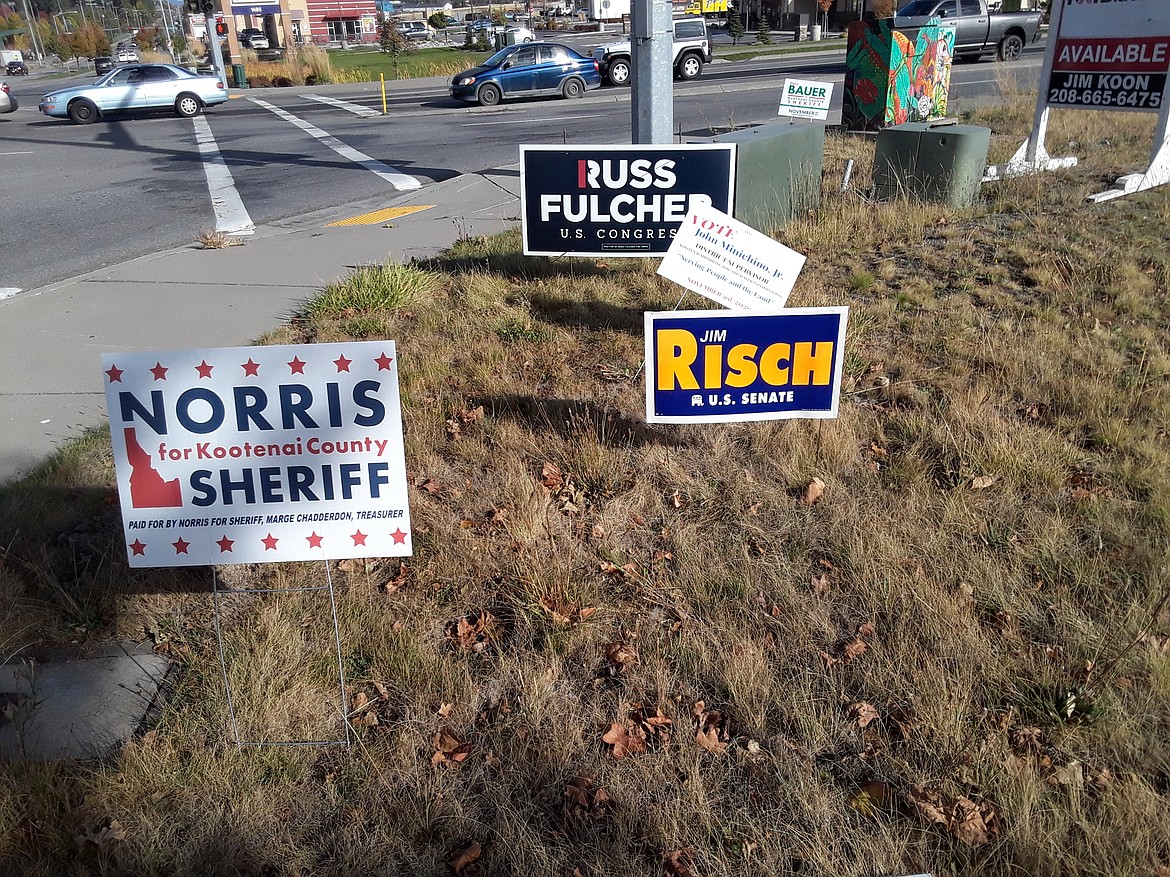 This time of year, political yard signs multiply along high-profile intersections, like this gaggle of campaign signs at the corner of Appleway and Ramsey in Coeur d'Alene.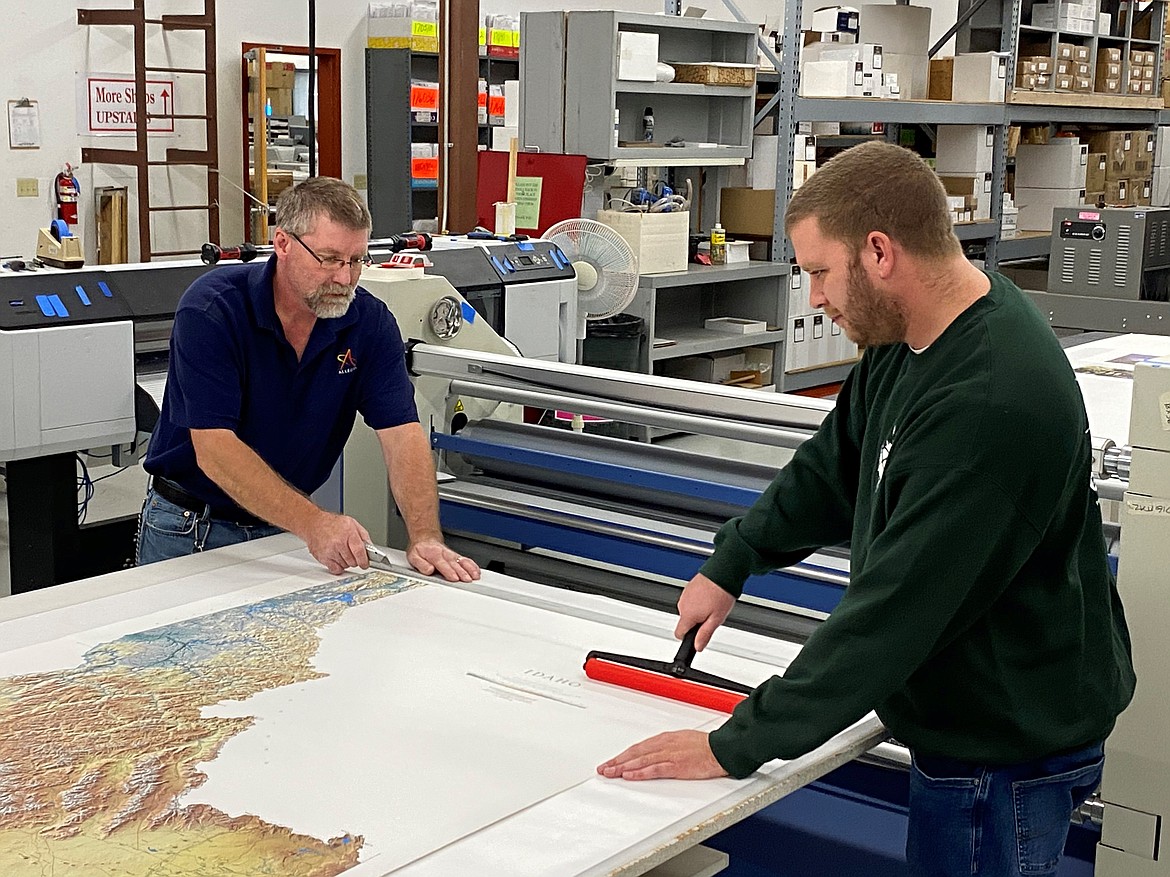 Darryl Frey and Carl Carter, wide format technicians for the digital color division of Allegra Marketing-Print-Mail in Coeur d'Alene, are two reasons the company keeps busy even when political season ends.
Previous
Next
by
CRAIG NORTHRUP
Staff Writer
|
October 26, 2020 1:09 AM
Autumn brings a few reliable and familiar signs to front lawns each year: falling leaves, crisp frosts, and — on many yards — actual signs.
Yard signs touting candidates or issues have endured over the years, despite a changing technological frontier that has all but demanded an end to the popular political tool. Every year — and most heavily every four years in presidential races — story after story fills the trades, foretelling a future that this might be the last year we ever see another yard sign.
But like some candidates, yard signs persist.
"They've always been a popular item," David Mundhenk said from his print shop, First Class Graphics on Government Way in Coeur d'Alene. "It doesn't seem to slow down."
Print shop owners and managers across North Idaho have reported a steady pace in yard signs over the years. While everyone interviewed for this story said their print shops were no busier now than in, say, February or July, most agreed the run-up to election days is when yard sign orders usually soar.
"I'm always pretty busy," Mundhenk said, "but sure, I'll get quite a few (orders) around now."
The yard sign business remains almost uniquely busy in North Idaho, according to Carl Preston of Kodiak Advertising in Sandpoint, due mainly to an issue local politics can't seem to address: growth.
"Sure, the political season also keeps us busy," Preston said. "But keep in mind, we print real estate signs and construction signs, too. So in North Idaho, we're always making yard signs."
Local printers interviewed for this story have said a political yard sign can run anywhere from $3 to $15, depending on a variety of factors, including color schemes and materials. But the No. 1 factor everyone agreed affected the cost was the simple bulk rate. The more signs you buy, the cheaper you'll pay per sign, which is where technology's ability to connect the world comes into play.
"We've been in business for 25 years," Preston said, "and nothing's impacted our business more than the internet. People go online and see where these big print companies are just giving signs away."
The Sandpoint printer's hyperbole isn't far from the truth. Online ads for political yard signs from larger print houses advertise for as low as 65 cents per-sign, but looks can be deceiving. To get the per sign cost under $1, campaign managers might need to order their signs by the thousands, if not tens of thousands. It's a trick that Preston called nothing more than clickbait.
"Those prices don't include shipping, the materials might be different, and most candidates don't need that many," he said.
That latter fact is especially prescient, as the final dollar sign can have more to do with the race than the campaign coffers. He said candidates for state representative positions might need thousands of yard signs, while a candidate for city council might need 25.
"There's this great story about a local councilman up here," Preston said. "He's one of those guys that everybody knows. A few years back, he only prints 10 signs. And he wins. Ten."
Materials and quality also come into play, which is where local printers often hold the lead over bigger multi-national competitors: Giving personal insight to help steer a small but popular part of the campaign.
"Everybody comes in with some brilliant idea that they want to use in their signs," Mundhenk said. "One mistake people make is, they'll come in with their business card, saying, 'Make the sign like this.' But a business card is different. The lettering is small in comparison, because people can adjust their distance from the card by just bringing it closer to their face. So I'll say to them, 'You know, this other way might be easier to read.'"
"Less is more," said Roger Stewart, co-owner of Allegra Marketing in Coeur d'Alene. "Don't try to pile too much onto it. Get your name out there. Get your primary message line out there. A lot of people will try to put their faces on there, too. But my advice is always, 'Less is more.'"
Stewart elaborated that a sign is supposed to grab someone's attention and burn it into the mind as fast as possible, as those driving by won't have the attention span to absorb every detail of a candidate's platform.
"You just want your name, tagline and the office you're running for," he said. "That's it. I know it sounds counter-intuitive, but you want people to just come away from a sign remembering: 'Craig for City Council.' Keep it simple."
"You want something simple that catches your eye," Mundhenk agreed. "So if you have an idea, I can create it. If you don't, I can help you create it."
That kind of local investment works both ways. While local print shops can offer their expertise to send the best message, customers can keep their local print shops going.
"You see some candidates, they'll order from big print shops in Texas or California," Preston said. "You know the saying, though: For every dollar you spend locally, it stays local and gets spent (seven) more times locally. But when you buy from out-of-state or through the internet, it just gets spent somewhere else.
"Unless you spend it in Calfornia," he added with a laugh. "Then that money comes back up here anyway."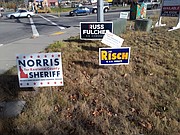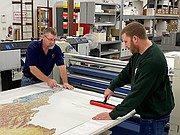 ---