Nine arrested in massive Smelterville drug bust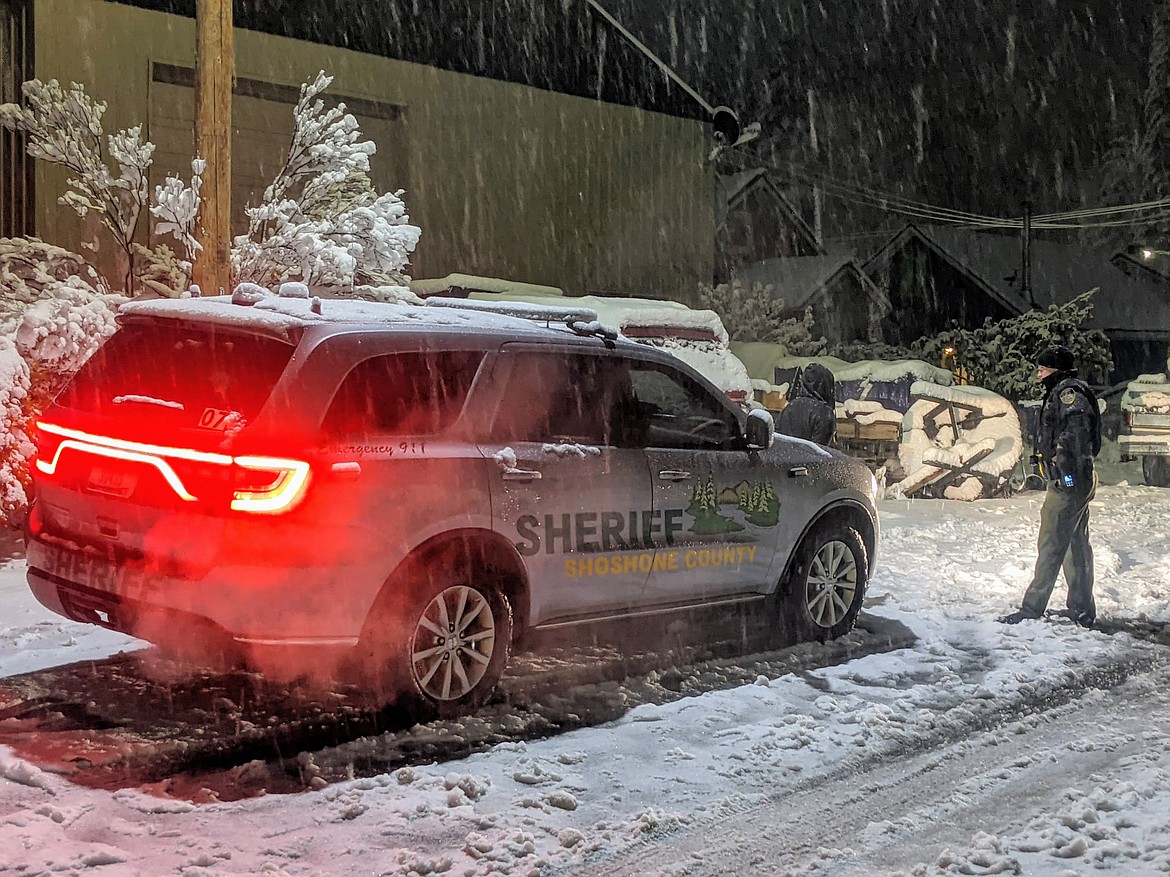 October: A Shoshone County Sheriff's Office deputy detains a suspect outside the residence at 115 F St. in Smelterville following a massive drug bust.
Photo by CHANSE WATSON
by
CHANSE WATSON
Hagadone News Network
|
October 23, 2020 9:17 PM
SMELTERVILLE — A District 1 Probation & Parole check at a home in Smelterville has resulted in the arrest of nine people on drug charges.
Shoshone County Sheriff's Office Lt. Jeff Lee reported that nine individuals were taken into custody Friday night for various drug charges and/or outstanding warrants.
Everything kicked off at 4 p.m. when three P&P officers, with backup from Lt. Lee, Deputy Abshire and Deputy Soberanes, all approached a home at 115 F St. to conduct a check on a parolee living there.
Lt. Lee said SCSO had previously received information from multiple sources that the home was involved with potential drug sales. In addition to the suspected drug activity, it was also believed that a wanted fugitive out of Washington, identified as Cappuccino McCullough, was staying at the residence.
After knocking on the door, a P&P officer made contact with an individual and was alerted that the parolee they were looking for was there.
When P&P made entry into the home, they then alerted SCSO that McCullough was also in the home and requested assistance.
Deputies were already positioned in the neighboring alleyway to ensure that the parolee could not flee from the residence.
SCSO then made entry and after a search of the home, they located five individuals, along with trafficking amounts of methamphetamine and heroin, user amounts of marijuana and miscellaneous drug paraphernalia.
As a result, all five individuals present in the home – including the wanted felon and the parolee – were taken into custody without incident.
While the scene was being processed, five individuals arrived at the residence, two of the subjects admitted their intentions were to purchase drugs from the suspects in the home and another one of these individuals turned out to be a male with an outstanding warrant out of Kootenai County.
After making contact with them, a total of nine individuals were taken into custody.
Kim Ann Smith, Cappuccino McCullough, George Michael Wild, Jared Michael Wiley, Della Marie Rose, Alan Dale Johnson, Tania Anne Sager, Daniel Westley Tuttle, and Joseph Fred Jones were all taken into custody and booked into the Shoshone County Jail. All suspects were transported with the help of seven SCSO Deputies.
Overall, Lt. Lee was pleased with the result of the bust.
"The teamwork between both agencies was very professional and well planned," he said. "Everything was executed in a way to prevent any major conflict or physical injury."
Lee also states that more busts like this one could be on the horizon.
"We plan on continuing this proactive behavior to crack down on other drug targets that the community has brought to our attention over time. It isn't just a law enforcement issue, it is a community issue and we work hard every day to make our community better."
---