Mask mandate canceled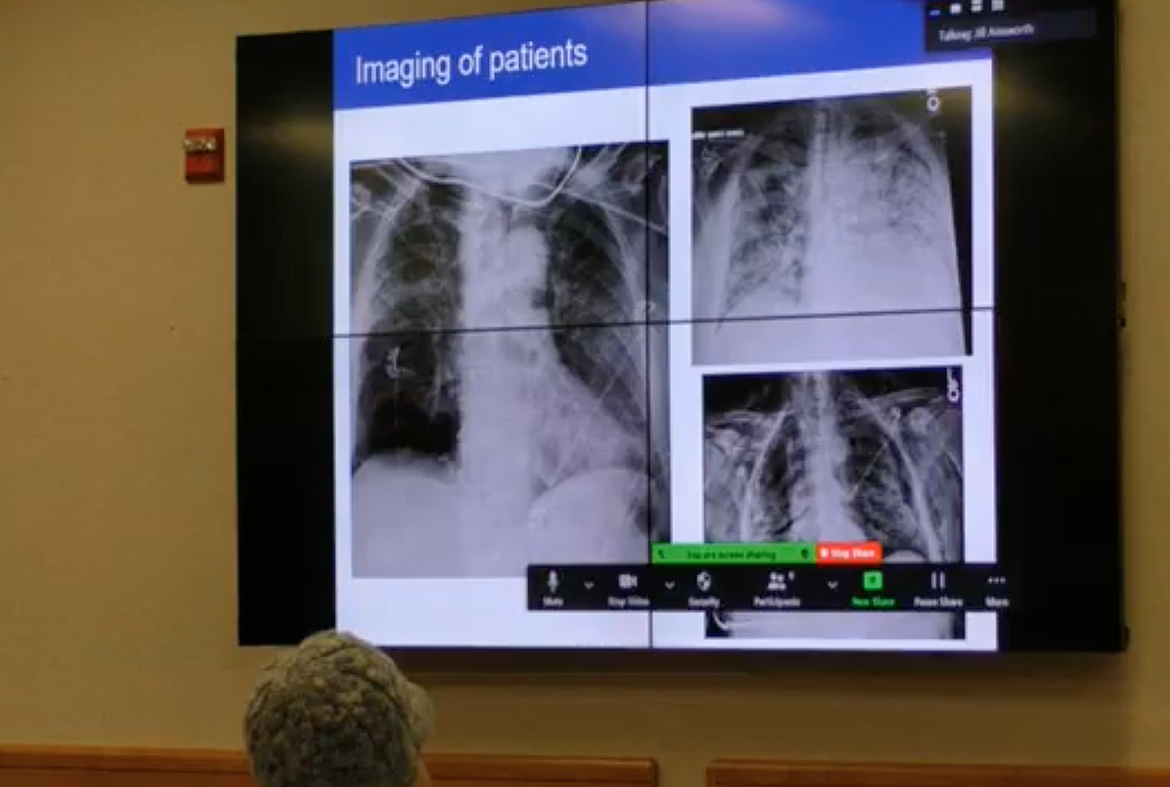 These are X-rays of a 65-year-old local who contracted COVID-19. Kootenai Health critical care physician Dr. Robert Scoggins gave a presentation Thursday to the Panhandle Health District's board detailing the very real dangers of the virus. The condition of the lungs — which should appear black in the images, progressively deteriorates. "You don't have to be a pulmonologist," Scoggins said, "to realize this probably doesn't look so good." The board later voted to rescind its mask mandate.
Courtesy of Panhandle Health District
by
CRAIG NORTHRUP
Staff Writer
|
October 23, 2020 1:09 AM
The Panhandle Health Board voted 4-3 Thursday to rescind the mask mandate for Kootenai County even after hearing some grim news.
Jeff Lee, epidemiology coordinator for Panhandle Health, led off the health care professionals' presentations with a fatality update.
"We've had three deaths in the last hour," Lee said.
The three Thursday morning deaths brought the district's total coronavirus-related death toll to 76. The past week's spike in cases — presumably signaling the start of another local wave of the virus — brings the total number of cases up to 3,628, including 30 current hospitalizations. That's in sharp contrast to Sept. 1, when only eight COVID patients occupied local hospital beds.
"As we increase in the number of cases, it's not hard to imagine we will quickly outstrip our hospital's capability," Lee said. "Kootenai Health has been challenged the last week or so with the number of patient beds in use, not just for COVID, for all use."
Jon Ness, chief executive officer for Kootenai Health, confirmed Lee's assessment as he reported to the board on staff shortages and fatigue over the length and breadth of the enduring pandemic.
"I wish I had good news to report," Ness said. "We have a problem, and it's not getting better."
The community hospital reported on Wednesday that it was nearing maximum medical and surgical capacity, and that — due to similar constraints COVID-19 was pressing on Spokane hospitals — Kootenai Health was eyeing the possibility of shipping patients to Seattle and Oregon. Ness predicted those circumstances were not likely to change with the looming cloud that comes around this time of year.
"Cold and flu season is immediately on the horizon," he said. "The COVID-19 pandemic continues to be a challenge."
Staff shortages due to illness among employees at Kootenai Health — and around the health care system at large — are now coupled with what Ness described as pandemic fatigue. Ness told the board and the small group of residents able to socially distance that health care workers are growing tired, working extra shifts and dealing their own children relegated back to blended learning.
Rep. Tony Wisniewski, R-Post Falls, was among the Kootenai County residents on hand at the meeting. He questioned the resource allocation spent on the virus.
"Why are we spending so much time treating the younger population," Wisniewski asked, "as opposed to those most seriously vulnerable, those in the 60-to-80-plus range? Why do we have a mask mandate that affects 94 percent of non-susceptible persons?"
Wisniewski then critiqued the integrity of the board's original July 23 mandate — which, enforceable or otherwise, has the effect of law, according to Idaho Code — before comparing the mandate to reporting Jews to the government of Nazi Germany.
"In Germany, where my parents were living during World War II, it was a law that you had to report a Jewish neighbor," he said. "A law is not necessarily a good thing just because it's mandated."
Boundary County Commissioner and Panhandle Health board member Walt Kirby said he was voting against the mandate not because he disagreed with the science, but in part because of political pressure he's received from angry residents.
"You guys have no idea the heat I took because I voted for mandating the masks in Kootenai County," Kirby said. "I can take the heat. I don't care, but it was really pretty rough. There were a lot of people that were pretty damned nasty."
Kirby added that the range of dissent over the masks — from protests to apathy to civil disobedience — gave the commissioner his own version of pandemic fatigue.
"Nobody's wearing the damned masks anyway," he said. "All they are is just thumbing their noses at us, anyway. It's about over. People are dying, they're going to keep dying, they're going to keep catching this stuff, and they're going to keep giving it to one another, right along until there's a vaccine for it, and then there's going to be, 'How many people aren't wearing masks? The same people that aren't getting vaccinated.'
"...I'm just sitting back and watching them catch it and die. Hopefully I'll live through it."
Allen Banks said before he voted to rescind the mandate that he questioned the validity of the tests, the methodology of the positivity rate and even the existence of COVID-19 itself.
"I've seen nowhere where anyone actually isolated the virus, purified it, sequenced it, cultured it and proved that it exists," he said. "I'm deeply suspicious of this test, and I'm deeply suspicious of the results."
Kirby, Banks, Glen Bailey and Shoshone County Commissioner Mike Fitzgerald all voted to rescind the mask mandate. Nurse Jai Nelson, Dr. Richard McLandress and chair Marlow Thompson voted to keep the mandate.
The board later voted to reiterate their recommendation for masks and hygiene protocols. The rescinding of the mandate goes into effect immediately.
---