5A Region 1 volleyball championship: Viking redemption ... Coeur d'Alene wins at Post Falls in sweep, books return trip to state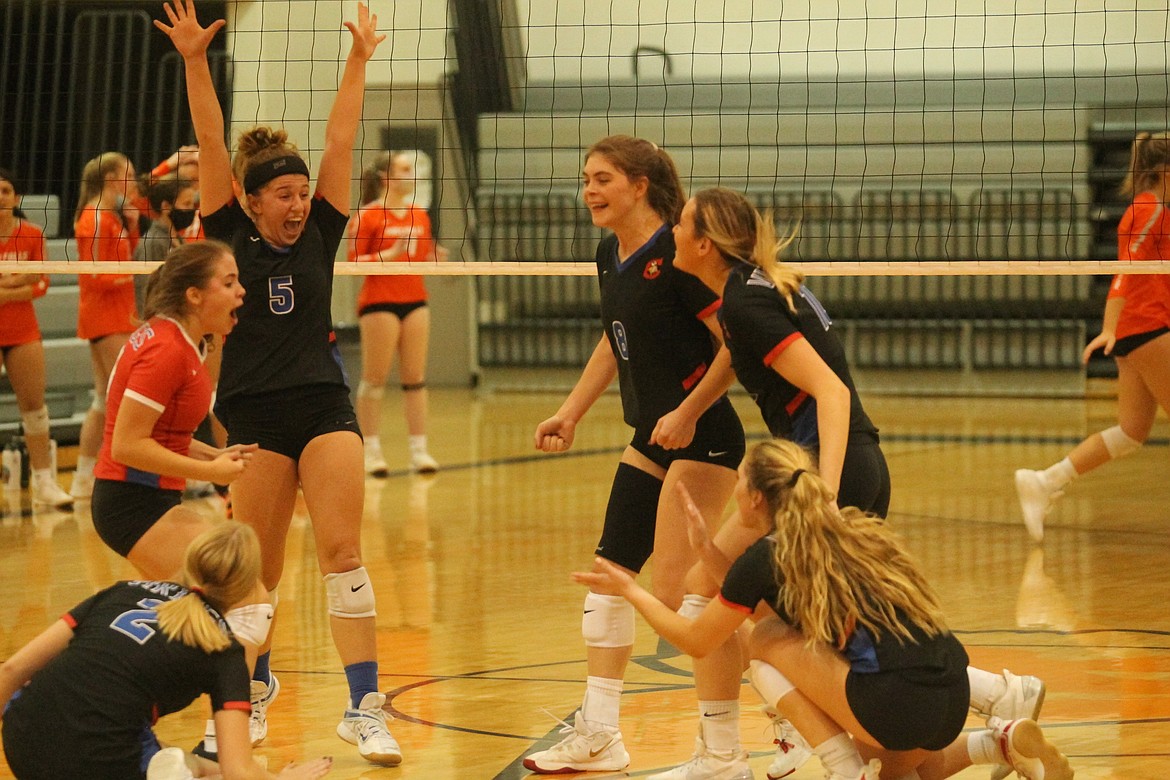 MARK NELKE/Press Sarah Wilkey (5) and her Coeur d'Alene teammates celebrate a point late in Tuesday's 5A Region 1 volleyball championship match at Post Falls. Clockwise from left: Paige Drechsel, Maggie Bloom, Wilkey, Kate Phillips (8), Angela Goggin and Lauren Phillips.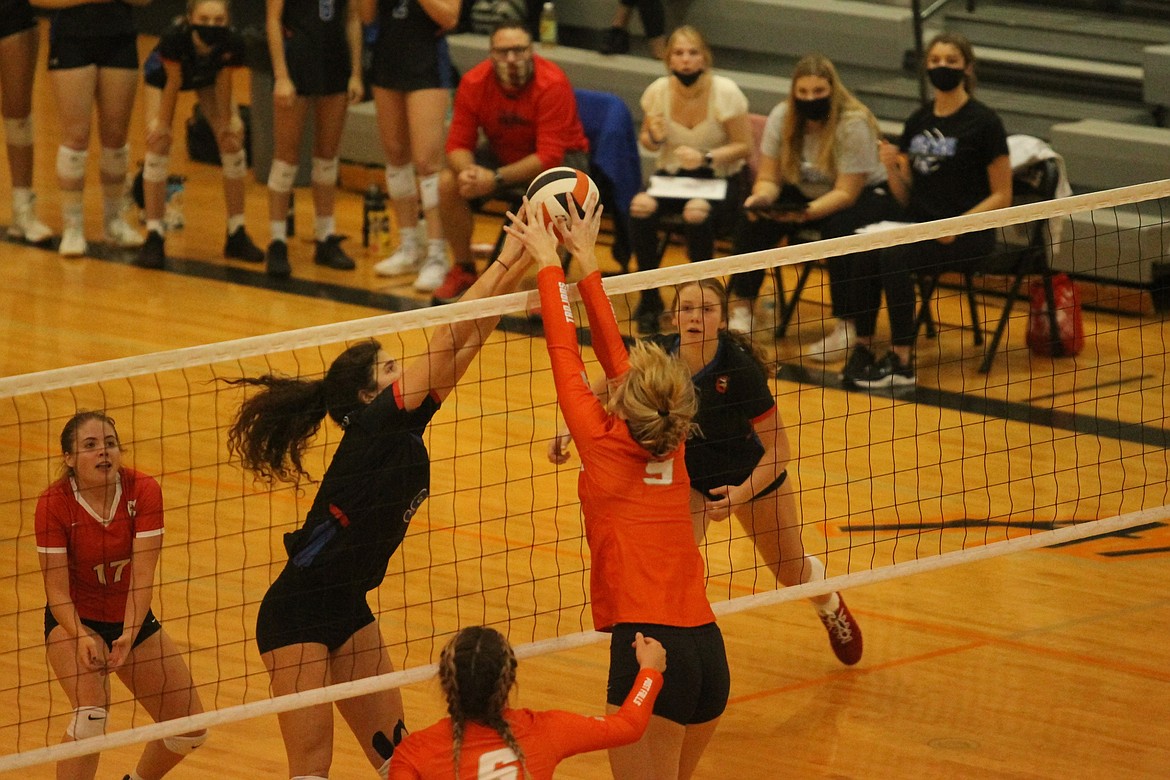 MARK NELKE/Press Skylar Burke, left, of Coeur d'Alene and Rylee Hartwig of Post Falls joust at the net during Tuesday's 5A Region 1 volleyball championship match at The Arena at Post Falls. Covering for Coeur d'Alene are Maggie Bloom, left, and Madi Symons.
Previous
Next
|
October 21, 2020 1:30 AM
By MARK NELKE
Sports editor
POST FALLS — The last trip to Post Falls didn't go so well for the Coeur d'Alene High volleyball team.
A three-set loss to the Trojans in the second match of the season for the Vikings.
A change in defenses — and, perhaps a change in attitude — was evident the second time around.
No. 2 seed Coeur d'Alene started strong and kept its foot on the gas Tuesday night, sweeping top-seeded Post Falls 25-19, 25-17, 25-22 in the 5A Region 1 championship match at The Arena.
"When we came here early in the season we didn't play well," Coeur d'Alene coach Carly Curtis said. "We were very flat, and weren't ourselves, and we knew we really had to get ourselves together.
They're a tough team; they're a scrappy team, they have a great offense, and we knew we were going to have to work."
Coeur d'Alene (11-3), which won its second straight regional title, advances to state Oct. 30-31 at Skyline High in Idaho Falls.
Post Falls (15-3) plays host to No. 3 seed Lake City (7-4) on Thursday at 6:30 p.m. in a loser-out, second-place match for a berth in a Saturday play-in match at Grangeville.
Lake City eliminated No. 4 Lewiston with a come-from-behind 25-14, 12-25, 21-25, 25-16, 15-11 victory.
Coeur d'Alene d. Post Falls: Sarah Wilkey, Lauren Phillips and Madi Symons had nine kills each for Coeur d'Alene, and Angela Goggin added eight kills in a balanced attack.
"I am so impressed with my girls," Curtis said. "They were scrappy, they showed a lot of heart. They didn't give up. Our main goal was to stay steady, and they did it. They kept fighting and kept fighting. And we were blocking well, we were playing scrappy defense, and our offense was on fire."
Phillips also had 20 assists, Courtney Garwood 15 for the Vikings. Maggie Bloom had 21 digs and two aces, Wilkey 18 digs, Symons three blocks, Paige Drechsel two aces. Kate Phillips had two blocks, and a big kill to end the second set.
"This year we have had to overcome a lot," Wilkey said. "We've had a lot of injuries, and ups and downs, and losses, and I feel like we really just came up this game and played with everything we had as a team."
Coeur d'Alene swept Post Falls at home in late September.
Bloom said losing at Post Falls earlier this season served as motivation when the Vikings returned Tuesday night.
"I think it encouraged us, because last time we played here we lost, and we wanted to redeem ourselves," Bloom said.
Kylie Munday had 11 kills, 11 assists and 14 digs for Post Falls. Maya Blake added 11 kills, Brooke Minden 16 assists, Rylee Hartwig five blocks, Claire Holding 12 digs.
"We had too many errors," said Post Falls coach Willow Hanna, whose Trojans were seeking their first regional title since 2010. "I just think we had troubles finding some holes in their defense to put the ball away. We had quite a few hitting errors. They played pretty error-free; that didn't give us a lot of room."
Lake City d. Lewiston: Still missing four players who are in COVID-19 quarantine, including three starters, the Timberwolves rallied to keep their season alive.
"We had those four quarantined players at home in our hearts with every point; we played hard for them; I liked our mental toughness," Lake City coach Michelle Kleinberg said. "We got kicked around quite a bit in second set, but we knew what was at stake."
Tanai Jenkins had 16 kills and four blocks for Lake City. Hannah Rowan added eight kills and 12 digs, Ella Hosfeld nine kills, Nellie Reese 35 assists and seven kills. Sophomore Olivia Liermann, normally a bench player, made her second straight start this season and added four kills.
"We had a lot of JV players and young varsity players step up," said Kleinberg, who noted those three starters will be eligible to return on Thursday.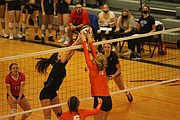 ---